Adventure is out there: Drakensberg revisited
It's so cliché but this year has simply flown by at an unreasonable pace. It is mid March and I am yet to complete my December holiday posts. It has almost reached that critical point where it feels well, pointless, to blog about it now. But then I realised that the Berg is still standing, the experience was had, and it was worth revisiting.
So here we go, Drakensberg part 2: Doreen Falls hike
The Doreen Falls hike is categorised as EASY, just what we were looking for. A relaxed hike to a beautiful waterfall to have a relaxed lunch.
We followed the marked trail and took in the beautiful scenery as we walked deeper into the valley. At some point we arrived at the river crossing listed in the direction booklet. A family of hikers were resting there and asked us if we knew where we were. We all agreed that we thought we were at the said river crossing. However, just a few steps after crossing the river we were not so sure anymore. An Australian couple joined the two of us and we continued on the only path visible. Very quickly it went from being an easy, flat hike, to something completely the opposite.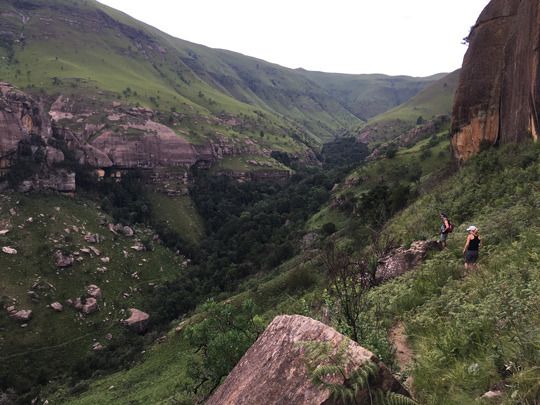 Somewhere on a trail, the Aussie looking as lost as we felt.
Don't be fooled, this was a very steep climb.
We looked at the 'map', reread the directions, tried our hand at compass navigation, tried to identify the landmarks, but to no avail. We pressed on in our search for the mythical waterfall. This involved scrambling up steep, sandy faces with hardly any footholds, climbing down even steeper faces, and eventually reaching a strange flat white rock plateau. Still no waterfall. And no signage. We had a quick snack, and decided it might be time to introduce ourselves to our Aussie companions. Jill and Gene if I recall.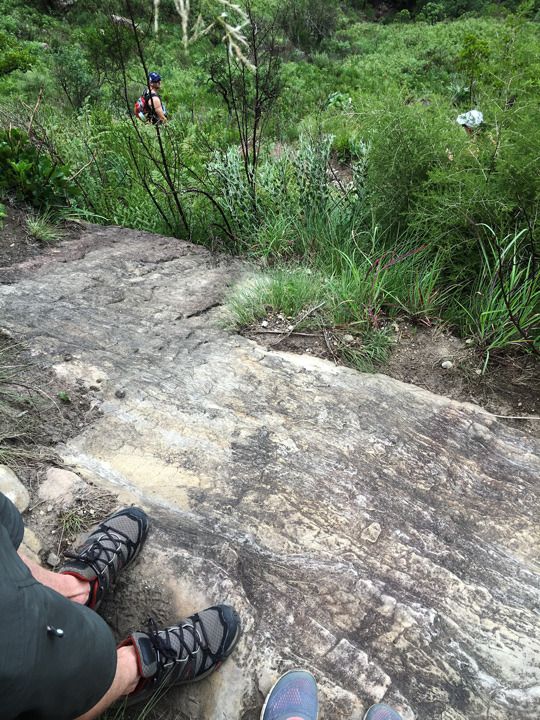 View from the top of one of the ups and downs.
Oh look, a dodgy ladder.
It kind of feels like we were little wilderness explorers, like Russell, Carl and Doug in Up, searching for Paradise Falls.
And so we headed down another path, down towards another valley, where we finally reached Doreen Falls. Turns out we were on our way to Ribbon Falls, a route for which they recommend a guide and climbing ropes.
Beautifully lost
The sign! We clearly came from the wrong side.
Doreen falls where more like Doreen Drizzle, due to the drought. We had lunch and then went up a bit further, to Albert Falls, where the pools where quite pretty.
Doreen Drizzle
Nothing like fresh, clean, cold, mountain water
Albert Falls pools
I'm quite proud of myself. And my Nike Free Running sneakers (not made for hiking really). We didn't fall, twist ankles or any of the sorts. I did scoot down some of the steep bits on my bum though, but I made it down safely, so who cares.
It was an adventure. An adventure shared, and that is a great treasure. I want to have more of these shared adventures. They make life rich and exciting. They challenge me. They remind me that I can do more than I thought. Death to complacency!
"Adventure is out there!" - Charles Muntz and Ellie, Up
Note: if you stay at Didima Camp, don't trust the little free leaflet map that they provide. You will get horribly lost. Some more seasoned hikers confirmed this and referred us to the accurate, topographical map that is available for purchase at Cathedral Peak Hotel.