Je ne regrette rien
I started writing this post three weeks ago, in Struisbaai, near the southern most tip of Africa. Three weeks ago was the anniversary of my now ex husband coming out to me.
My favorite beach near L'Agulhas - Suiderstrand
I got divorced not because my husband didn't like me, but because he liked men more.
When I started writing this I was reliving all the details from the day/night it all came to light. I went into detail about the events and years leading up to the night we had a very tearful conversation and knew that the only way forward was to say goodbye, after 10 years, and give each other the opportunity to be truly happy.
But those details are not important right now. A lot has happened in the last year. I am convinced I lived more than 365 days. Maybe double that. Or triple. Time stood still, and yet whooshed by.
As I sat looking at the ocean, by myself, I cried involuntarily. I grieved one last time for what was lost. For losing my partner. For losing the person I knew. For losing the person I was. I wanted the tears to wash it all away so I could move forward.
Muizenberg. The weather matched my mood.
"I can't go back to yesterday because I was a different person then." - Alice in Wonderland
So who am I now?
I am a person still trusting the process. Or at least trying. I went from dealing with my partner's gender identity, being directly confronted with my liberal views and beliefs, to dealing with the loss and anger, to dealing with a future different to what I had planned. I dealt with lawyers. Lots of lawyers. I experienced being in court and feeling naked in that bench, even though no one else even blinked (okay the judge blinked). I dealt with family members and friends, each coming to grips with things in their own way and time.
I am a woman who had to learn to be alone and be okay with her own company. I had to date myself. (When my cats started sharing the food on my plate, on the table, I knew it had gone too far though.)
And I am someone who is risking a relationship again. It is terrifying and wonderful at the same time. As my divorced friends all agree. You are constantly wondering when it would all come crashing down. Not hoping it won't, expecting it will. I think it will take some time to change our own mindsets. This has nothing to do with the other person, but everything with self-preservation. It's a process. We need to accept that we can be happy again.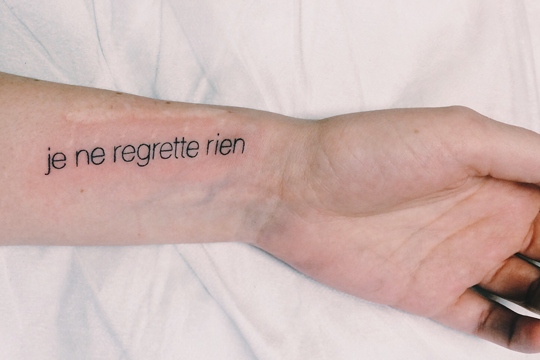 Thanks Palm Black Tattoos - amazing line work.
As much as I wanted to forget the past, I wanted to metaphorically put a stake in the ground. I decided to get a tattoo. On my forearm, under a childhood scar, I permanently wrote, in Helvetica Neue Light, "je ne regrette rien" - I regret nothing (checked the spelling at least a dozen times). It comes from this Edith Piaf song. I will post the lyrics at the end of this post.
No, I have no regrets. I don't regret getting married. I don't regret spending years with a wonderful man and friend. I don't regret the adventures we had together, the friends we made, the things we shared. I don't regret the pain. I don't regret what I have learned about life, about myself, about people.
And I don't want to live with regret going forward. I want to say what I have to say, do what I have to do. I don't want to stand at the end of time wishing I had loved more, cared more, shared more, given more, been less angry, less busy, less stressed, less reserved. It could all end tomorrow, without sounding fatalistic.
No, I regret nothing.
Non, Rien de rien
(No, nothing of nothing)
Non, Je ne regrette rien
(No, I regret nothing)
Ni le bien qu'on m'a fait
(Not the good things that have been done to me)
Ni le mal tout ça m'est bien égal
(Nor the bad things, it's all the same to me)
Non, Rien de rien
(No, nothing of nothing)
Non, Je ne regrette rien
(No, I regret nothing)
C'est payé, balayé, oublié
(It's paid for, swept away, forgotten)
Je me fous du passé
(I don't care about the past)
Avec mes souvenirs
(With my memories)
J'ai allumé le feu
(I lit the fire)
Mes chagrins, mes plaisirs
(My troubles, my pleasures)
Je n'ai plus besoin d'eux
(I don't need them anymore)
Balayés les amours
(Swept away my past loves)
Avec leurs trémolos
(With their tremors)
Balayés pour toujours
(Swept away for always)
Je repars à zéro
(I start again from zero)
Non, Rien de rien
(No, nothing of nothing)
Non, Je ne regrette rien
(No, I regret nothing)
Ni le bien qu'on m'a fait
(Not the good things that have been done to me)
Ni le mal tout ça m'est bien égal
(Nor the bad things, it's all the same to me)
Non, Rien de rien
(No, nothing of nothing)
Non, Je ne regrette rien
(No, I regret nothing)
Car ma vie, car mes joies
(Because my life, my joys)
Aujourd'hui, ça commence avec toi
(Today, it begins with you)
*Apologies for the melancholy nature of these last few posts. I will find something hilarious to write about soon. Also I am not depressed. Just feeling the feels.*