The day I belly flopped at my first gala
On Saturday my swim team and I swam our first Masters Gala. Side note: Masters Swimming is a class of competitive swimming for people over 25 years.
Did I mention it was our first gala? The first time we had to dive off starting blocks. The first time we sprinted competitively. The first time we swam in different events and had to remember which lane and which heat. It was terrifying. And we sucked. (Sorry Andy and Wes).
Photo courtesy of coach Westley. That's me in lane 6... Head up, instead of down, ready to belly flop.
We joked that we, the unlikely trio, was like the Jamaican bobsled team.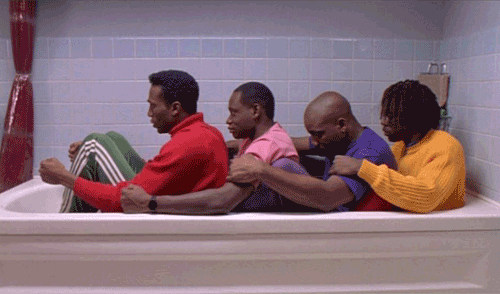 So a little about the whole setup. You have to be part of a club to partake. We joined the Phoenix Masters. The club president, Karen Kennedy, is amazing and really tried to put us at ease and encourage us. Our coach, Wes, also tried his darndest. The whole event is really quite chilled. Everyone is there to compete against their own times. The oldest person was 76 I think! It's all very egalitarian.
Regardless of all the encouragement, the briefing, the reminders of all the things we have learned, we panicked, did everything wrong, and face planted like a fat kid at a public pool in December.
I participated in the 50m Freestyle, 400m Freestyle, 50m Breast stroke, and 100m Freestyle. Starting with 50m Freestyle was a bitch! With Open Water events I know I have about 400m of hell before I find my rhythm and just keep swimming. This was a whole different kettle of fish.
But we did it.
My team mate Erick neatly put things into perspective with a simple question: when you are standing next to a bonfire on the 31st of December, and everyone is singing Auld Lang Syne, and you think back on your year, what would stand out? Not your job and the salary check you brought home, but events like this. Camaraderie. Character building. Fun.
So see you at the next one. No belly flops this time.