Blood and Diamonds
I need a holiday. A month long holiday. A year would be better. But all I had time/money for was a day during this past weekend. A holi-day.
My bestie, Hayley, and I went to the small mining town of Cullinan, near Pretoria, for the evening/day. You take what you can get, right. It is amazing how one day away from everything can actually feel like a vacation. We stayed at a guesthouse called Acorn House, part of Oak Guesthouse. It was a lovely old house with creaky wooden floors. Pity the management wasn't so lovely. I honestly don't understand how some people think that it is acceptable to treat people like shit when you are in the service industry. We arrived at dead man's door in the dark. We phoned all three numbers on the gate. Eventually, after 30 minutes of trying, someone picks up. We need to phone Molly. It was on the email. (It wasn't. It was on the website). We don't have Molly's number, only the three (three!) on the gate. We met Molly the next day at breakfast. She is a darling, who clearly knows how to treat guests. Not so much the other three people we unfortunately encountered over the phone.
No stone throwing
That said, we slept like logs. Amazing. Over slept. Rushed to breakfast at Oak house down the street, and was served by the lovely Molly. From there we strolled through the various cutesy shops filled with trinkets, antiques, sweets, and things. By the time we reached the end of the historical street section (the rest of the town is less exciting), we decided to go on the Diamond Mine Tour. Why not? We're on holi-day in a mining town.
The tour, lead by guide Anton, was fascinating. Some interesting facts (hope I remember them all correctly):
- Open pit mining started in Cullinan in 1903. In 1905 the famous Cullinan Diamond, the largest in the world (3106 carats), was found there by the pit manager, Fred. He apparently spotted it when the light hit the stone just right. All the miners missed it. The Transvaal (now Gauteng) government gave it to King Edward VII, who had it chopped up and set in the crown jewels. How could they just give it away!
- Diamonds are the hardest substance known to man. It will break if you hit it with a hammer - it breaks on impact, but not under pressure. If you put the flat side of a polished diamond against a very clean mirror, the diamond will stick, the fake will fall. Diamonds will scratch a mirror, like the one below, 'engraved' with the name Digger, by a roughian miner from the 1900s called Digger.
Also, diamonds can't get wet.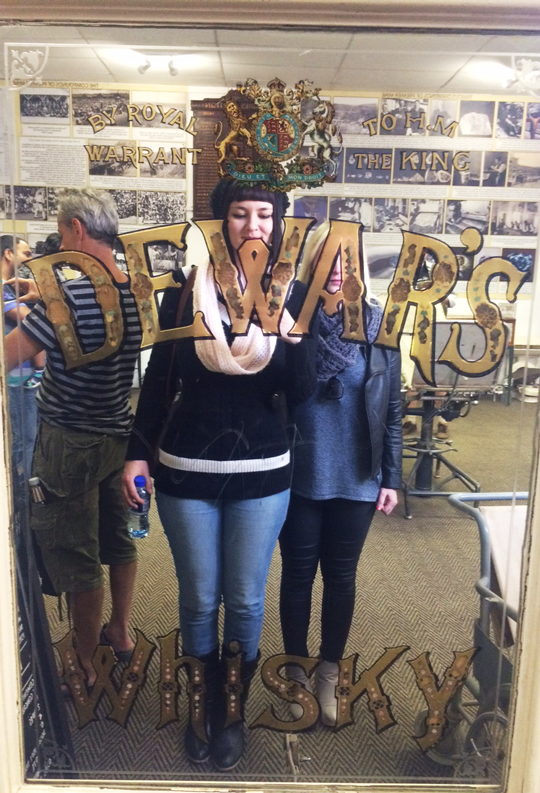 Spot the scratches - that was Digger. Don't mess with Digger.
- The mine was bought by
Petra Diamonds in 2008
. After they acquired the mine it was realised that the process whereby the mined material goes through water and then over grease, which makes the (dry) diamonds stick, and the wet rocks fall off, was flawed. In winter the grease got too hard, and in summer too sticky. As a result, they possibly lost carats and carats of diamonds. So now they are reprocessing the mine dumps. One of the diamonds found during this reprocessing mission, was a flawless 7.03 carat blue diamond, bought by a Japanese property tycoon for $9.5 million. He gave it to his wife and she named it The Star of Josephine.
Yup, that is a grass from India, that grows in the kimberlite.
- It is illegal to have an unpolished stone in your possession - that's how they are trying to prevent the whole blood diamonds thing.
After our super educational tour, and some pancakes, it was time to get home, so I could bake a cake for an order.
I had exactly 1.5 hours to bake the cake before my next stop for the day, the Blood Brothers concert at Carnival City. My friend Adam scored us some free tickets!
The whole Blood Brothers thing is so exciting. Firstly, they are South Africa's first super group, like Kings of Chaos. Secondly, they are raising funds for the
Vrede Foundation
, who supports young people suffering from cancer.
The group consist of these 10 rock legends:
Loedi van Reenen (Taxi Violence),
George van der Spuy (Taxi Violence & Goodnight Wembley),
Jason Hinch (from The Black Cat Bones & Boargazm), Rian Zietsman (Taxi Violence &
BEAST
), Isaac Klawansky (Shadowclub),
Francois van Coke (Fokofpolisiekar & Van Coke Kartel),
Kobus de Kock Jr (The Black Cat Bones), Hunter Kennedy (Fokofpolisiekar & Die Heuwels Fantasties),
Arno Carstens (Springbok Nude Girls),
SA guitar legend Albert Frost
.
What an amazing night! I made my way to the front of the stage, all be it on the side. I could feel the base through my whole body. We jumped and moshed and sang (screamed) for 3 hours straight. Pure bliss! Those guys are all incredible musicians. Seeing all 10 of them on stage at the same time, performing tracks from their own bands, and covers from bands including Pearl Jam and Foo Fighters, was insane. Arno Carstens did a rocking rendition of Hozier's Take me to church - goosebumps. Also, he is still a very attractive man. It is like he never ages. Hearing some of my and my friend Witbrood's favorite Fokofpolisiekar tracks, legend. Seeing Adam singing along to his favorite Pearl Jam tracks, priceless.
The man, Arno Carstens
Kobus de Kock and Francois van Coke. Loedi van Renen on base
Kobus de Kock
Side note, casinos are super depressing. Seeing old people gambling at 23:30 is more depressing than my money problems could ever be.
What a rocking weekend.