Here's to 30 and #30daysofparty
I knew from the start of #30daysofparty that I would have to write a post reflecting on the past thirty days and thirty years. I've even planned some of the things I wanted to write about. But now I have no idea where to begin.
So let me start with a thank you. Thanks to everyone who came to the party (haha), who went all the way to Clarens, who organised secret parties, who bought beautiful gifts, who ate all my baked goods and complimented the chef, who read all these blog posts. There ain't no party without the people and I am very, very fortunate indeed.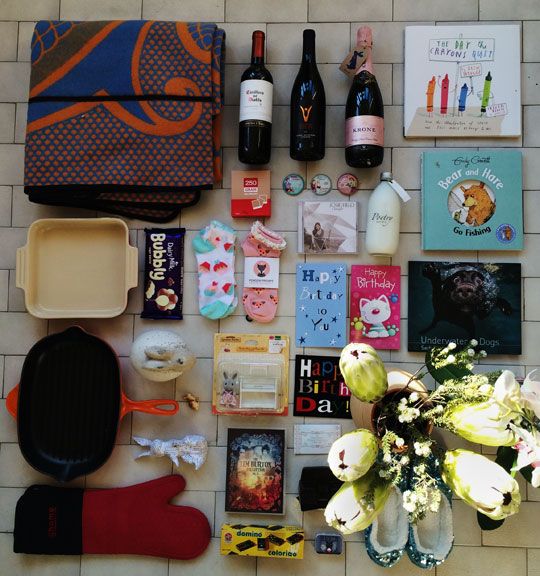 By the way, this gift knolling setup is missing 2 gifts. Will update.
Okay, here's an infographic to summarise #30daysofparty :
I have to admit, I am exhausted. There's been lots of early mornings and late nights, lots of dishes, lots and lots of dishes, and mopping floors. But I can't complain. I brought this all on myself. And I enjoyed it. I love entertaining. I love serving people sweet treats, knowing that it is probably better than most baked goods they've recently had.
Yes, I know I am good at baking. Most of the time. In fact, if there's one thing I've learned over the last 30 years is that there is at least one thing that I am good at, and enjoy at the same time, and that is baking. When you hit 30 you're supposed to have things figured out right? You need to be settled, have a five year plan, reflect on your success so far, and all that. I have no idea what my plans are. I have very few measurable successes. I do not have it figured out.
But I can bake. I have experienced the satisfaction of what happens when chocolate and hot cream meets, when condensed milk is boiled for 3 hours and then mixed with a bit of course salt. I've seen and felt how a mess of flour, water and yeast becomes a soft and elastic ball of dough which, after hours of proving and kneading, becomes a crispy loaf. Who cares about Paleo?
I further realised that although I might be relatively average when it comes to work or financial successes, I have had many rich experiences. Yes, I know that sounds lame and like something on a motivational poster, but really it is true, just scan through my blogposts of the last 4 years.
List of things I have done/experienced/seen in the last 30 years, in no particular order (automatic writing). An autobiography but in bullet points:
- Been married for almost 7 years
- Been to 27 weddings
- Missed 5 weddings
- Bought an apartment
- Bought my first car
- Learned to play table tennis
- Swam the Midmar Mile thrice
- Got a swim coach (after having swum the Midmar thrice)
- Been bitten by a rabbit, a hamster and a grey crowned crane
- Buried a frozen pet rat in the garden of our previous apartment
- Hiked 5kms and crawled through caves to a secluded rock pool with random surfers in Jefferey's Bay (not dodgy at all)
- Climbed to the top of some cliff in Nature's Valley where the Otter Hiking Trail ends, barefoot, and in a skirt.
- Travelled South Africa, from mountain tops to beaches to the bushveld
- Travelled to Europe and got my bum pinched by a Turk in Paris
- Lost my luggage on honeymoon in Zanzibar
- Almost got deported in Washington DC
- Lived in middle America for 6 months
- Went to Wall-mart at 23:00, and the Waffle House at 24:00
- Ran through Central Park because we were late for an open air Shakespeare performance
- Seen a (presumed) dead Mexican on the streets of New York
- Made a mini 'movie' on the set of Blood Diamond in Maputo, Mozambique
- Been to about 13 church camps at Winklespruit
- Won medals for writing, none for running
- Danced on top of the Human Resources Building at the University of Pretoria
- Helped build the first Vividus Day House RAG float in the parking lot of Aandklas
- Sang in two Vividus serenades
- Joined the Vividus HK after being "HK groupie" for two years
- Graduated from high school and university
- Voted in two national elections. Three after 7 May
- Painted about 30 paintings, at least 20 of them being terrible
- Been on a roller coaster and hated it
- Been on a jet ski in the ocean and hated it
- Tried rock climbing but could not get over my vertigo
- Ate Ben&Jerry's ice cream until I almost vomited
- Drank until I vomited
- Broke my arm, but not due to drinking (I was 5)
- Won money through a radio competition because I could identify a medley of Backstreet Boys songs
- Got lost in Booysens, Johannesburg, at two in the morning (before I knew Joburg)
- Discovered Johannesburg, and fell in love with it
- Been on the 50th floor of Ponte in Hillbrow and watched the sun set over the city
- Started a
cupcake business
in my spare time, without any formal training
- Baked a 4 tier wedding cake with chocolate faux wood panels
- Started an embroidered cushion business (less successful)
- Went to a fashion show
- Been in a fashion show
- Been in a hot air balloon
- Seen Bon Jovi live
- Seen live manatees
- Taken about a 100 000 photographs
- Made life long friends
- Started this blog
How do you measure success? Does it matter? This is
my
list. These are random snippets from
my
memory bank. I may not have suffered enough nor have I become rich and famous. But I have memories. I have fabulous friends and family. I've had so much fun. And I'm only thirty.