Documenting 30 Parties is hard.
This weekend I realised that the challenge with this whole 30 Days of Party thing is not coming up with 30 celebrations, but to document it all properly. When I first decided that this was what I wanted to do, I envisioned blogposts with images like this:
Instead I only have images of food photographed in bad light, and blurry friends:
Anyway. Day 5 and 6. Saturday I went shopping with my friend Hayley. She is one of the best shopping partners I have ever had. Or maybe the worst. We got to Sandton at 1pm and left at 6.30pm. That is a solid 5 hours of shopping, sans the lunch and the milkshake break. And I bought more things than I was planning to, or really budgeted for. I am blaming it on my birthday. I'll be more responsible when I am 30. For now I am buying that My Little Pony t-shirt and new scatter cushions for the couch, okay.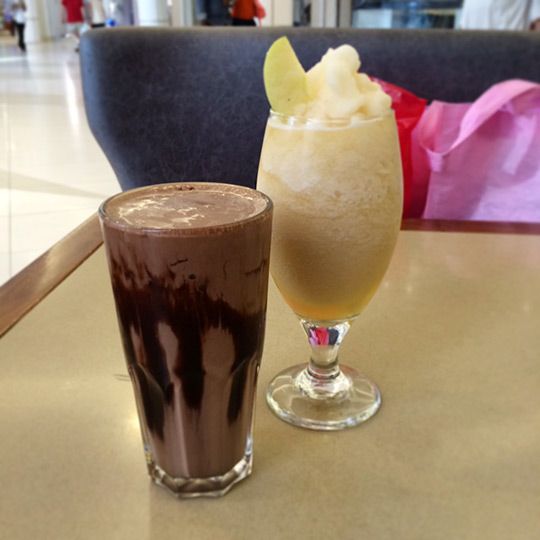 After shopping I had another party to attend. A good friend was visiting from the Eastern Cape, and we where having a braai, as afrikaans people do. My gracious friends, who are all on board with my outrageous party month, let me partly hijack the event, so I could count it as party number 6.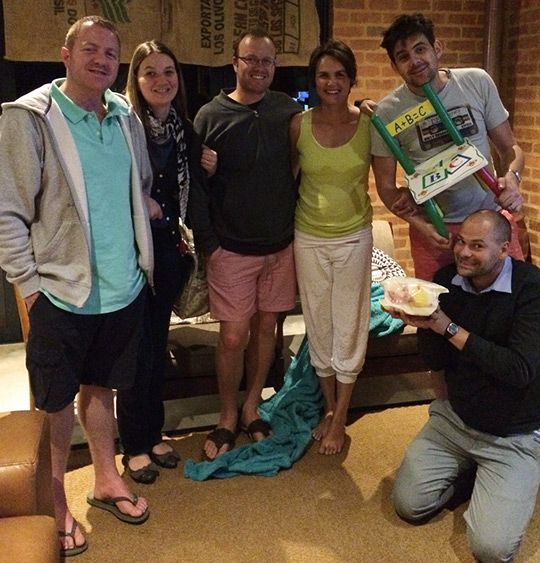 Then on Sunday it was dinner party time. Most of the day was spent shining glasses and keeping the cat off the table. For starters I made my first ever tarte Tatin (upside down french tart), a beetroot one with goats' cheese - delicious, if I do say so myself. Mains was Angelfish baked with wine, garlic and onions; lemon risotto with mascarpone; all served with wilted spinach and honey glazed baby pak choi. My poor friends always end up being guinea pigs for what ever dish I plan. I tried to keep all of their food preferences in mind, but ended up serving fish to people who rarely eat fish, and beetroot to someone who prefers chinese take-out. Plates where mostly empty though. Dessert was this amazing chocolate-caramel-peanut butter tart that is featured on the cover of
this month's Woolies Taste Magazine
. No baking required. I made one change to their recipe though - it calls for Caramel Treat, but in my opinion nothing beats the real deal: boiling a tin of condensed milk for 3 hours. You have to try it. You will never eat Caramel Treat again.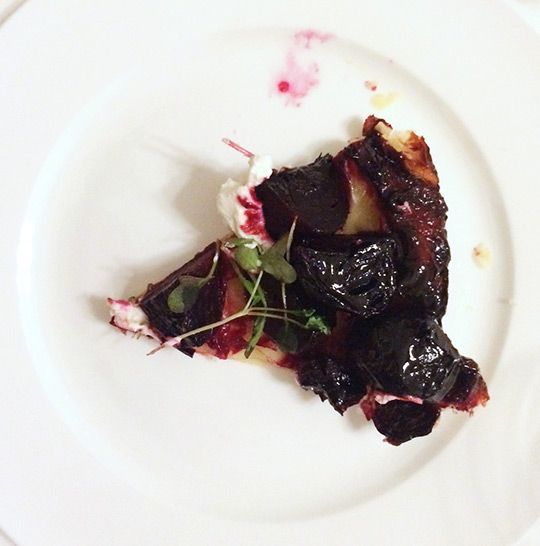 Beetroot tarte Tatin with goat cheese and micro greens
Okay, so maybe my 30 Days don't quite look like Martha Stewart's pinterest board, but at least I have good friends and good food to celebrate with. That counts right?