A very long long weekend post
Day 21. Easter weekend has come and gone, and I have lots to write about. Five parties in one post - let's go!
Thursday It was a busy and rushed day, but we were determained. I met up with my long standing friends Adam and Monique for coffee. We met at this crazy ad agency, where we started a Skype conversation which has no been going continuously for almost 5 years. We chat most days. We have coffee when we can, even if it is just quick. I love them.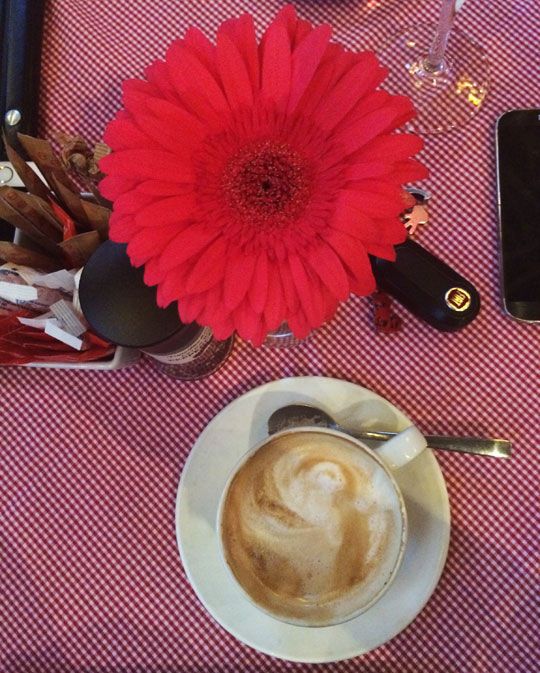 Junipa's
Mo
Adam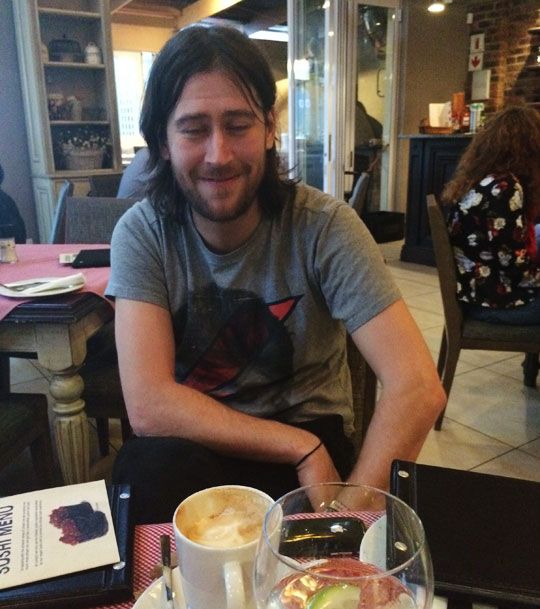 UK Dave (very jetlagged)
Giant cow dog outside Junipa's
I was supposed to go to a house party afterwards, but this did not quite work out, so I had a beer with Adam and his friend UK Dave (because he is from the UK) at the Radium. I should go to the
Radium
more often. They serve Kilkenny on tap, people sing in the bar (just like in the UK), the food is generally good, and it is close to my home.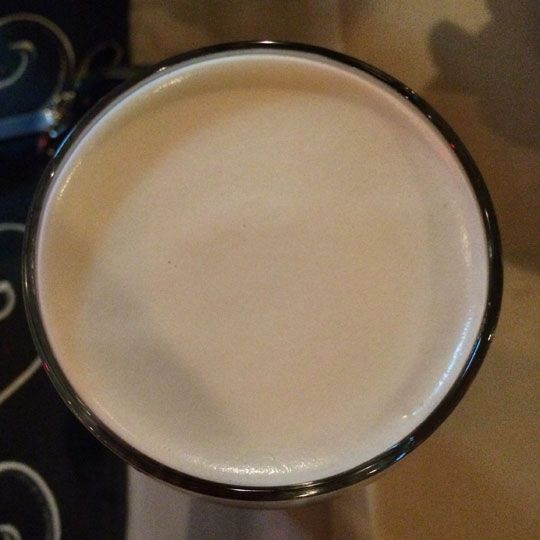 Kilkenny. Cheers!
Friday
Since it was Easter Friday, I wanted to spend the day with my family. I made scones (that where a little too flat), we had some bubbles (courtesy of my
Woolies goody bag
) and visited my grandma. My gran is 94 and lives in an retirement home in Pretoria. She has a small room, which is filled with all the things I remember from my childhood, such as a printers tray full of trinkets. One trinket I am particularly fond of is a statuette of a praying Mother Mary. We're not Catholic, so I don't even know why she has it. I should ask. I love it though.
Small scones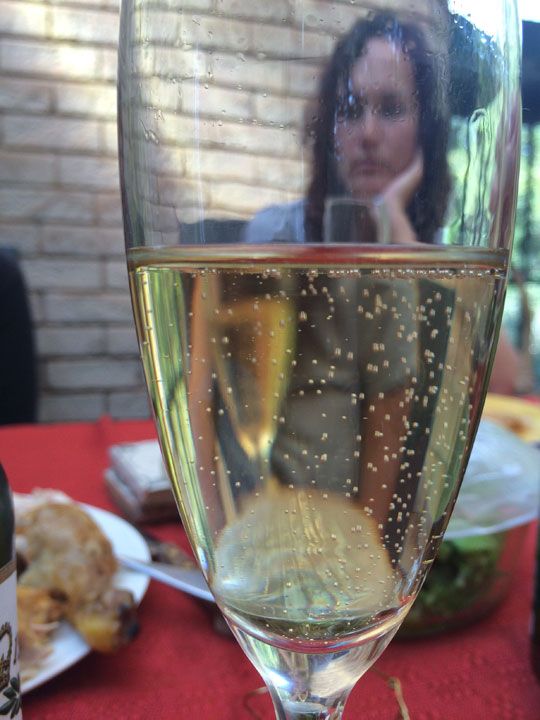 Bubbly
Gran and sister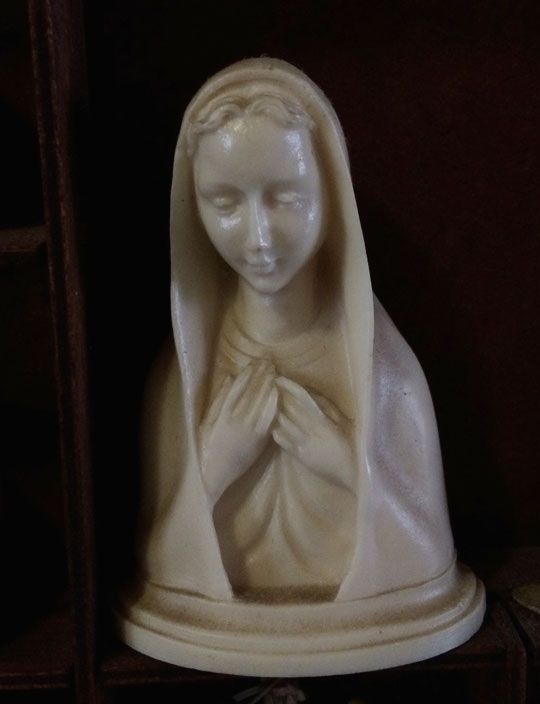 Mary
Saturday
If you live in Johannesburg and have not heard of
Paul Ballen's Home Made Ice Cream
, you have an emptiness in your life. His ice cream is the best in Gauteng, surely. And to make things better, he now serves his delectable ice cream with fresh, warm waffles, at Father Coffee in Braamfontein, every Saturday. I've seen the photos on
blogs
and instagram, and I had to include it in my 30 Days of Party. Father makes some of the best coffee in Gauteng too. The combo of warm waffle, cold, rich ice cream, and perfect cappuccino was perfection. So glad I could share it with a few good friends.
Outside Father in Braamfontein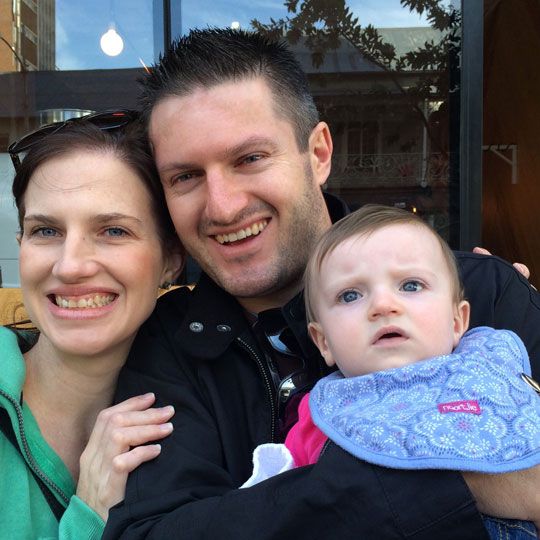 Smile!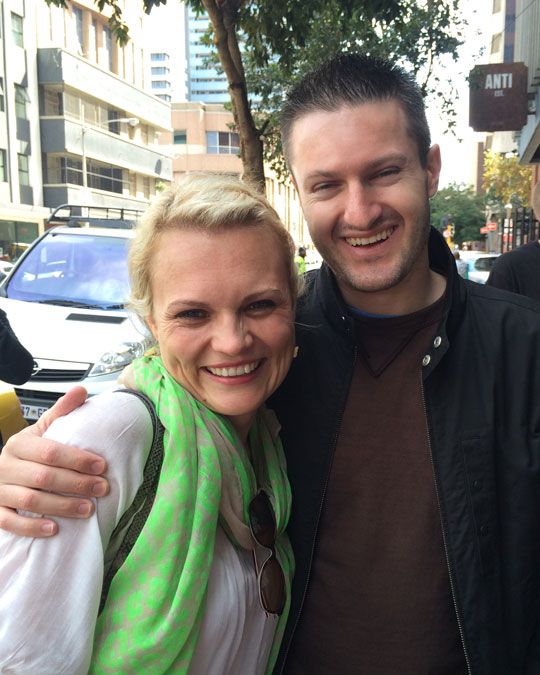 Welcome Elna!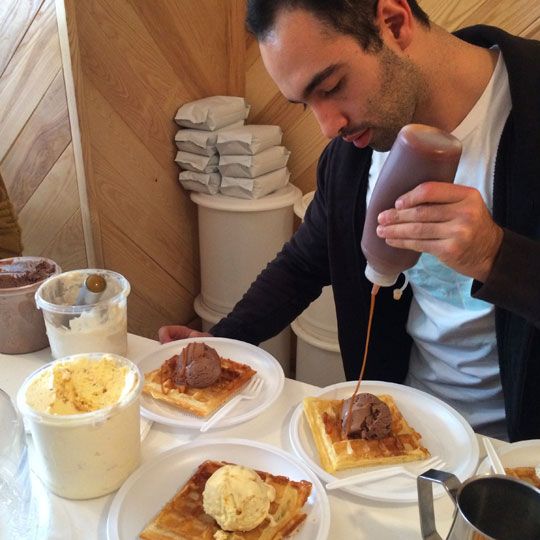 Thanks Paul, you're the best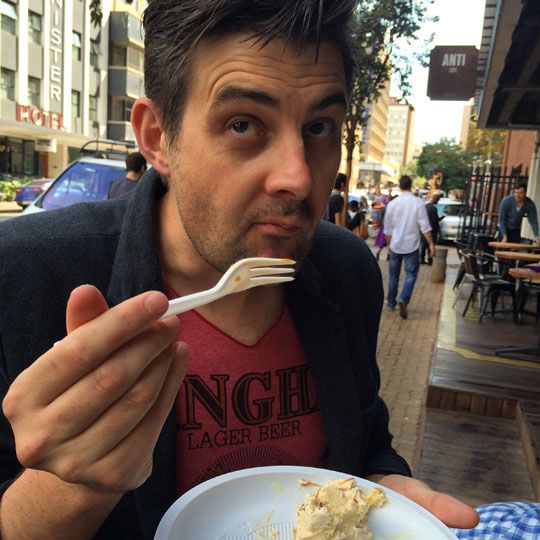 Om nom nom
Mmmm, best cappuccino by far
We wanted to browse the Neighbourgoods Market, but it has just gotten to crowded and crazy (you really can't move), so we had an early lunch at the Smoke House instead. Good ribs, good burgers, good times.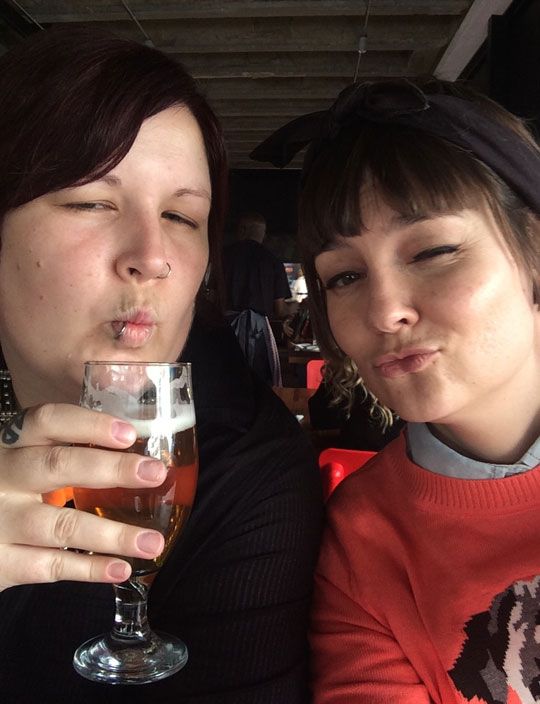 Duck face, because.
Thanks for my amazing blanket Van der Merwes!
Never a dull moment in Braamies. Lisa watching a movie being filmed.
But the day did not end here. One of my friends gave me two tickets to
Kamers vol geskenke
, a design-craft-food event which has grown substantially over the last years. We browsed and bought and ran into old friends who did not even know I knew both of them - it is a really small world, let me tell you.
Fox bag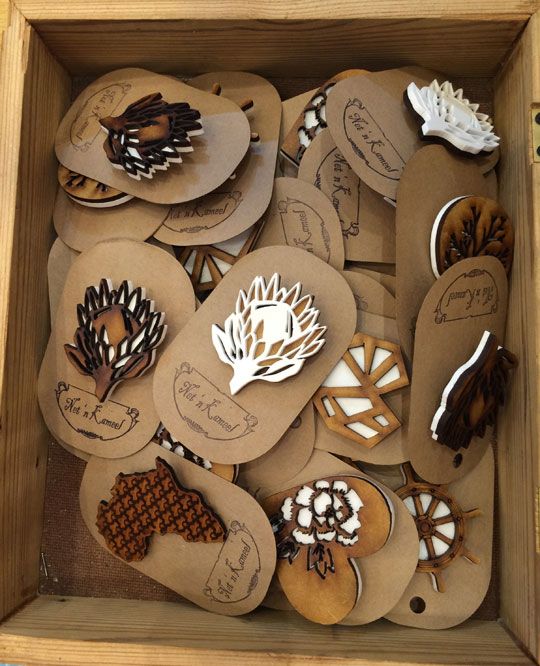 Net 'n Kameel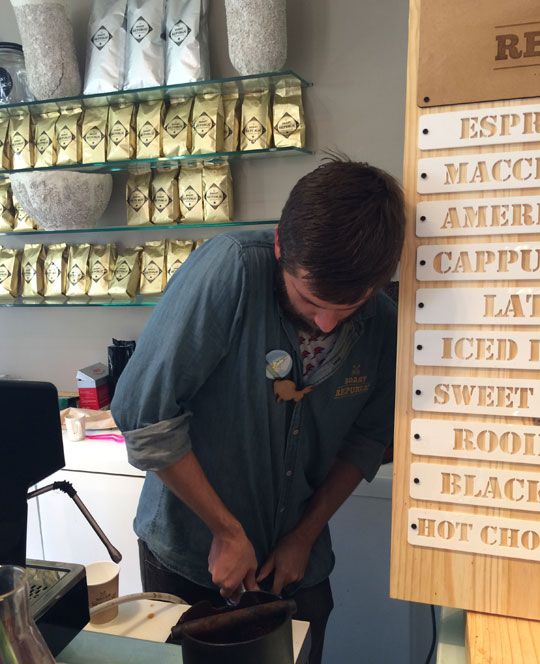 #coffeewithconscience
I ended the day at the movies with Hayley and Marc. Go watch Philomena, really poignant but so lovely at the same time.
Sunday
The plan for Easter Sunday was to keep things a bit more relaxed. So we had lunch at the
Schwarma Co
in Norwood with our good friends Han and Sarel. I love how consistent that place is. The friendly manager/owner is always there, the food is always good, and the substantial flower arrangement on the counter - an institution. We ended the afternoon with coffee, easter eggs and hot cross buns of course.
Birthday flowers!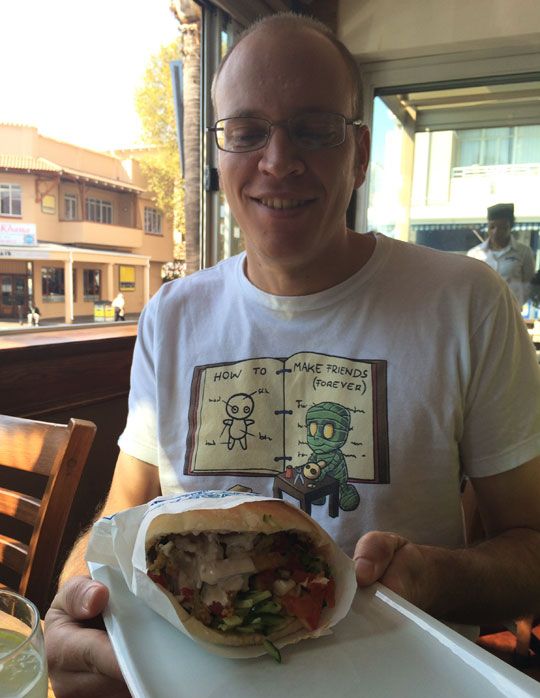 Massive schwarma
Sticky hot cross buns
Yum, I love Easter eggs.
Monday
Another hijacked party I'm afraid. My sister in law and her daughter share a birthday tomorrow. To celebrate we all got together at a place called Die Ou Pastorie (the Old Parish) near Hartbeespoort Dam. We spent a leisurely afternoon filled with wine and food and desserts and laughter. I am quite blessed to have such great in laws.
Die Ou Pastorie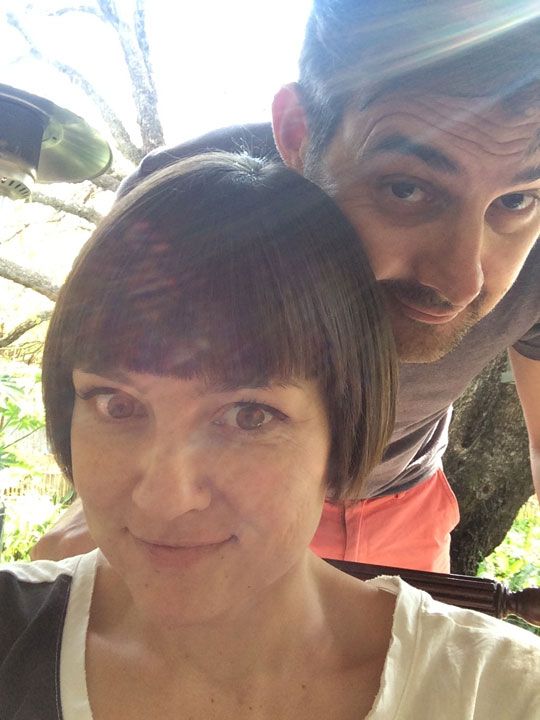 Let's take a #selfie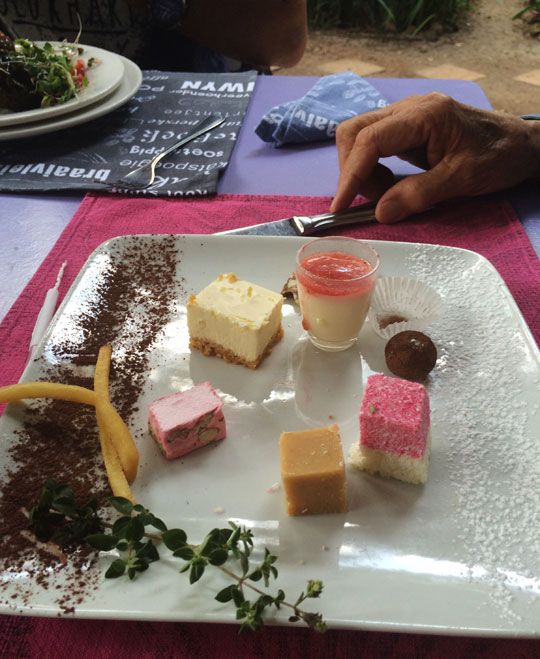 Dessert platter - not what my father-in-law had in mind. We didn't mind ;)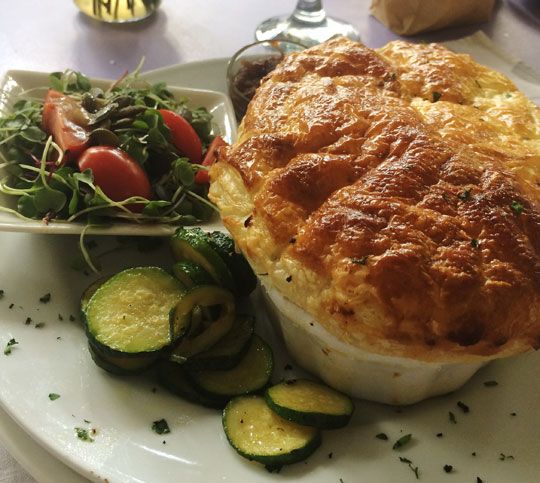 Beef Pie
Chocolate mousse and coffee. Yes.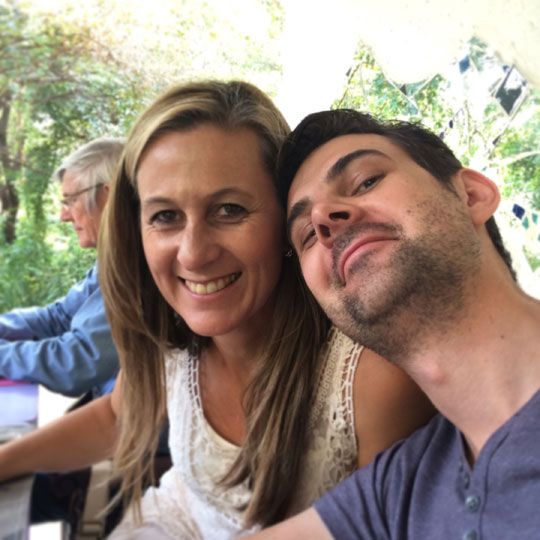 Sister and brother - 11 years age difference.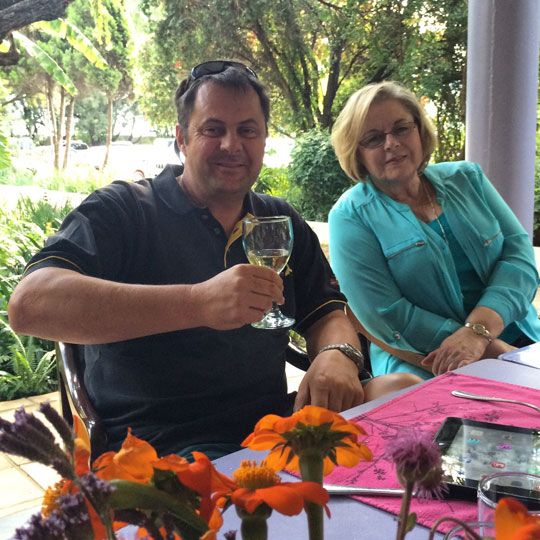 My brother-in-law and mother-in-law
Sort of tame guinea fowl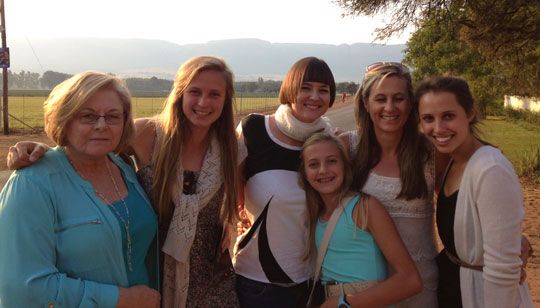 Love these ladies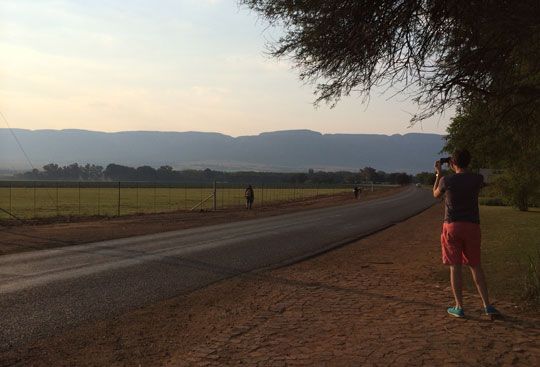 End of the day. End of the weekend.
Eight more days to go. I can do this.