Sea Point, Woodstock and the Cape Town hipsters
Quite a few of our friends recently (well, 2-4 years ago) semi-grated from Pretoria to Cape Town. In fact, one now owns a little piece of the Mother City, in Woodstock. He graciously opened his home to us for a couple of days. I loved the community feel of his neighbourhood. He has diverse neighbours, who all look out for each other, sharing the narrow street with the closely set houses. You can also see who are residents of Woodstock - most german car models' badges unfortunately are, um, appropriated.
Two of his activity suggestions while we were there, was to take an afternoon stroll on the Sea Point promenade, and to visit the Woodstock Exchange.
The Sea Point promenade reminded me a bit of the
Seaport Village
in San Diego. People were jogging, walking designer dogs, and exercising on the outdoor gym equipment. We just went for the sunset and the ice cream.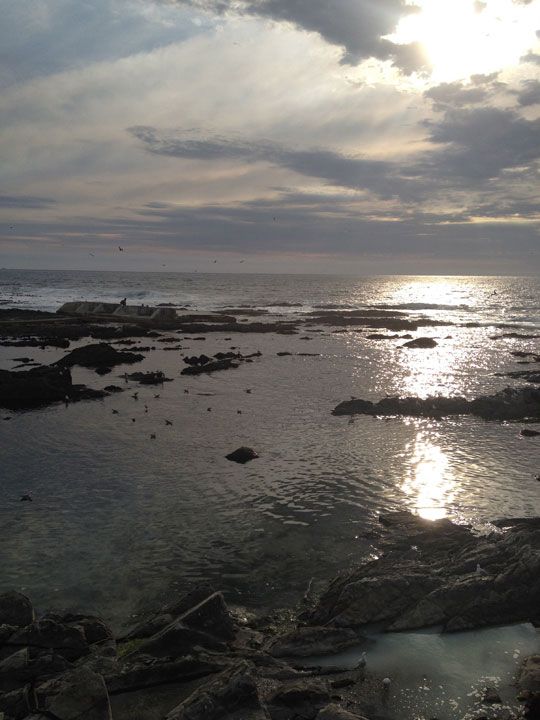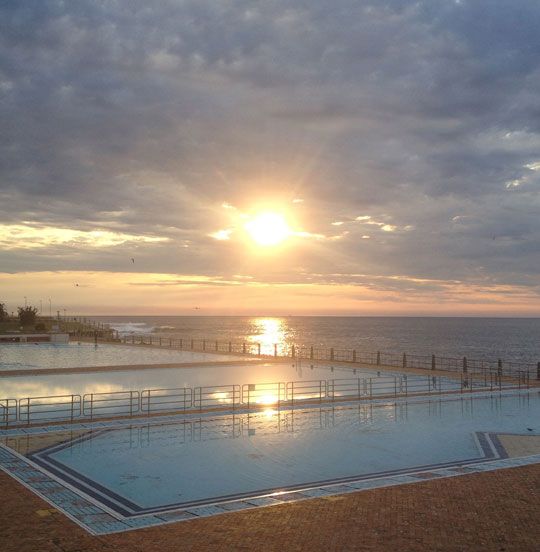 Back to Woodstock. This area is a bit like Maboneng in Jozi. The industrial/commercial area is a bit grotty, with run down buildings and strange little shops. But as with Maboneng, the hipsters have started moving in. And oh man, I think the Cape Town hipsters take it to the next level.
Colourful graffiti in Woodstock.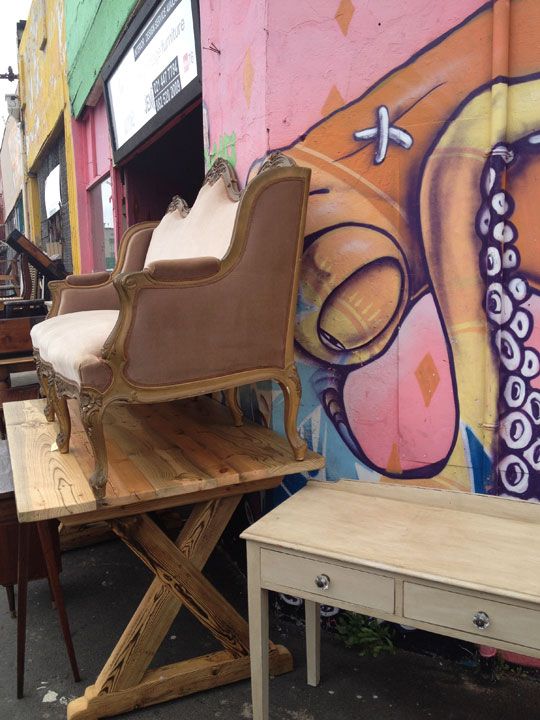 Graffiti and antiques.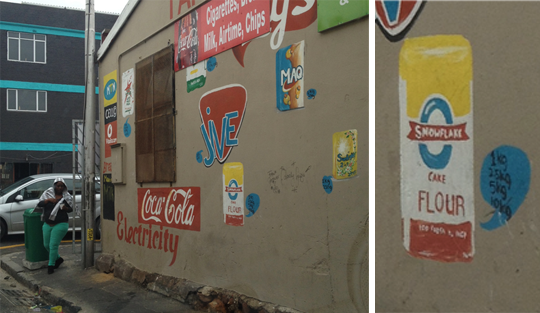 Painted product advertising.
Now, the
Woodstock Exchange
"
is about the giving and receiving of energy and ideas from like minded creatives and businesses. It's really a place to work, play, interact, exhibit, flourish and be yourself. Its an incubator for young fledgling businesses as well as a home to international market makers. The common thread is creativity." There you have it. I other words, it is a hipster haven, an industrial building filled with artwork, coffee roasters, and bicycles. I do think it is an amazing place to hang out at as a freelance designer or photographer. Rosetta Roastery serves up great coffee and coffee making advise. Superette (by the organisers of the Neighbourgoods Market) offers fresh foodstuffs and a lovely place to sit and work or relax. And Lady Bonin's Tea Parlour modernises the tradition of tea drinking.
Although I did feel like I needed an organic knit beanie, and a bicycle with a saddle bag to truely fit in, it was no doubt a very creative and inspiring space.
While we're on the subject of hipsters, I have one more spot I need to share: Truth Coffee. I was planning on going back a second time and take proper photos, but alas, time waits for no man, so the pics aren't great.
Truth Coffee is not in Woodstock, but more inside the City Bowl, in Buitenkant street. Also located inside an old building, this establishment is not just renewed industrial, but Steampunk themed. Incase you are not familiar with steampunk, it is described as a sub-genre of science fiction, inspired by the Victorian era and British Industrialisation, but with a futuristic outlook. Bizarre and beautiful. The inside is dark and mysterious, with studded leather booths, dim lighting, and cogs and old machines everywhere. I could spend hours there looking at all the gadgets and gears. Waiting staff are donned in top hats and waistcoats, leather straps and pocket watches. Ours even tipped his hat at us as we walked in. Charming.
But what Truth is really all about, is the coffee, beans displayed in tall glass cylinders part of a giant machine, as if in a Victorian laboratory/factory. Truth has good coffee. So good that a travel writer recently proclaimed them
"best coffee shop in the world"
. The world. I deeply regret dearly not sampling more of their wares.
Seemingly chaotic flickery lights hang from the ceiling, over metal tables.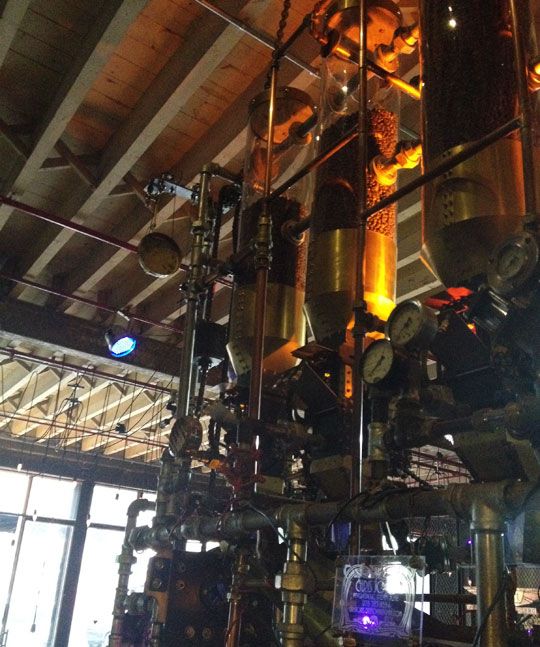 The machine.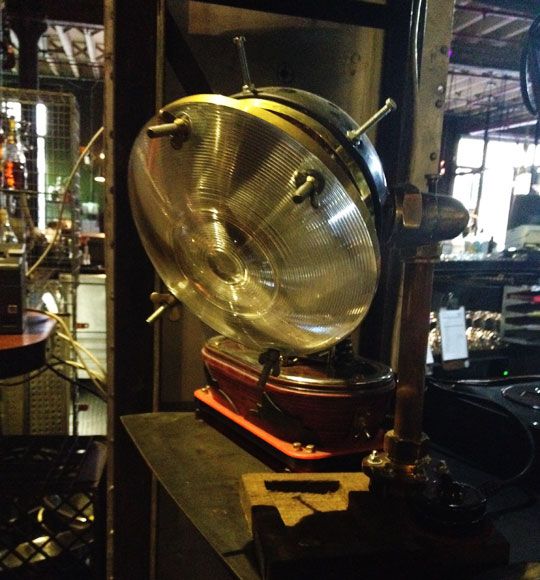 Strange lights and gadgets 'decorate' the shelves and walls.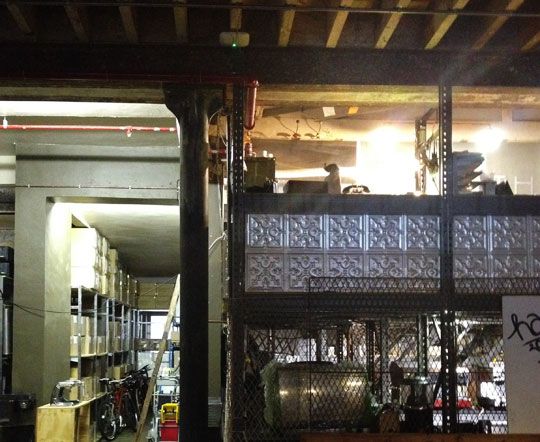 The back office. Dimly lit with stacks of papers and coffee machines all round. I almost expected a man dressed in a hat and suspenders to sit up there, smoking a cigar and fixing he books.

There you have it. Cape Town has no shortage of fabulous coffee and inspirational places.