Vividus - I've had the time of my life
*OVERLY SENTIMENTAL WARNING*
Last night we attended the Vividus 10 year Feesjaar-dinee. What the what? Let me explain in bullet point format:
- Feesjaar translates as Festival year
- It is celebrated every 5 years by University Residences.
- A
dinee
is a formal. Everyone gets all dressed up (read squeeze into matric farewell leftovers), have a less-fancy sit down meal, cheap champagne and wine, and dance into the early morning hours.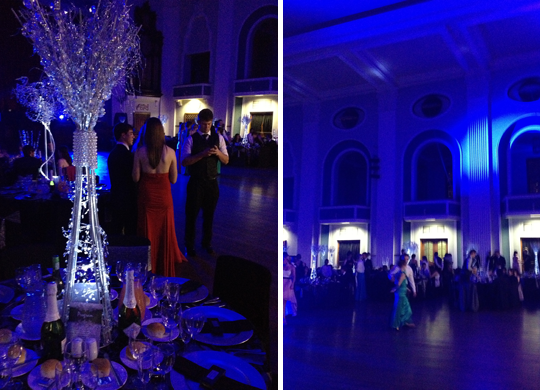 Bathed in blue - the Pretoria City Hall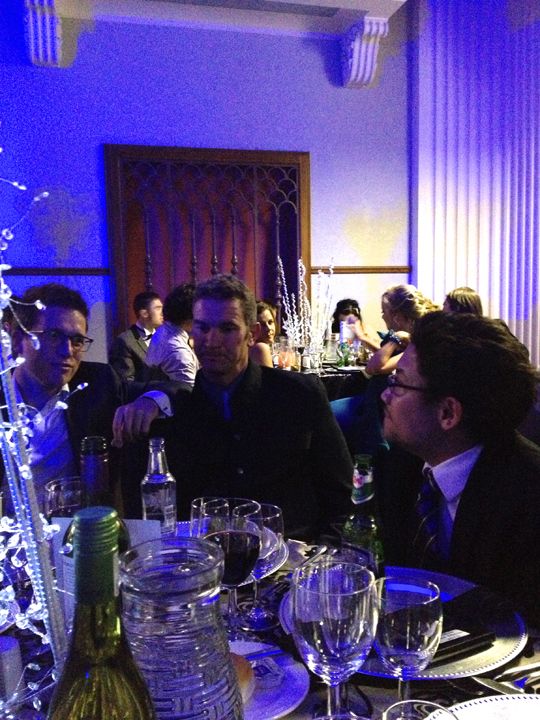 Still with me?
Now, what is this Vividus thing? I was going to write this post about getting dressed up in the same dress I wore to a Vividus formal 8 years ago, only this time with some Spanx to keep things in place, but I realised that this is more about Vividus than aging. Or maybe it is about both.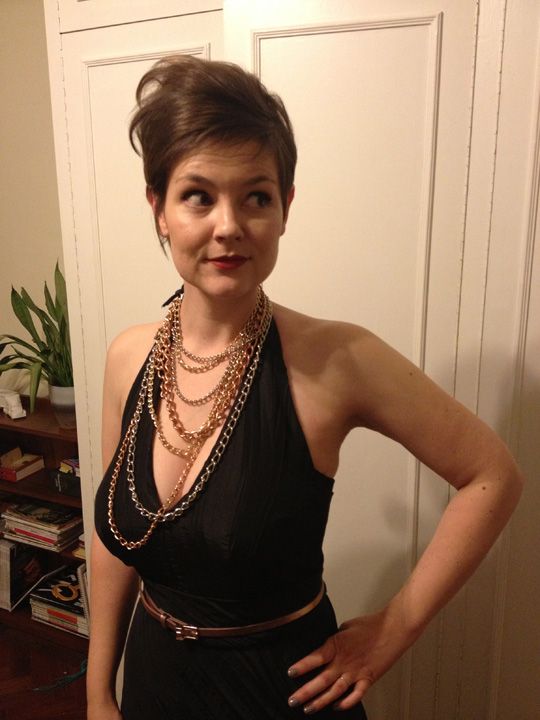 So, in short, Vividus is a Day House that was started in 2003 by some ex-Res guys who suffered from Res activity FOMO. Why? Because University Residences are not only a place to sleep and eat
slaptjips
and toasted sandwiches, but it also gives students the opportunity to participate in various inter-res cultural, social, spiritual and sports events. While most Dailies (Day Students who live in communes or with Mom) spend their free time, and sometimes their class time too, drinking and getting high, some people have the need to practice a capella singing past midnight, have House Committee meetings at 11pm, play rugby against the Police Collage, and go on House Camps at Bela-Bela.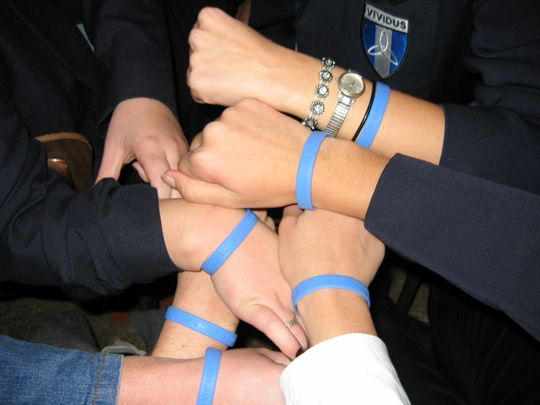 "Full of life." Yes we had Vividus 'Live Strong' bands.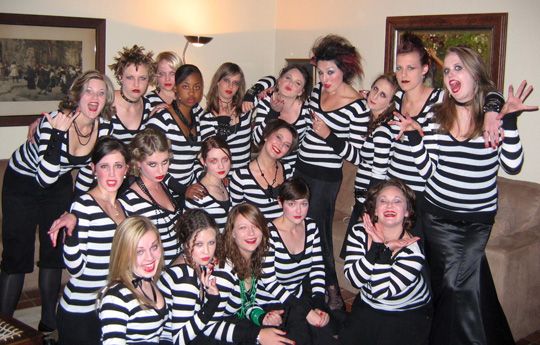 Serenade 2006
I was one of those people. I got sucked into this organisation named Vividus, who, against all odds took on the age old fraternity of University Pretoria Residences, forced their way into every competition, social meet and Jool/Rag procession. Starting with just a hand full of people we worked our bums off. We flashed our biggest smiles at Admin
Tannies
, acquired an office on campus, begged and borrowed church halls to practice
Serrie
, squatted at good-willing parents to perfect Serenade routines, and kicked some but on the sports field. We built our first Rag float in the parking lot of Aandklas pub in Hatfield, without the traditional
blommetjies vou
, because we hardly had first-years to force into this activity. And we pushed and shoved until we were "accepted" into the University Residence system.
Our fist float. It's a number one!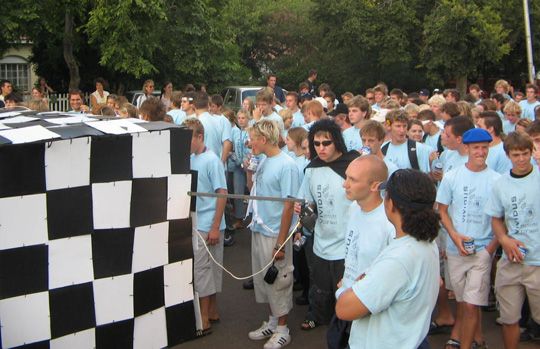 I started as Vividus HK (House Committee) groupie. I spent hours doing data capturing of our new members. I was always there, because it was intoxicating. I juggled studying and all these crazy activities and slept an average of 4 hours a night for 4 years. And I will do it all over again. Because I am so proud. I still cry when I watch Serenade Finals videos. I can feel my chest swell when I recall seeing thousands of first years sign up for Vividus membership, and seeing them a couple of months later filling (almost falling off the stage) the Amfi stage for
Ienkmelodienk
. The absolute devastation of not making Serenade finals after putting heart and soul into it, is still fresh in my mind. And I still distinctly recall hating being part of the HK, and never being able to separate it out of my life, and yet loving it for exactly that reason.
HK 2005 and 2006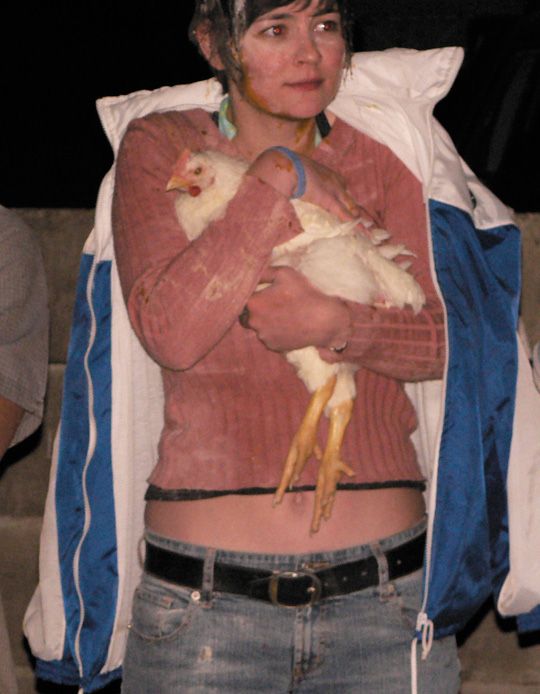 HK initiation. I was holding dinner, covered in syrup and flour. Dinner became our pet.
In 2006 Vividus got so big that we separated into Vividus Men and Vividus Ladies. No more co-ed. The future has arrived. I finished my university career and shook the Vividus dust off my shoes. But it would never completely go away. Because of Vividus I have 90% of the friends I do. Because of Vividus, I married the man I did.
This weekend, as I sat amidst the 500 other students in the Pretoria City Hall, shrouded in blue light, discussing the fact that students of today don't
langarm
any more, but bounce up and down to Dubstep, I had this strange feeling the whole night. Like not belonging anymore, and yet, knowing that I will always belong here, because Vividus has irrevocably changed my life.
Proud Vividus HK
Terminology:
Ienkmelodienk
- First years participate in their first university cultural event. A big song and dance routine that is accompanied by each group's own band (great if you have talented musos...).
Jool
/Rag - charity event. Each Res builds a float according to the year's theme. It is usually made up of a chicken wire structure coverd with plastic
blommetjies
.
blommetjies vou
- First years are used to fold the plastic
blommetjies
/ flowers. You basically take a 10cm square of coloured plastic, put a piece of polystyrene in the middle, bring the corners together and stuff the bit containing the polystyrene through the chicken wire eyes.
Serrie -
Each Residence puts together a themed song and dance routine of about 15 mins. You practice nonstop, making sure even the least talented student knows all the moves and lyrics. Then, one evening, starting with the Ladies' resses, you walk from men's res to men's res, performing your routine in their
ontspanning saal
(hall). They in turn score your performance, whistle at the sexy girls in the group, laugh at the ones less so, and if you are Kollege House, you throw them with buckets of water. The next night is the men's turn to serenade the ladies. 5 Men and 5 ladies resses make it into the finals, and you get to do it all over again, hopefully walking away with top honours.
Serenade
- much like serrie, just with better singing. You have to audition. Best 20 voices are selected at each res. A little less dancing, because makes singing difficult. More prestige. More drama. More tears. Less buckets of water. Winners at finals go to Nationals. Think Glee.
(watch here: http://youtu.be/qMWbxabkUwU)
langarm
- also known as windsurfing. A from of dance made popular by Afrikaans folk. Can be described as a mix between latin dancing, waltzing, and awkward shuffling at the prom. Works best with musical numbers such as Dreams by the Cranberries, and 500 miles by the Pretenders.
HK / House Committee - the group who runs the House. Like the heads of a sorority/fraternity. Each one has a portfolio, such as First Year
Voog
(Foster parent) or Admin (this was me).