District Six on a plate
On Saturday, after several cappuccinos in Braamfontein (more on that later), a visit to Kramerville (meh), and a Westpack shopping bonanza (that almost deserves a post on it's own too), we were hungry. To be honest, we're a bit restauranted out, but we were just too famished to go home and conjure up something. Where to go, where to go? And then I remembered driving past a little place in Emmerentia, called District 6 Eatery. Nested between a DIY hardware and a water shop, you are welcomed into a bright pink, hole-in-the-wall kind of p(a)lace.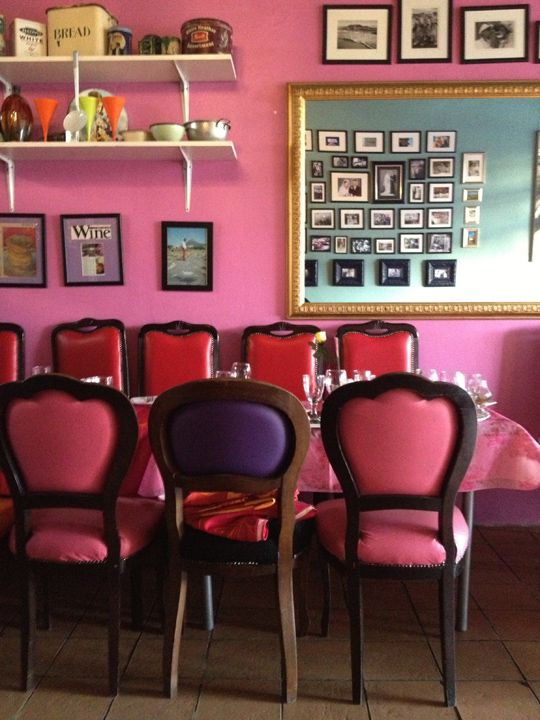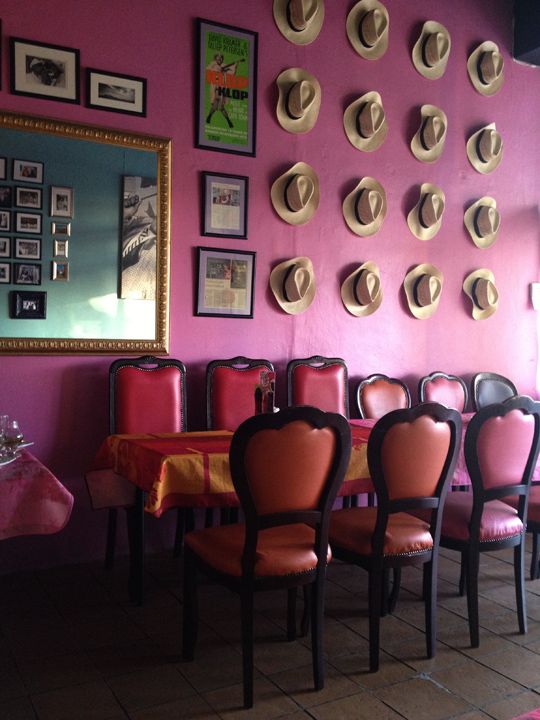 It was 3:40 in the afternoon, and it was quiet. The last bit of winter sun was highlighting a few tables dressed with magenta tablecloths and yellow plastic roses. The walls are covered in old photos of Disrict six,
Kaapse Klopse
(Cape Minstrel) costumes, and press clippings about the restaurant. The menu consists of only 11 traditional dishes, written on a big chalkboard, and does not feature prices. I was sceptic. This meal could either be a home-coming, or a disaster. We order
denning vleis
(slow cooked lamb in tamarind) and lamb curry, and hoped for the best.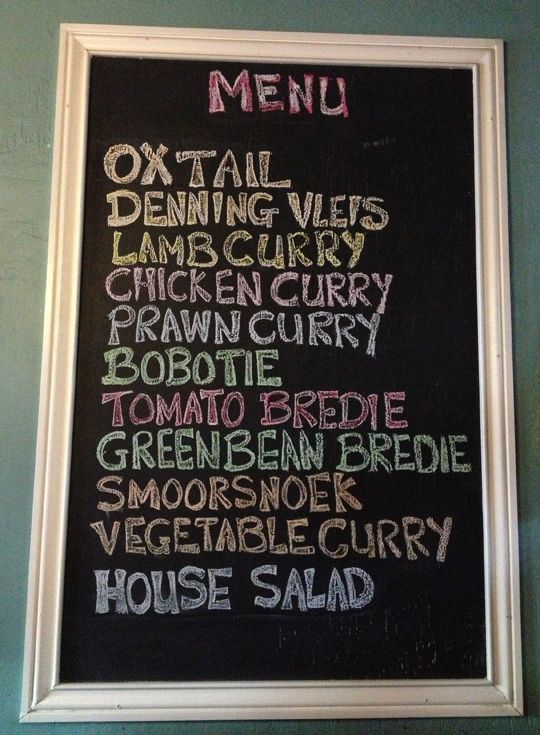 Enters Immanuel. He asked us if this was our first time there. We talked about home cooked food, about bland restaurant meals, and about District six. Immanuel got a twinkle in his blue eyes when he told us about growing up there, and leaving it all behind.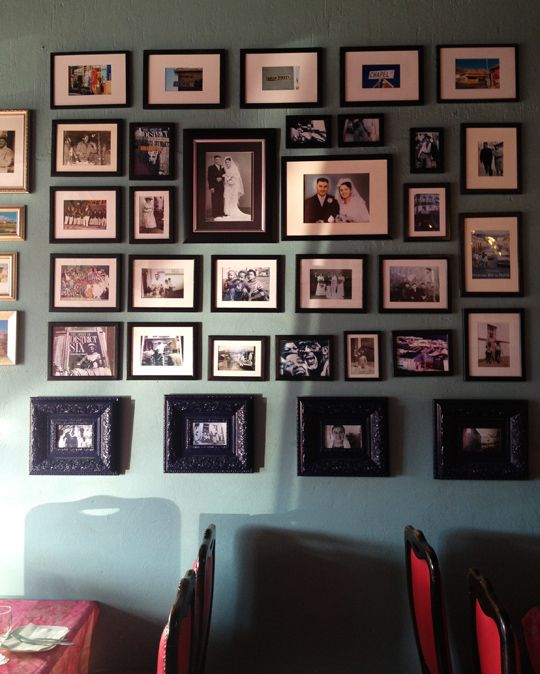 But before I continue, what is this District six? In short, in 1876 the area was named the Sixth Municipal District of Cape Town. It was home to former slaves, artisans, merchants and Malay people. By the 1940s it was home to mostly coloured residents. It was a vibrant community (go read
Buckingham Palace, District Six
). Then the apartheid government decided it was a problem, a slum, and dangerous. In 1966 they proclaimed it as a whites-only area, and started forcibly removing the residents. All their houses were bulldozed. And then, surprise surprise, the area was left undeveloped. I get so angry typing this. Only in 2003 were new buildings built, and residents allowed to return. Tragic.
The arrival of our food was bitter sweet. But soon the tragic story was forgotten. Kat and the Kings serenaded us through the speakers. The roti was piping hot and flaky and delicious. The lamb fell off the bone. And the pumpkin fritter was soft and sweet and cinnamony. It tasted like home. It tasted like South Africa. Pardon the melodrama - good food does that to one.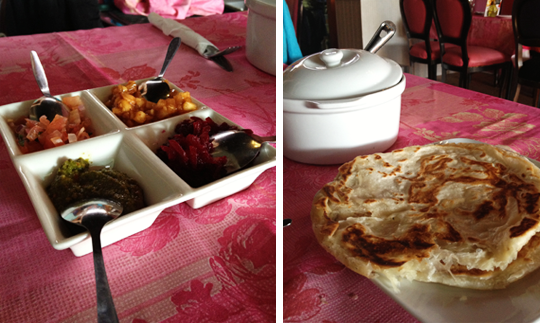 Sambals, pineapple chutney, beetroot and chilli, and roti. Was so hungry I forgot to photograph the rest.
Oh, and don't forget dessert. They claim to serve the best milk tart in Jozi. It was pretty darn good. Forget the sloppy stuff you get at PnP or Woolies. Mmmm. I'll be back.
Go see, or rather taste, for yourself. They are apparently always packed in the evenings, so be sure to book. Mains are in the region of R110 and deserts about R38. BYOB - they are not licensed.
District 6 Eatery Corner Greenhills and Barry Hertzog Road, Emmarentia Tel: 011 486 7226