Bon Jovi and the guy who thought he was Kurt Cobain
Everyone has some guilty pleasures. One of mine happens to be Bon Jovi. Yes, 'hair metal' 80s sensation Bon Jovi. They've been Livin' on a prayer for the last thirty years (!), and the last time they were in South Africa was 18 years ago when I was still in primary school. Last night they graced us with their presence again, and I was there!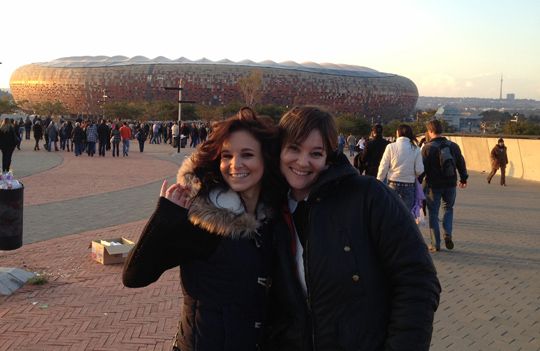 Firstly, I have to give credit to Big Concerts. After hosting 4 big international acts since November, they seem to have finally gotten it right. It was pretty painless getting into the stadium and signage/directional crew was everywhere.
(As I'm typing this I am listening to Bon Jovi, of course, and experiencing a flutter of excitement just thinking about last night. I would go as far as to call last night legendary. "
Shot through the heart and you're to blame...
")
It was a freezing night in Jozi, but that would not deter us. My bestie and I was probably some of the youngest people there last night, with the average age being around 45. This is no surprise really, considering they formed in 1983, a year before I was even born. This was very clearly reflected int he fashions of the night too. At
Lady Gaga
you saw loads of strange stuff. But this was different as contrary to the Little Monsters, these weren't costumes. Here's some highlights (or lowlights)
- The lady with the platinum blond perm and the one strand of black hair
- This lady who took fashion advise from ugly Betty and her poncho
- This guy's jacket. He was a very enthusiastic fan, I have to add
- All the 45+, plus sized men with leather jackets
- The guy who got called on stage wearing a Matrix leather coat
- The lady with the velour sweat pants who managed to sneak a little camping chair in while other people got stopped for having deodorant in their bags
- And best of all, the guy who thought he was Kurt Cobain, with the long greasy blond hair, flannel shirt, cowboy boots and jeans with no backside and an open fly. Yes, his grungy jeans were so grungy that the backside was completely missing. Luckily he was too stoned to feel the breeze.
"I'm a cowboy, on a steel horse I ride. I'm wanted, dead or alive."
Back to Jon, I mean Bon Jovi. These guys are old! We were glad they made it onto stage. But damn they can rock. Jon Bon Jovi has had some work done, clearly, and by the end of the night he looked a bit worn. But when he smiles, grabs his guitar and jumps around on stage in his skinny jeans, he looks no older than 30. David Bryan, the keyboard player, looks like he has been standing in that exact spot, in front of the exact same organ keyboard since 1983. His hair says "80's hair metal and proud of it. He was great. So was the drummer, Tico Torres. He rocks so hard he needs to wear gloves. And he didn't have to take off his shirt like the pre-opening act, because, he is an awesome drummer. And the guitarists, yeeaaaah! Especially Phil X, the stand-in for Richie Sambora, with his 'sticker guitar' to mention but few. I almost started a mosh-pit!
"It's my life, it's now or never"
Let me just say again, this show was legendary. They preformed for 3 hours straight, singing all the classics, making as jump and scream and sing every word out loud. They even included "Start me up" by the Rolling Stones and "Pretty woman" by Roy Orbison (because there were "47 000 pretty girls in the audience and 20 000 ugly guys"). The second song they played was "You give love a bad name", one of our absolute favorites, my friend and I went ballistic. The lady in front of me turned around and said we are going to pass out if we keep screaming like that. We kept going, partly to annoy the old men that squeezed infront of us, and partly because Bon Jovi is awesome.
Today I can barely walk and sound like I smoked a pack of Camel Filters.
"Gonna live while I'm alive, I'll sleep when I'm dead."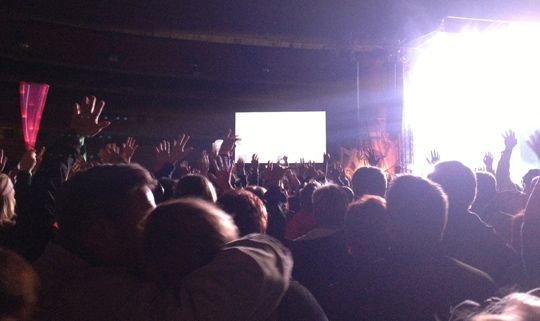 Thanks guys. Keep rocking for another 30 years, hip-replacements and all. And thanks for including "Always" in your second encore. I almost got teary, but not quite like the lady who bawled her eyes out during "Bed of Roses".
"And I will love you, baby, always."