Hello Cape Town
I am way behind on blogging again. It has reach critical mass - either I start with the stuff I still wanted to write about now, or just leave it completely. SO here goes:
After the Midmar, we decided to take a well deserved holiday. Our destination would be Struisbaai via Cape Town. I'll get to Struisbaai in another post so lets talk about CT first.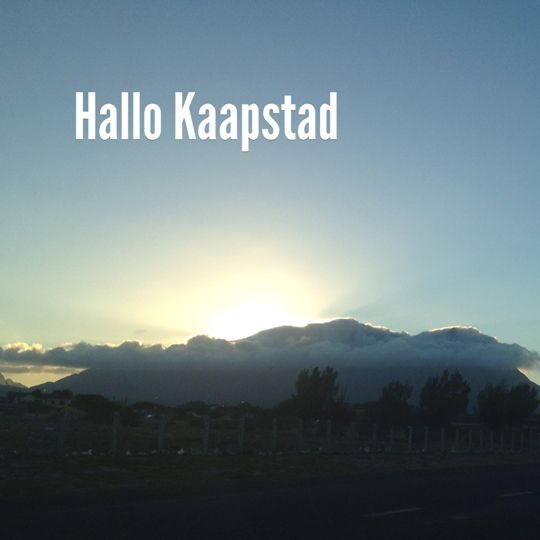 I have a bit of a love / hate relationship with Cape Town. No one can deny that it is gorgeous. The city is clean and the buildings have history, and the ocean and scenery is fantastic. But that makes it kind of like that mean girl at school, that is just about perfect, but knows it. There is sometimes an air of superiority around it, around the people that live there. It is as if there is a shared disbelief that anything else in this country could be as beautiful, as sophisticated and interesting. Nobody is perfect okay.
Back to our stay in the Mother City. We stayed at the Daddy Long Legs hotel in Long Street. Well, we first arrived at the Grand Daddy Hotel, in Long Street. I was so excited to stay in this hotel, with it's individually designed, quirky rooms and Airstream trailers on the roof. But alas, we had reservations a few blocks away, at the more affordable Daddy Long Legs with it's individually designed, quirky rooms. We later learned that they were affiliated at some point, but then the Daddy Long Legs started the Old Mac Daddy trailer park in Elgin (more on that later), and they decided to part ways. You can see how this could get confusing right? So many daddies!
At the Daddy Long Legs we were greeted by a very friendly hostes and offered a complimentary welcome drink. The place has a great vibe and I am sure young travelers will make a new bunch of friends in no time. The rooms has names such as "Public Phone" and "Open, which we stayed in. We had to take about 4 flights of stairs to our room (no elevator, just so you know). I remember the room was featured in a couple of magazines a few years ago. It was small but fun, with mirrors everywhere! (This could be a good or a bad thing) And you get a rol of Mentos on your pillow, which is cute. A few things are fraying at the edges, like the shag carpet, which is not that shaggy anymore.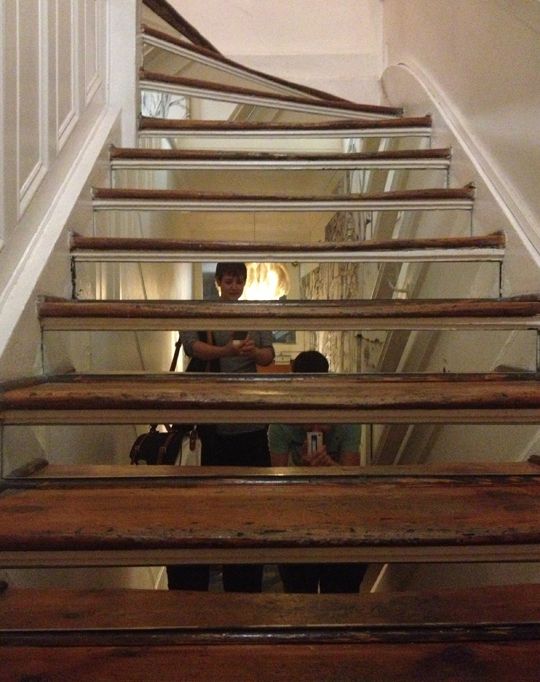 Mirror staircase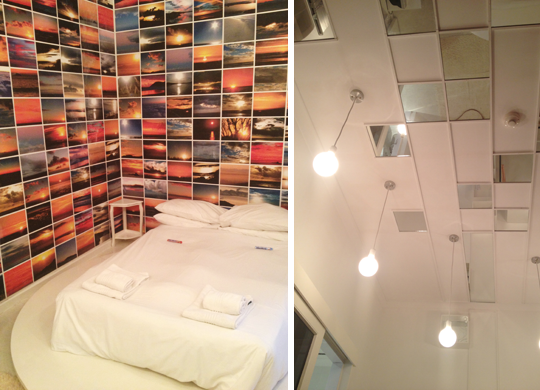 Our room: sunset wallpaper, mirror ceiling, and a round base bed.
Lights, inside and out.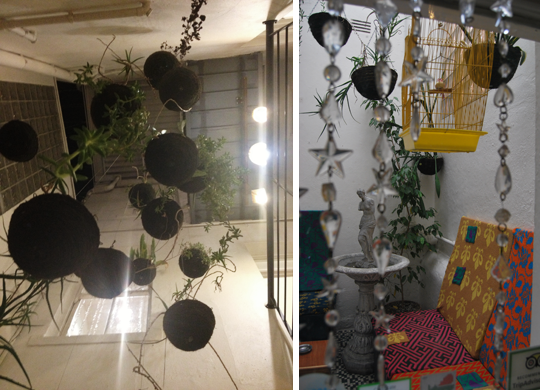 The shaft is decorated with hanging plants, and at the bottom of the hanging garden,
what is more appropriate than a Grecian fountain and some seating.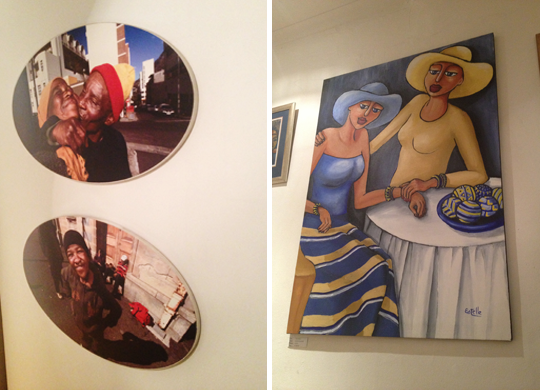 Great photographs of Captonians decorate some of the walls. Some of the other walls however are decorated with these horrid coffee shop kind of paintings. Does not fit the style and vibe of the place at all! Bizarre.
If you are looking for an interesting, playful place to stay, this is a good choice. Don't expect luxury or peace and quiet - this is Long Street yo.
We were only in Capte Town for a total of 2 days, so we did not do a lot of exploring. We did visit these two attractions though:
Charly's Bakery. EVERYONE, know's about Charly's. It even has it's own reality tv show. I had to go sample their famous, aka mucking afazing, chocolate cupcakes. I have to admit, they were rather good. Not the best I have ever had, but pretty good. The red velvet cupcake was awful though. Charly's is worth the visit, if only for sneaking a peak at the decorators slaving away, creating sugar loveliness.
The second attraction we visited, was Signal Hill. We were looking for a spot to have a picknick with friends, and so we headed up the mountain, not Table Mountain (it was too busy), but next door. Signal Hill was originally used to, yup, fly signal flags to communicate with ships. Understandably, the view from up there is spectacular. On a good day, like the day we fortunately had, you can see for miles and miles. It really was a perfect spot for a al fresco feast. We drank crisp, cold wine and watched the sun set over the ocean, and was then spoiled with a 360º city light spectacle. Life is good. Thank you Cape Town, you showed us your good side and treated us to a windless, cloudless evening.