More Midlands, with a bit of Mandela and Mary
After swimming the Midmar Mile on Sunday the 10th of February, we had an afternoon to do some
Midlands Meandering
. This mainly involved getting a bite to eat, since I now had my apetite back, and visiting the Mandela capture site.
We travelled from Lidgetton to Nottingham Road, winding along and contemplating where to stop. Our first port of call was the Bierfassl (The beer vat) - a proper German pub selling beer from the
Nottingham Road Brewery
on tap. We stuffed our faces with eisbein and kassler steaks, all accompanied by buttery mash and sauerkraut. As with most pubs, it was too dimly lit to properly photograph the food, but I do have this shot of the Notties Beer tasting board. Four glassed of beer for R17 -bargain!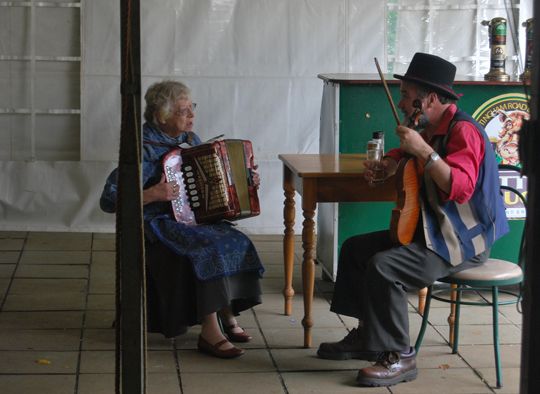 Traditional duo playing Scarborough Fair more than once
On our way back we had to stop at the Waffle Inn for, you've guessed it, waffles! We had warm, sugary Belgian waffles while watching yellow weavers feed a not-so-little young one. Their waffles were deeeelicious and the owners delightful.


Before the sun set, we had to stop by the
Mandela Capture Site
to view the monument constructed by Marco Ciafanelli. It was erected in recognition of the 50 year anniversary of Nelson Mandela's capture by the Apartheid police. What makes this monument very interesting is that it is not just a static statue. Rather it is made up of 50 individual colomns, that, when viewed at the correct angle, forms Mandela's portrait. If you move even a step to the left or right, the image distorts. Perhaps this says something about perspective, about how things are not always clear from only one angle, and that one needs to move to see what is right in front of you. Which ever way you look at it, pardon the pun, this is an impressive artwork, one which I am glad the government invested in.
On our way back to
Lastingham
, we finally stopped to get a shot of this Eskom power station. I liked this building. It seemed to have a face. A crying face. Perhaps crying over high electricity rates?
The next day we headed back to Johannesburg. We made one stop though, and it was to see the smallest church in the world. I can not confirm the accuracy of this claim, but that is what the sign says. And it was pretty small. I remember visiting the Van Reenen's Pass church as a kid. It is so small that a large Afrikaans family would probably not fit inside. Inside you will find the usual Catholic icons. Lots of Mary and Jesus statuettes, some rosaries and Fatima's prayer. It was serene. Unfortunately too dim for photos.


Like I've said before: I love the Midlands.