It's a miracle! Swimming goggles that fit.
Yes, yes, another post about swimming, and yes, I am behind on blogging due to internetlessness, but those posts will have to wait. This is important!
Since I started this
swimming thing
I have had issues with the goggles. They are an integral part of the swimmer's kit because eyes are not made to function, or like, chlorinated water. My goggles however, has always been leaking, fogging, squeezing my eyes out of it's sockets, and making my head feel like it has been in a vise grip after 30 minutes. I started with a inexpensive one from Total Sports then upgraded to a Speedo pair. Yet the suffering continued. This week I decided, no more. I needed to find one before Sunday (which is D-day aka Midmar 2013).
I have been researching goggles for months now. I even ordered one from TYR, that came recommended and promised to reduce "raccoon eyes". But they did not have stock. I could not find it in stores either. Then I bought a different TYR pair that is made specially for open water swimming. No luck - this thing leaked more than a rusted watering can.
Yesterday I rushed into Sportsmans Warehouse Blackheath and frantically started trying on goggles from Speedo to Arena to some other brand from Italy. I did not have a clue what I was looking for though. Finally a kind salesperson saw my despair and said he'll call a lady who is an expert. Yes! So here is a piece of info that I, newbie swimmer, would have loved to know a year ago - you need to
try on
goggles. Why? Because a) there are no sizes and you have to find one that fits your special face and b) they have to suck onto your eyes without you holding them in place. Kind of like this: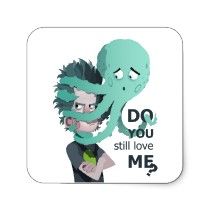 Imagine that. Finally I found a Speedo pair that, well, sucked onto my face. We even tried on the pair that I have and clearly it did not do the sucking thing.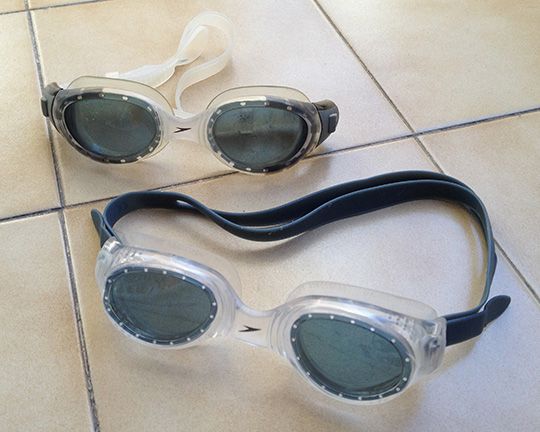 The back pair is my old one, and although it does not seem that way in the photo, has bigger lenses.
All that remained was to put my new purchase to the test. First test, swim a couple of laps with new goggles in place - no leaking. Secondly, adjust straps so they are less tight and vise grip-like. This is a big test because usually, after removing goggles due to headache and then "reapplying" them, they would just leak and leak no matter what I did. This new pair kept working like a charm! Best of all, I did not look nearly as raccoonlike afterwards. Common sense? Perhaps. A miracle? To me, yes.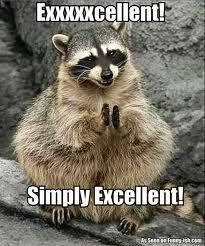 Moral of the story, swimming goggles are like jeans, you just have to keep trying them on until you find the magic pair that works for you.