Friday lunch at the Radium Beerhall
A couple of Fridays ago, our team at work decided to go to lunch. There were many lovely options, but we decided to go for a traditional, old pub. And where better than The Radium Beerhall located in Orange Grove.
The Radium is the oldest bar and grill in Jozi (since 1929), and used to be a tearoom back in the day (read more
here
). I wish I knew what it looked like in those days, and can only imagine lovely ladies having tea and chatting about starching their husbands' shirts. Today however it is filled with mainly the husbands. Heheh. Okay, it is probably not that bad, but when we arrived over lunch time, there really were only men over the age of 50. It was packed. I think this is the closest you'll get to having a local, like Cheers. It cleared out after lunch, and filled up again around 4pm with again, mostly men, this time 35 and up.
Panorama shot of the bar area
This place is a legend in itself. It has tons of stories to tell. Apparently it used to be frequented by journalist - if those maroon walls could talk... Mind you, there are loads of old newspaper posters decorating the walls. They have managed to collect some rather interesting headlines over the years. Another thing the Radium is noted for, is the musical acts that play there 4 nights a week. Everything from Jazz to Rock it seems.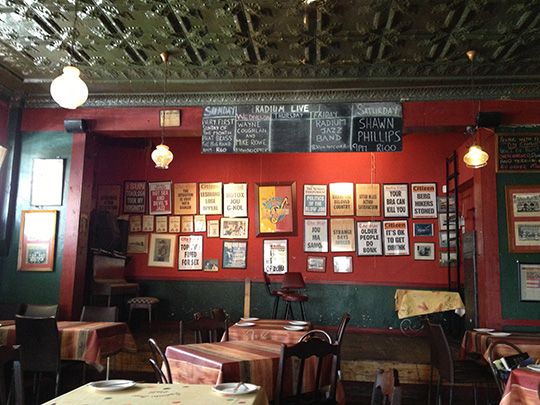 The stage wall is decorated with news headlines and other memorabilia
In terms of food, don't expect the Bowls Club's cheap chips and pizza. I found it rather pricey. The menu consists of grills, pizza, salads and even pasta - all Portuguese. I had half a piri-piri chicken and chips and it was quite nice. The chicken livers were also kicking. They did not have chocolate sauce, so I could not have the ice cream for dessert, and strawberry cheesecake which my friend ordered, was not cheesecake.
But my favorite part must have been the Kilkenny on tap and some Portuguese bread and butter. No space for dieters at a pub right. If you like a good draft, they have a good variety. Proper.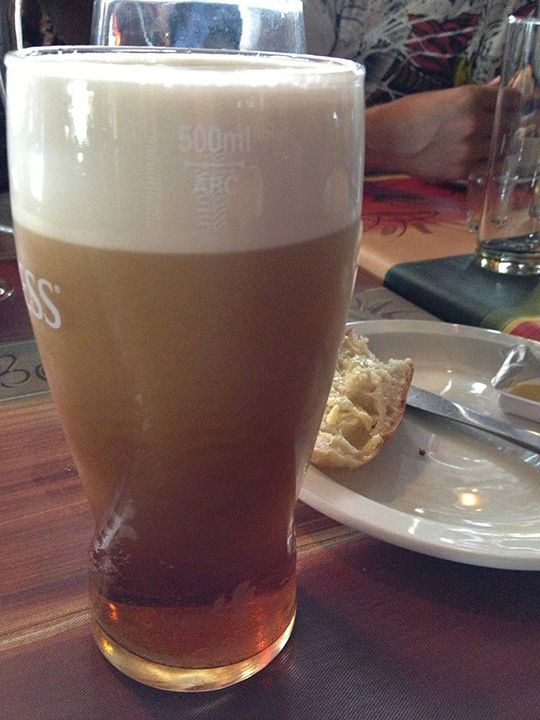 Oh, and there is a cat who sleeps on the bar. Love it.