Another dam swim
There are 19 days, 6 hours and 3 minutes to go until the Midmar Mile 2013, according to their
website
. As you know from
previous posts
, I have been training to do my second Midmar. Part of the plan is to do a few open water events, to track my progress. Today was one such event.
It has been raining for 3 days and the clouds were gray and saturated. Waltzing around in a bathing suit was not at the top of my list, but alas, I have already entered and paid. And the Midmar clock is ticking - 19 days 5 hours and 57 minutes to go.
So off I went, with my support team (every sportsperson needs one right?), aka my parents and husband, to Lake Heritage at
Heia Safari Ranch in Muldersdrift
.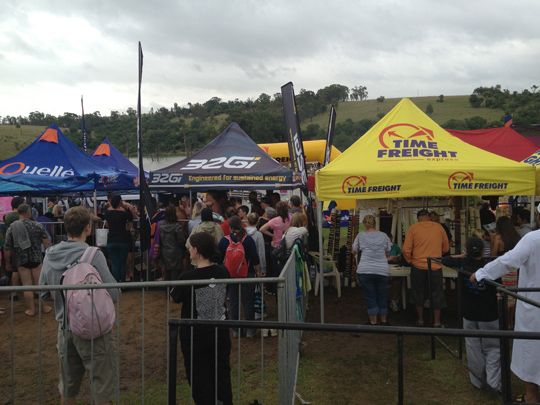 To get your race number and timing device, make your way through this drukgang - it makes you feel like a cow.
Next step is marking - sometimes on both arms, sometimes on your wobbly thigh as well.
Now, I don't have many interesting photos about today's event, but I wish I had. I really need those
google glasses
so I can take more inconspicuous photos. Open water swimming events draw an interesting crowds. I'm sure I've mentioned it before, but swimming really is a great equaliser. All shapes and sizes. From 5 - 85years. Anyone can swim, with a bit of practice. The support teams are also an interesting bunch to watch. As with most sporting events, I guess, it becomes a family outing. An opportunity to sit in camping chairs and have a
dop
. And no such Sunday outing would be complete without
boerewors
,
pannekoek
, mini doughnut and chip 'n dip stalls.
The boerewors stalls might be my least favorite part of the whole open water swimming thing. Yes, not even the icky mud or kicking competitors are as troublesome as the smell of frying
wors
in your nostrils while you are trying to swim a 1200m. It makes my stomach turn.
Anyway. Have a look at some pics. This
Lake Heritage
is a strange place. I don't know much about it apart from the fact that it is clean and thus probably has no river running through it, otherwise it would be full of Diepsloot's laundry and loo water, and not fresh water carp up to 16kgs in size/weight.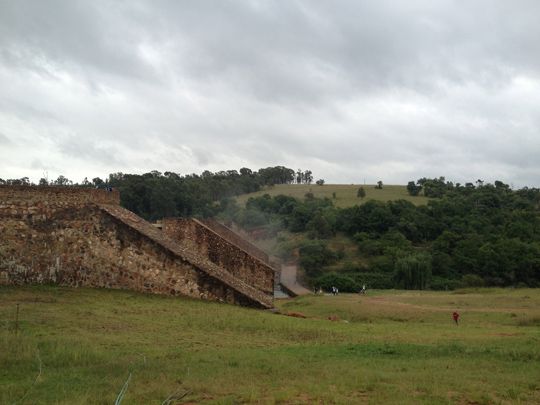 Spray from the water cascading over the dam wall.
Supporters on the dam wall.
Boys under 13 and Men 31+ finishing the 1200m Midmar Seeding Event
I think I did better this time round than the last. I have now learned a few things:
- Do not have any energy drinks beforehand (makes me nausious in the water
- Do not arrive to early, it just stresses me out
- Make sure to secure goggles on face securely before hitting the water
- Stick to the left back of the pack, to avoid the teenage girls who are ready to kick the living daylights out of anyone
- Watch out for criss-crossers - this is like driving in peak hour traffic, some people just don't look where they are going
At the end of the day all that remains is my race number (takes about 3 washes/scrubbings to get rid of it. Or aerosol sunscreen (must be the alcohol), a swimsuit that smells like a fish tank filter, and another medal to add to my growing collection. Hehe.