A public pool. A swimming bath.
Okay, another blogpost about swimming. I should have been a Pisces.
It's one thing to go jump in a lake on a Sunday morning, but you need to do some training first. So far I have been hitting the gym, but recently some friends wanted to join in the fun. One has a gym membership at a rival fitness group, the other is sans gym membership. What to do, what to do? Last year I did a few sessions at the Hillcrest pool in Hatfield, Pretoria. It is an olympic size pool, 50m in length and open to the public. But we are in Joburg. Surely there has to be a Joburg alternative.
Indeed there is! Hooray! Last year I discovered the Linden public pool, in the suburb of, you've guessed it, Linden. Firstly, I did not even know it existed. I might have even passed by it and not know it was a pool. But it is there, amongst the family homes and duplex townhouses. It is a 25m pool. It is clean, indoors and open to the public for a minimal entrance fee (I think it was R7).
This year I discovered the Zoo Lake pool, aka the Zoo Lake Swimming Bath. Funny thing that - public bath. It always makes me invision ancient Roman baths, filled with fat men and pretty ladies bathing together, eating grapes by the mouthful. It also brings to mind a time long gone, when kids walked barefoot to the corner café to buy Wilson toffees and licorice.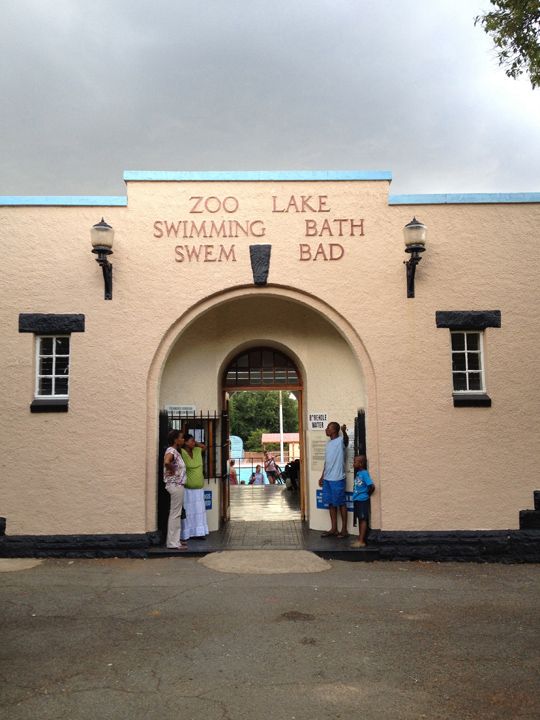 But back to 2013. The Zoo Lake pool is right next to Zoo Lake (no surprise there). You hand your R5 to the lady behind the wooden counter and off you go. There are cloakrooms, but they are not in use. There is a foot bath to kill your icky germs before heading to the pool, but no more disinfectant water in it. There are lanes but no ropes, so you kind of pick a spot and try to stay out of other people's way. You need to do this, because, it is surprisingly busy. Anyone from pregnant mothers with toddlers, old and skinny German ladies, young hipsters, school teams from Greenside Primary (if you are there early in the afternoon), and average swimmers like me. I saw some life guards the one day. And today, after closing time (17:45), a group of polo players arrived (take note single girls).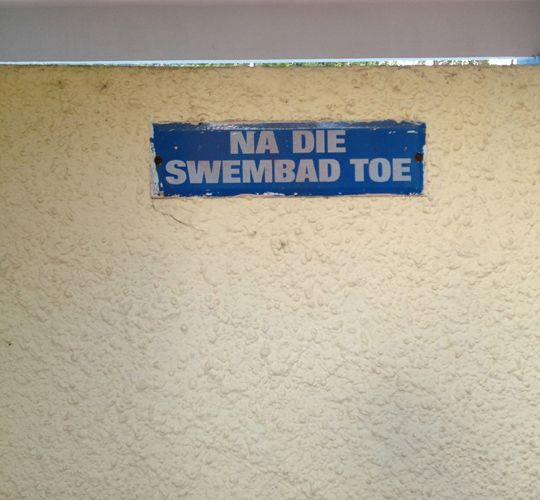 To the pool! It feels like you should shout that.
The pool closes at an odd 17:45, at which point a (school) bell rings. But we found out you can continue swimming, at your own risk, and slip out the side door. Bizarre.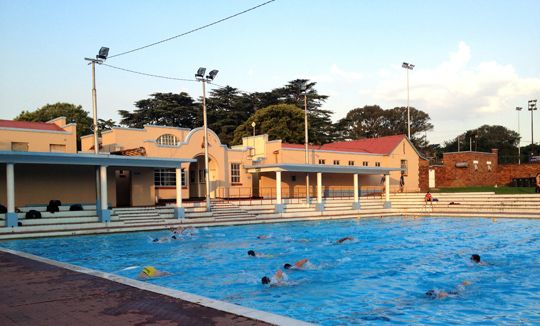 Polo players doing drills
Oh, most importantly perhaps, is the length of the pool: 30.5m which would translate to 100 foot. Yes, the pool was built in a time when things were still measured in foot. I don't know when that was. I could also find no signage to indicate this particular measurement, and had to confirm this via facebook, twitter and some knowledgable friends.
I really enjoy swimming here. I like the feeling of nostalgia and holiday. And I like being part of a community. A public who uses the public bath.