At the Monster's Ball: Lady Gaga in Jozi
I should have posted this 2 days ago, at least, but I was still nursing a Gaga-induced hangover (sans alcohol, mind you). I told myself I had to finish it before the Cape Town show is over, and since that is happening as we speak, I am still safe.
On Friday night we went to see Lady Gaga perform at the FNB stadium in Soweto, aka Soccer City. This is significant for a number of reasons. Not just because she is the first female act to ever perform at the magnificent Soccer City, or that it is Mother Monster's first time in the Dark Continent. But because it was my first time at Soccer City, and my first time at a concert of this magnitude. I've been to festivals and local shows, but never a big one in a stadium. And yes, I was really looking forward to sitting in the giant calabash, 2 years after the World Cup.
About 3 or 4 days after the Computicket queues and dramas were old news, I checked to see if there were any tickets left, purely out of curiosity. See, South Africa has recently seen a spurt of international acts announce their touring to SA. Many international have been here before, but usually only the guys with the dead end careers, or dead band members. Then came U2 and suddenly every South African was a massive fan, and filled up the stadiums within minutes. If U2 thinks SA is okay, then it must be, right? And so followed a bunch of others, including most recently Lincoln Park, The Prodigy, Red Hot Chili Peppers (2013), Bon Jovi (2013), and Lady Gaga. Anyway, so there were still tickets available and we said: "Why not".
I like Lady Gaga. I am not a massive fan, and do not own a CD. But I think she does very interesting things, writes catchy songs, and does a lot to raise awareness about bullying and acceptance of all races, sexual orientations etc, with her message of Born this Way, which I wholeheartedly support. And I know she is a great performer. With awesome costumes.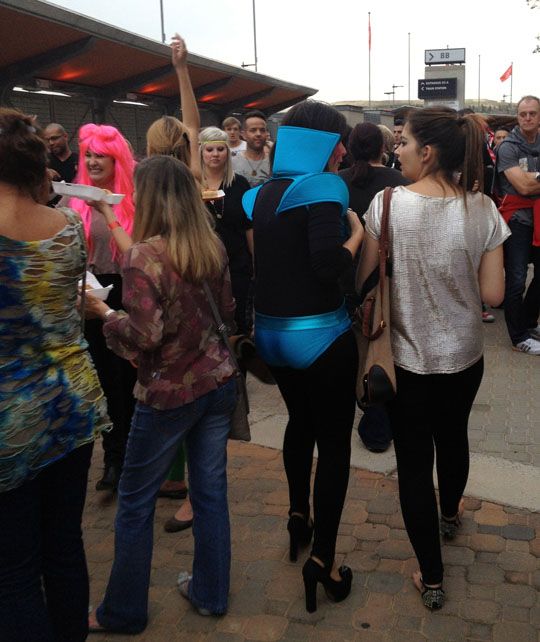 Off we went on Friday afternoon, trying to dodge most of the manic weekend traffic. We arrived shortly after 5pm. We got scammed by a parking attendant. We got disorientated at the stadium. Big Concerts was not big on directional signage. We scoffed some hotdogs - my first one since Central Park. We gawked at the people/fans/little monsters (I can usure you not all of them were "born this way"). And we made our way up the multi-story ramp, deep within the walls of the calabash, to our seats. Yes, we sat at the very top of the stadium. When you have climbed, and climbed and have no where else to climb to, there you will find our seats. And there we sat, and sat, and sat until our bums were flat, and my neck was stiff from falling asleep during the super boring opening acts.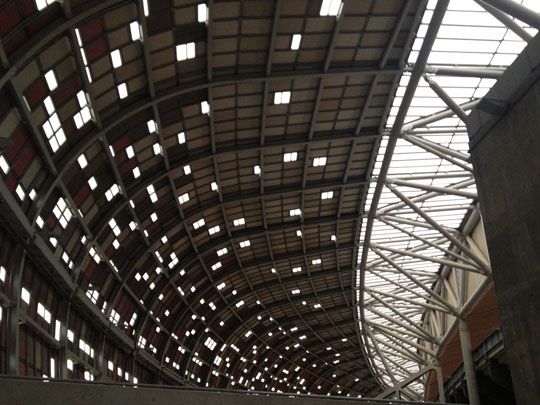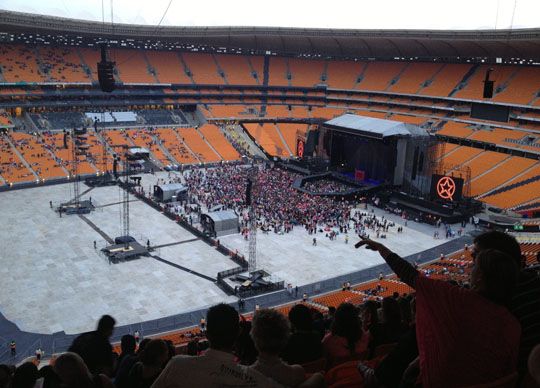 Finally, at 9:30pm, or something, there was movement on stage. The lights in the stadium went dark. And on stage the airy curtain fell, revealing a massive monsterish castle, complete with green monster eye peeking from within the tower. I was in awe. The castle moved and opened and flashed lights and out marched Lady Gaga, on a giant, military-esque unicorn. It reminded me of the puppets in
War Horse
, the acclaimed Broadway production. Mesmerising. Gaga was wearing something alien yet medieval. Beautiful. I knew we were in for some magic.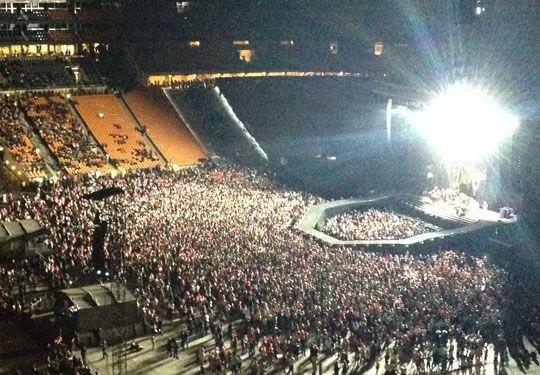 Wow, I am not even sure what to leave out and where to start, but let me try sum it all up: The whole spectical was all about creating a new race within the human race, that was all accepting, and loving, and not constrained by conventional thoughts and rules. And she gave birth to this race, to herself, literally, on stage. Yes, at some point Gaga was part of this ginormous pregnant belly, and then she gave birth, to herself, unzipping the belly/vagina and emerging as a new being, ready for action. She is a strange one (born that way?). She also said that she is us and we are her and she is not human, nor man, nor woman. Now, whatever she is, she knows how to put together a show!
After almost every song, she had a costume change, before you could even take your eyes off the stage. And each costume was more spectacular than the previous. She sang, on key, she jumped, she ran and cried and made all the boys in the Monster Pit cry. She wore a meat (not real) dress, white self-moving gowns, wire cages, risque leather, became one with a motorcycle, and all that in amazing(ly) high heels. It is hard to describe the whole thing to someone who was not there to see it, and if I did, you'd be sitting here reading until tomorrow.
It was fascinating It reminded us a bit of a Charismatic Church service. There was the hype in the beginning, the solid middle, the heartfelt, piano-accompanied talk, and then the grand finale. It was emotional, over the top, and full of ideology. Gaga really is a religion. You want to believe her. You want to say amen to acceptance and peace and love and creativity. I, and many others, could not help cynically giggle at many of her talkings, but in the end I respect her. And whether she was really as in awe of her South African monsters as she said or not, I don't care. I'm just happy that I got to see the costumes and set that took 6 vans to transport from the airport. Hooray for Gaga. At least she does something interesting.