A game lodge that shall not be named
Once a year we have the privilege of spending a weekend at my parents' time share at a game reserve near Bela Bela (Warmbaths). Now, this might be a bit melodramatic, but in light of all the horrific rhino poachings in South Africa currently, I will omit the name of the lodge. Will a poacher be reading my blog and heading straight to the lodge to get their rhinos? Who knows, but let's rather be safe and over dramatic than sorry and rhinoless.
Anyway. The weekend is usually spent lazing on the couch, listening to the cicadas, eating too much and going on game drives. I do enjoy these. Even if you've been on a hundred, there are still new things to learn and see. And if all else fails, you just sit, smell the grasses and trees, and take in the bushveld air.
Here are some of the things we saw:
I loved how these three stood staring in the same direction. They were clearly on the lookout, as giraffes apparently have a keen sense of sight. The next morning we discovered a kudu carcass with some cheetah and leopard tracks around it, not far from where these guys were standing.
Giraffes on the lookout.
We were very luck to come across this magnificent mommy rhino with her 2 month old baby. So cute. And so sad to even think of the prospect of these creatures being hunted to extinction.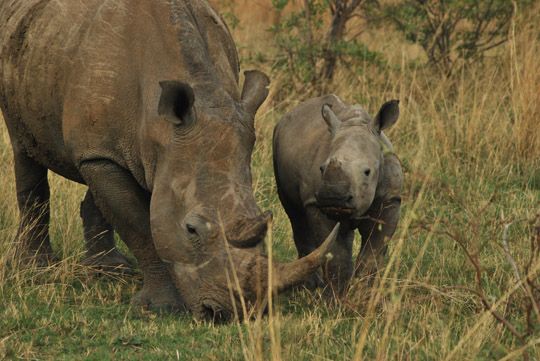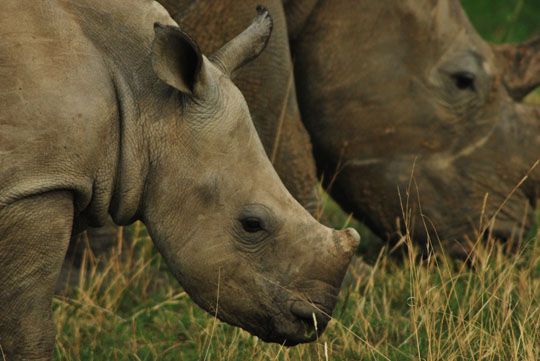 That same drive we caught a glimpse of two of the lodge's newest additions, lazing in the afternoon sun: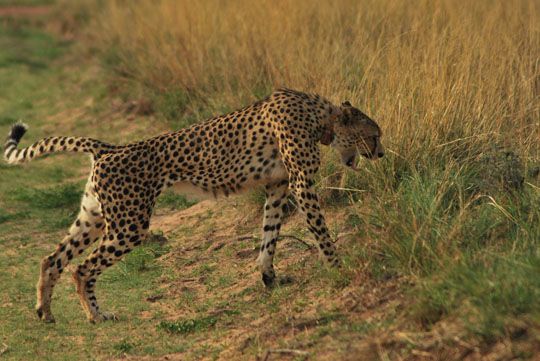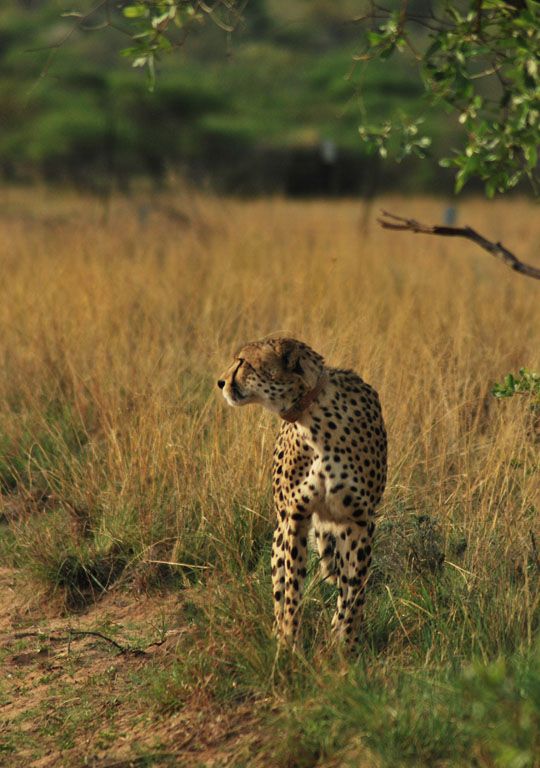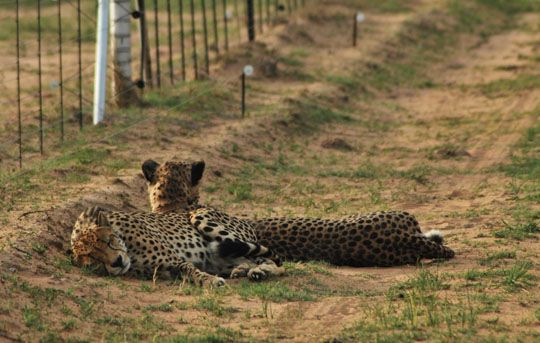 That evening at dinner, we had a crawly guest:
Next day's drive: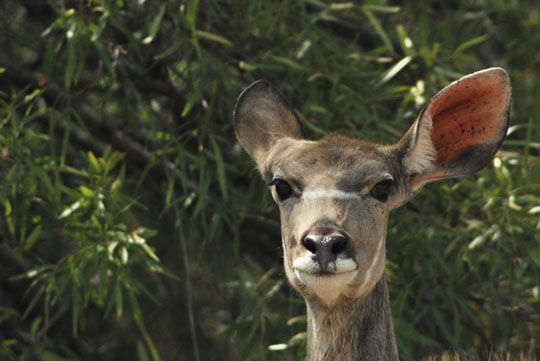 I do love kudus - such beautiful big ears.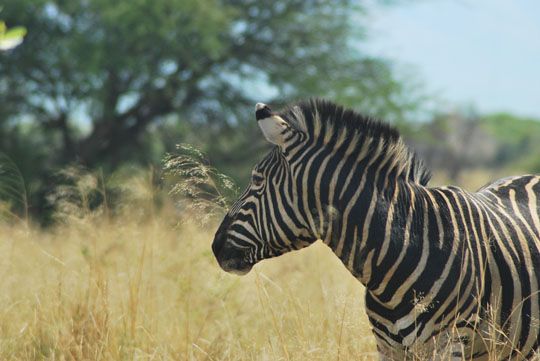 Another exciting spotting was the nyalas with their baby. Nyalas are interesting. For example, they are the dividing line between big and small antilope species. Nyala males are bulls (large antilopes) and the females are ewes (small antilopes). Another fascinating fact, is that they all start out reddish brown, but as the males mature, they turn greyish and grow horns. If a male is sterile, it will not change colour.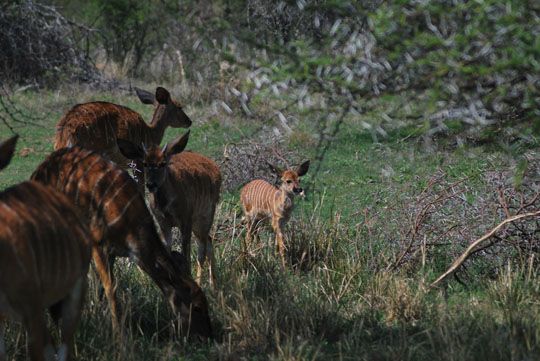 A rare find - nyalas and their baby.
Grey headed (hooded) kingfisher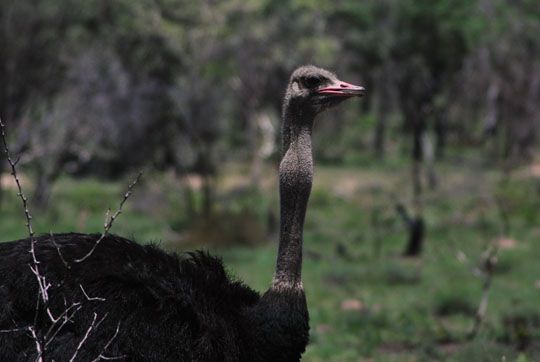 Ostrich swallowing something.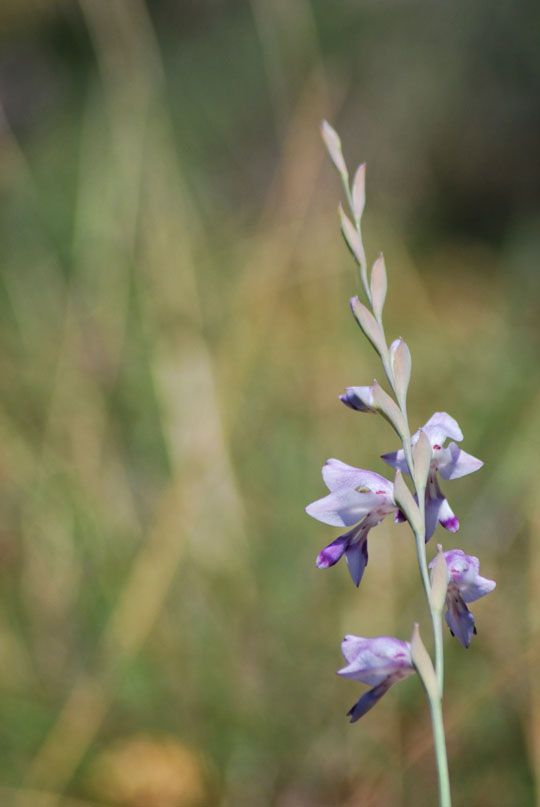 At some point our game ranger was racing past kudus and driving like a cowboy. Either he was crazy or up to something. And low and behold, the next moment we came face to face with an elephant bull cooling himself in a puddle of water! I took many photos, but here are just a few: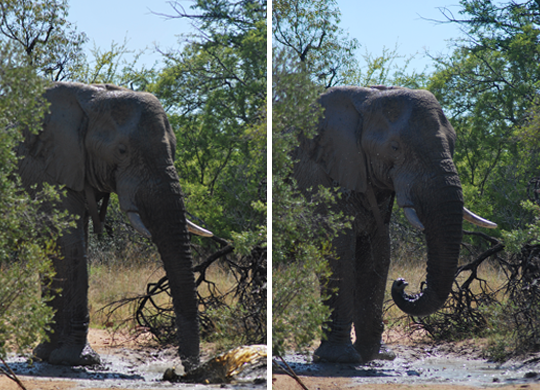 We were rather close, and you could only hear our hushed whispers and camera clicks. Then, one of the bulls decided it was time for us to go. We quickly obliged: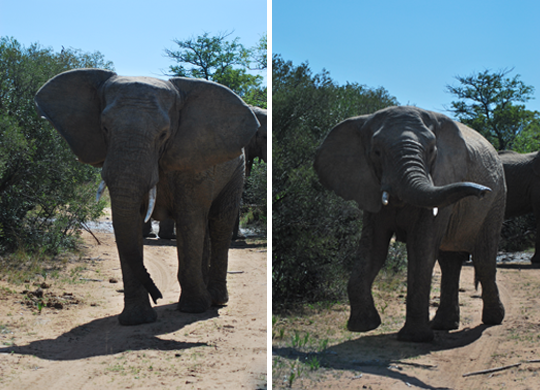 Just before the end of the drive, we just-just spotted these two again. So cute: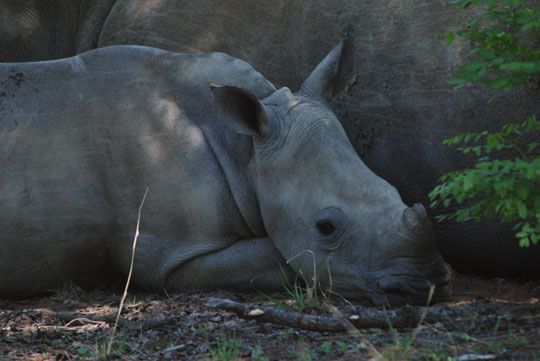 They rest in the warm afternoons, so we did not stay long, as the mother got a bit startled, as you would be if awoken during your afternoon nap.
We really are privileged in this beautiful country. Lions and tigers might not be wandering the city streets (only in Die Antwoord's new music video), but we have access to reserves and parks a mere 2 hour drive from Pretoria, traffic permitting. I wish that we could sort out this rhino poaching thing. And that people would realise how awesome and beautiful all of this is. We actually saw a guy on one of the other game vehicles chuck a beer bottle into the bushes. What is wrong with people?! I guess we have along way to go in terms of education and conservation, something we take for granted too often.