Swimming at Sun City
A while ago, all caught up in the Olympic hype, I wrote about my "
swimming career
", and that my first race for the season would be the Dischem Sun City swim. Well, I did it and made it. Considering that I had a stomach virus the 4 days beforehand, and had not been training, it is nothing short of a miracle. Okay, that is a bit melodramatic, but still, I was not in great shape. But I had to do it. I
could not disappoint my loyal followers
did not want to waste my entry money. And just wanted to get out of Jozi for a day.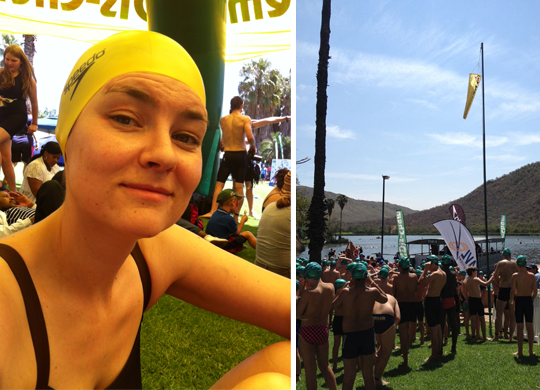 L: Me looking, and feeling a bit yellow. R: The boys getting ready to hit the dam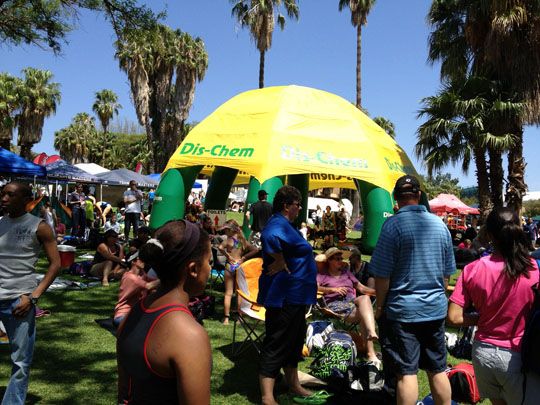 Yes, there are tons more exciting things to do in Jozi on a Saturday than at Sun City, but nothing like a change of scenery right?
And what a change it was. From hipstery Joburg with its craft beers, urban communities and graffiti art, to Sun City, the completely synthetic, tropical pleasure paradise of the 80s.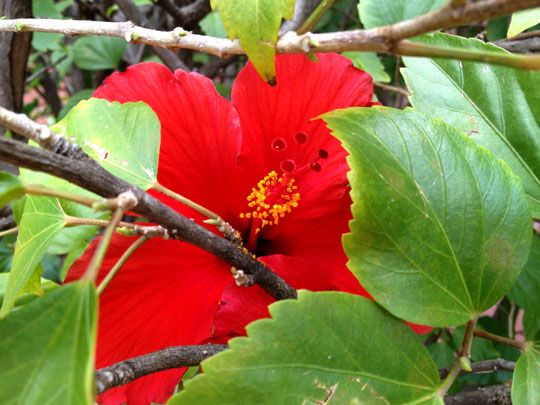 Sun City Resort and Casino in the North West province, was developed by hotel magnate Sol Kerzner and opened on 7 December 1979. This was during apartheid and at that time, located in the independent homeland Bophuthatswana. Because it was not part of South Africa and did not have to adhere to its rules, all the "naughty things" like gambling, titty shows and mingling with black people, was legal there. So you could live under apartheid on Friday and drive 2 hours to a hedonistic paradise on Saturday. Fun and games.
Entertainment
Well, obviously these days it is just a resort and casino, where all sorts of people and families break away to on weekends and holidays. In fact, the casino bit is so peripheral these days that they are turning the original slots area, into a kiddies' zone.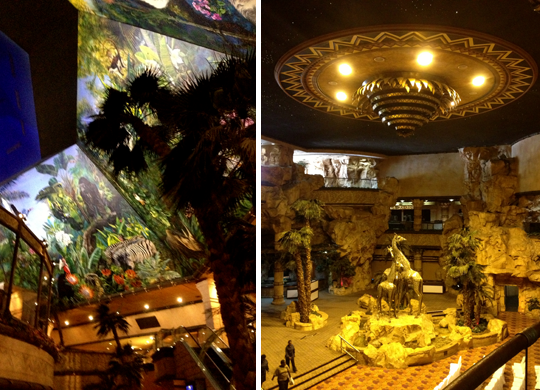 Inside the entertainment center: Jungle murals, African prints, palm trees and casino lighting.
But what is it about this totally kitch, stuck in the 80s resort? Partly, it is because there is something for everyone. And part of it, I think, has to do with nostalgia. I remember spending midweek breakaways there with my parents. It felt like you were living in the lap of luxury. You ate breakfast in the big Cabanas dining area. It was a breakfast buffet, where the cook made your eggs anyway you wanted! There were peacocks on the lawn, waking you with their calls in the morning. Rolling lawns. Azure blue pools. Topless ladies sunbathing. And a Coke would cost R20 back in the 90s! Above all, was the waterfall by the Cascades' pool. A waterfall. Inside a swimming pool. Magic!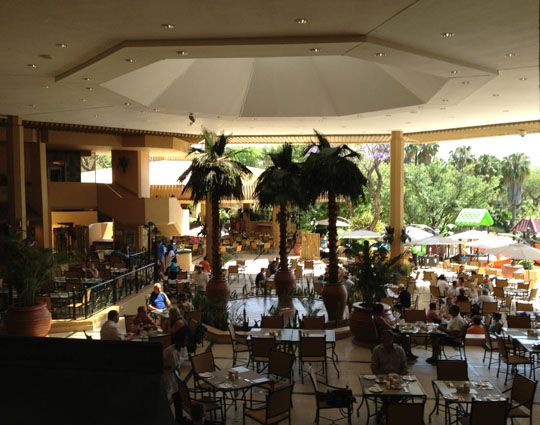 Cabanas dining area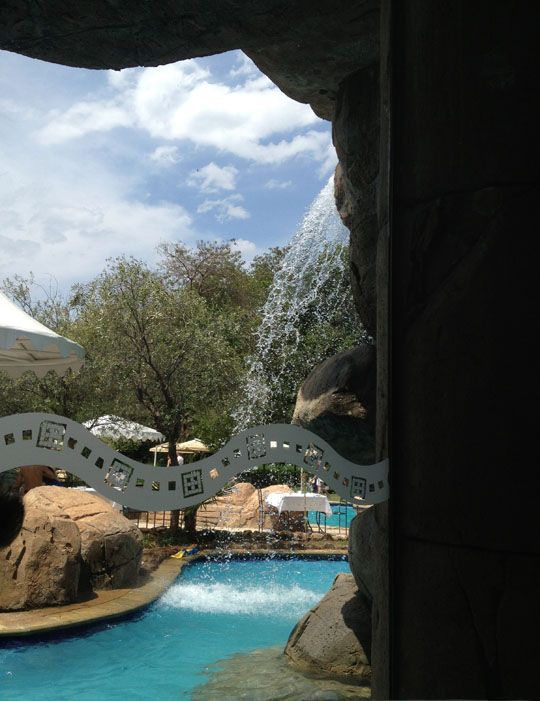 The magical waterfall! View from the poolside restaurant.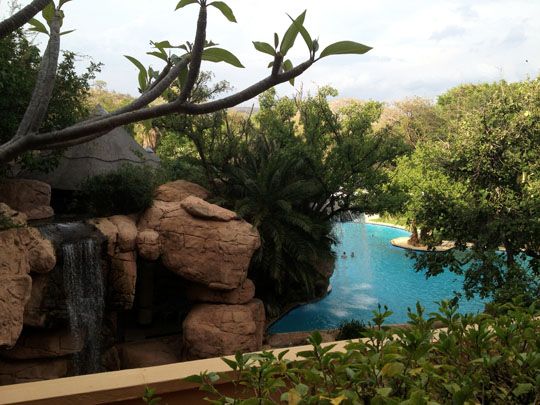 Top view of the waterfalls by the Cascades pool.
Today everything pretty much still looks the same. I did not see the peacocks or the topless ladies, but there were some mongooses chilling by the pool. And the waterfall was still cascading into the pool, mesmerising even today's iEverything kids.
So, if you are in the mood to leave town in search of "Paradise", willing to track through the rather desolate North West, and past the infamous Marikana mine, then head on over to Sun City. Have a cocktail, play some golf on the Gary Player course, ride the wave (singular), at the Valley of the Waves, and do some people watching. A bizarre place indeed.
Some real plants and fake rocks.
The Cascades Hotel. Those exterior glass elevators were totally radical back in the day.
Turkish Delight cocktail at the Vista Bar.
Complimentary bar snacks. Note the Sun International pick.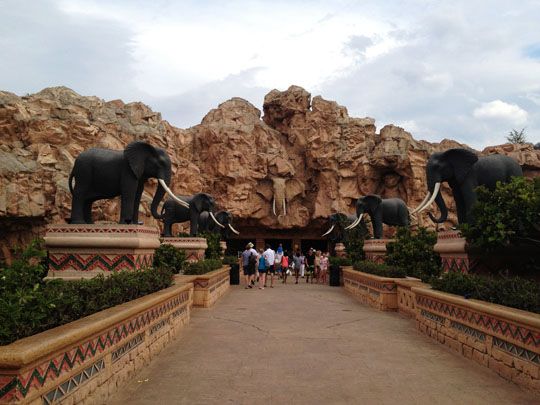 The roaring, rumbling bridge to the Valley of the Waves.
Oh, on more thing about the swimming: we got goodie bags! Yay for free energy gel and tampons.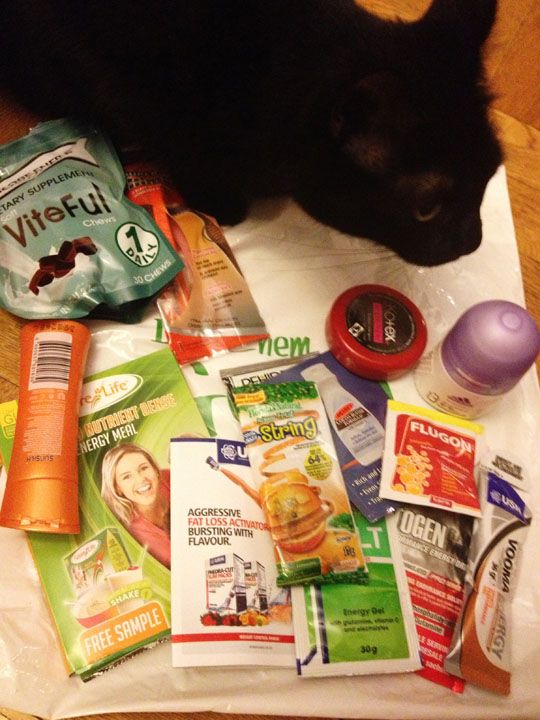 Sweeney the cat approves of free goodies.