The day I appeared in public with a head full of curlers
A while ago my awesome hairstylist of the past 9 years asked me if he could use me as a model in the Paul Mitchell Spring Collection show. I said sure. I conveniently ignored the fact that he mentioned a runway. This was all about the hair, right?
On Friday it was time for the trial run aka a full day of colouring, styling and dress fitting. Still I choice to ignore the runway bit. Saturday came and I could not ignore it any longer. I am going to be on a runway with a bunch of skinny malinx girlies and I have not been to the gym in two weeks thanks to the bronchitis (Ain't nobody got time for that, as Sweet Brown said). There was only one option. Buy Spanx, or something similar. As I wiggled into my new Miracle Seam Free pants I could not help but think of The Middle episode where Frankie squeezes into Spanx to appear as Wonder Woman at Brick's school, but I digress.
Today was the big day. From 9:00am to 12:00 my hair was rolled into many pink rollers, and my make-up was done by a make-up artist, with the purpose of "standing out on stage". To give you an idea: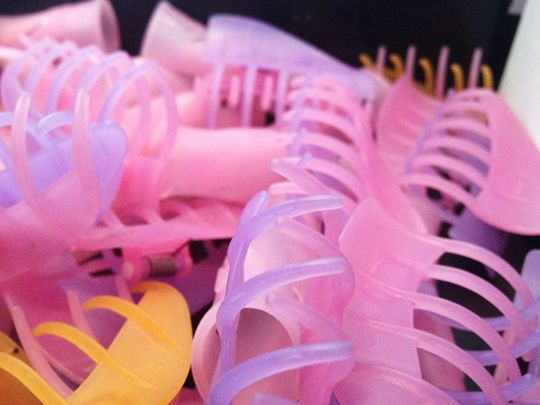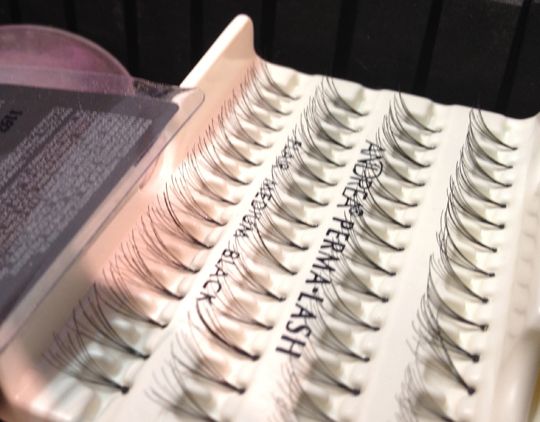 So here is the before and after. Well, before the make-up and after the curlers.
Off we went to Gallagher Estate, where many expos are held. For the first time it dawned on me that this was not just going to be one little runway show, this is a massive trade show, Professional Hair and Beauty 2012, and there will be many, many people. Eeeek. Oh, and this is the part where I appeared in public with curlers in my hair. Because my fickle strands of hair was not quite ready to be released from the curlers by the time we left the salon, I had to drive from PTA to Midrand with them, walk from the other side of the parking lot at Gallagher, through the crowds to the other side of the exhibition hall. I might be excused, as this was a hair affair, but still...I think a hipster silently died today.
So after a lot of teasing and hairspray, we practiced our walk outside, with some smokers as spectators. Did I mention that I have never been on a runway? There was no time for nerves. All I could do was hope all the hours watching America's next top model would be a kind of talisman, and look fierce. I had awesome heals, falsies and attention grabbing hair - fierce right?
The hair: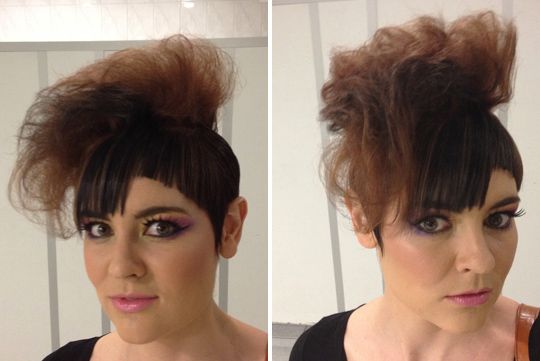 My amazing stylist Will, from Divas & James.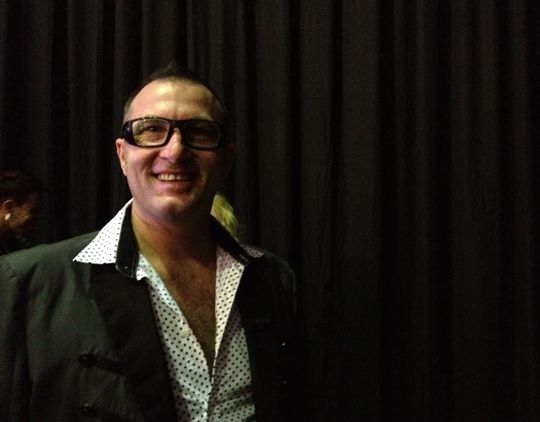 Backstage
A back, backstage.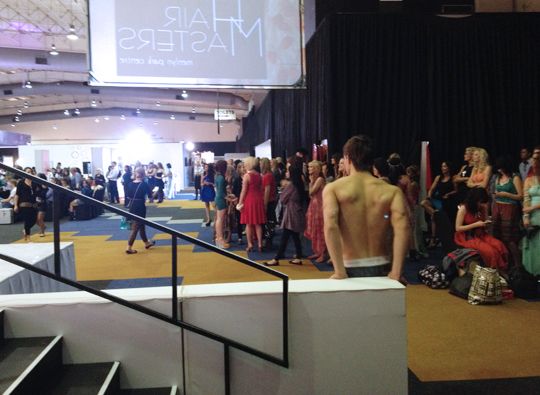 The ramp. Every salon walked separately, and then came together at the end for a reprise.
I did it! I did not face plant. I did not cough, or smile like Miss America. Fierce! I don't think I'll be trading my Mac and mouse for make-up and modeling anytime soon. But I made my debut. And I did not suck.
Note to self: Removing false lashes hurts! And I think I looked a bit like this, trying: