Up, up and away in a beautiful balloon
Recently our creative studio got jumbled up and divided into 3 new teams. And with a new team comes...team building exercise '99 of course. Go team.
Now, during my school and varsity years I have participated in close to 20 team building camps/days/sessions. I have climbed through rope mazes, balanced on beams, plotted around blindfolded, did trust falls, scaled trees (and refused to come down again), and got turned into a giant newspaper snail. What more could I possibly go through? The answer, very drunkenly suggested, was skydiving. Did I mention I sat up 20m tree for over an hour once, due to my acute fear of heights? This idea was not going to fly.
But flying we were stuck on. Thank goodness skydiving became hot air ballooning. Much more romantic, yet still terrifying.
Monday arrived. D-day. Off we went towards Hartbeespoort, to
Bill Harrop's Original Balloon Safaris
. Our pilot would later tell the tale of how Bill and his wife Mary, keen yachtsmen from England, came to South Africa after Bill had a eureka moment, running out into his garden with only a towel on, or something like that. Anyway. They have been running this company for over 60 years, and have one of the biggest balloons in the world. Oh, they also offer afternoon flights, the main reason we choice them.
So, after arriving at Bill's, being greated by super nice staff, and enjoying a tequila or two, we clambered into the balloon basket. It really is a basket! Unfortunately, the only drawback with afternoon flights is the wind. We could not take off. Well, we could, but we risked having to land somewhere near Pelindaba, being dragged across shards of rock and dying. Extreme trust falls?
Here are some pics: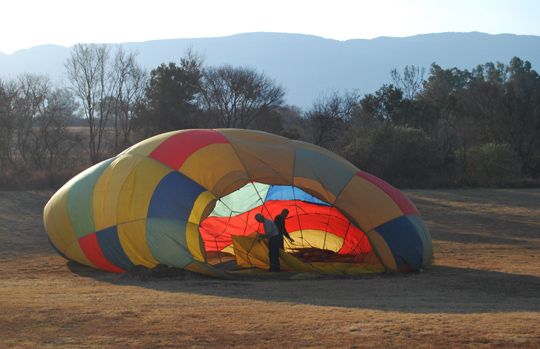 The decision was made that we would return for the next morning's flight. At 6am. Which ment getting up at 4am. Did I mention we are an advertising creative team and most of our bedtimes are only at 1am. Torture! But we did it. We made it there on time, freezing our little bums off. A miracle. So here we go again, sans tequila this time:
We were joined by another group. They had the big one. Apparently a balloon of that size is worth around R1.8 million!
"Goeie more, Suid-Afrika!"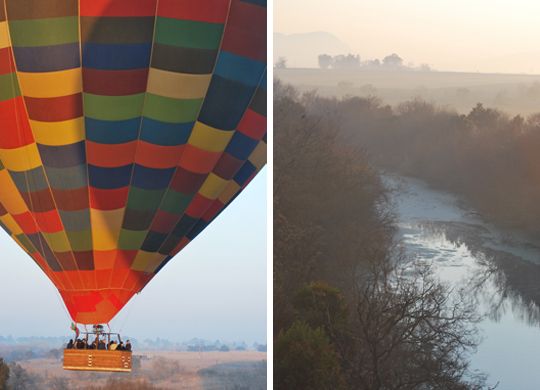 Just like that we have lift-off.
I actually peered over the edge of the basket to take this photo.
My trusty Nikon decided to give me an error message after this photo, and I had to resort to using my iPhone from here on. Thank goodness for Steve Jobs.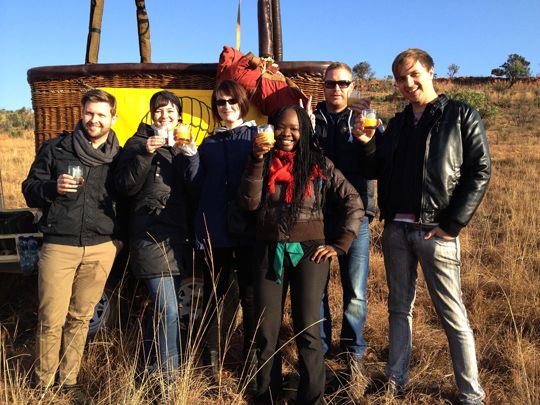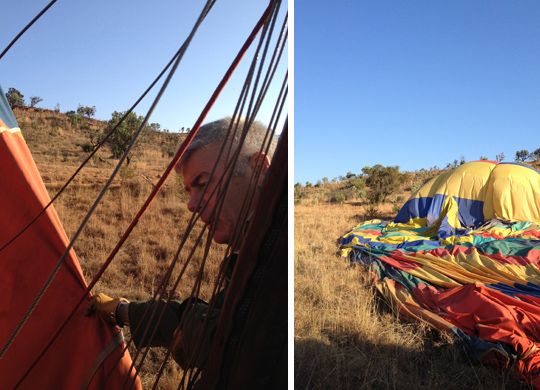 Oh, and what about the fear of heights you ask? Amazingly, no fear! Even the pilot has vertigo, but is not affected in the balloon. I could stay up there for hours. You lose track of time, just watching the world go by. Complete silence apart from the gushing flame every now and again. Bliss. Just don't touch me while I am dangling my iPhone over the basket edge!