Parkhurst to Ponte (Part 2)
One of the things I love about Jozi is that you can go from the preppy suburb of Parkhurst, to gritty Hillbrow in one afternoon. Jozi is like a good photo, full of contrast and texture, I guess.
Hillbrow is one of those places that our parents' generation fondly remember when they reminisce about their youth. It used to be a"white area" during Apartheid, but it soon became home to all sorts of people, making it a very cosmopolitan place, home to students, liberals and bohemians. Sadly, by the mid 1990s it was a complete slum, notorious for crazy/dangerous New Year's Eves where fridges and TVs got chucked out of 20th story windows, and you barely escaped with your life. When I think of Hillbrow, I think of Afrikaans songs such as Johannes Kerkorrel's "Gee jou hart vir Hillbrow" (Give your heart to Hillbrow) - it pretty much says it all. I tried to find a video of Johannes Kerkorrel, aka Ralph Rabie, who is tragically not with us anymore, but all I could find was
Stef Bos' rendition
. Do yourself a favor and go read about Johannes Kerkorrel and the Voëlvry-movement of 1980s.
Anyway, back to the here and now. Hillbrow has been cleaning up it's act in the last couple of years. Particularly the infamous Ponte City, the tallest residential building in Johannesburg. It has 54 stories, is built in a cylindrical shape, and has a hollow inner core. Back in the bad days of Ponte, many people committed suicide there, and rumour has it that it was so bad/gross/dangerous that Joburg wanted to turn it into a massive prison. Today it is fingerprint access controlled, trash no longer fills the inner core, and it is probably home to someone from every country in Africa, and one of our (white) friends. So we went for coffee.
Look, I have to admit we were still a bit skittish, and left all our valuables at home before venturing down Lily street (and realising why it is called HILLbrow). I think we did stick out a bit like, well, like two whiteys in Hillbrow.
So up we went to the 51st floor, and what a view. This is like the Carlton Center, just better, because you can sit and have a coffee in the living room and wave at the Carlton.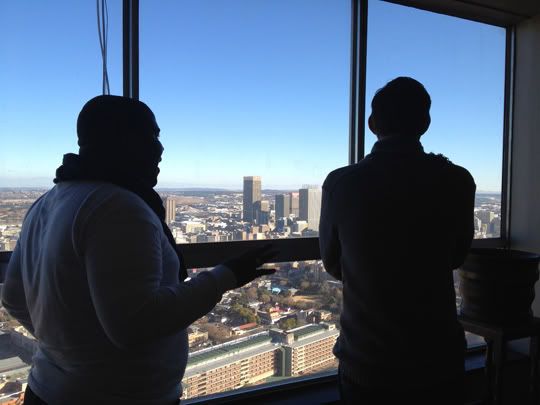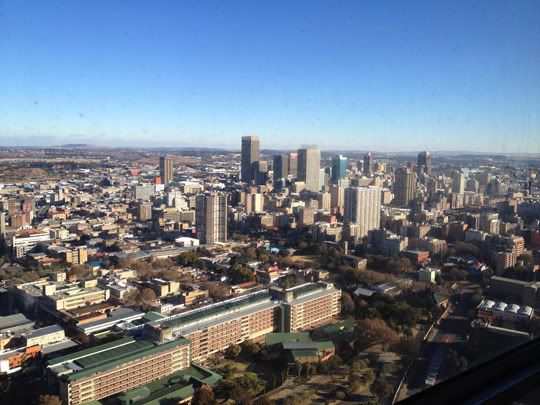 The view by day.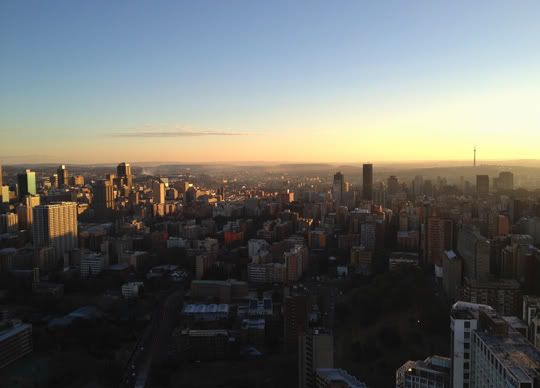 The view at dusk.
I have terrible vertigo, so here's some of Jaco's photos of the hollow core: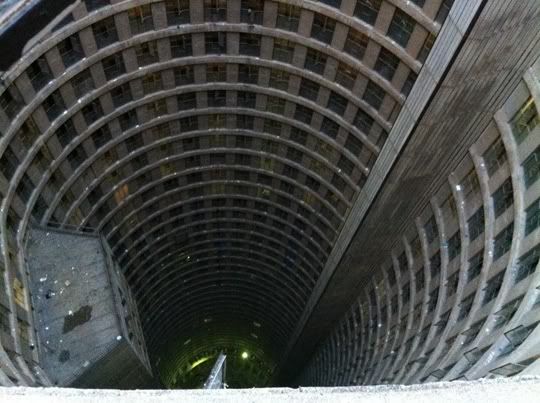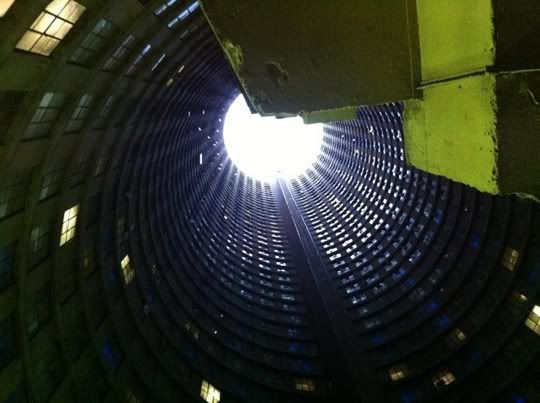 It feels appropriate to end this post with Johannes Kerkorrel's beautiful lyrics, including my crude translation in brackets. Because once you give your heart to Hillbrow, or to Jozi, there is no turning back:
Ou man sit by die straatkafees, (Old man sits at the street cafe)
En kyk al die mense loop heen-en-weer (and he looks at the people walking to and fro)
Boemelaars raas by die Wimpy Bar, (Hobos make a noise at the Wimpy Bar)
En Fontana is oop tot laat in die aand (And Fontana is open untill late at night)
Kaalvoet kinders in die straat, wys parkeerplek aan (Barefoot children direct parking in the street)
En hou dan die hand, en hou dan die hand, (And hold the hand, hold the hand, hold open the hand)
En hou oop die hand…ja

Koor (Chorus)
En gee, gee, gee. Gee, gee, gee (And give, give, give. Give, give, give)
Jou sente, jou drome, jou klere vol gate, (Your cents, your dreams, your clothes full of holes)
Gee jou hart vir Hillbrow (Give your heart to Hillbrow)
Ja, gee jou hart vir Hillbrow (Yes, give your heart to Hillbrow)

In Quartz Straat hoor ek 'n meisie my roep, (In Quartz Street I hear a girl calling me)
Daar's 'n Hare Krishna wat vra wat ek soek (There's a Hare Krishna asking what I am looking for)
En ken ek vir Jesus? Vra 'n man op die stoep, (And Do you know Jesus? asks a man on a stoep)
Tussen Hillbrow records en Estoril Books (Between Hillbrow Records and Estoril Books)
En dis lank na twaalfuur, (And it's way past twelve)
En die Hillbrow toring stuur (And the Hillbrow tower sends)
Sy seine in die nag, sy sein in die nag, (Its signal in the night, its signal in the night)
Sy sein vir die junkies wat wag, o (Its signal to the waiting junkies)

Koor:
En gee, gee, gee. Gee, gee, gee (And give, give, give. Give, give, give)
Jou sente, jou drome, jou toekoms vol gate, (Your cents, your dreams, your future full of holes)
Gee jou hart vir Hillbrow, (Give your heart to Hillbrow)
Ja, gee jou hart vir Hillbrow (Yes, give your heart to Hillbrow)
En die ligte gaan aan in die Chelsea Hotel, ( And the lights are on in the Chelsea Hotel)
En stemme en musiek klink in elke woonstel. (And voices and music is heard in every apartment)
Ons sit in die son, drink wyn, (We sit in the sun, drinking wine)
Ons survive met 'n helse lot pyn in hierdie land, ja (We survive with a hell of a lot of of pain in this country)
Kom ons drink op die een wat sy drome oorleef, (Let us drink to the one surviving his dreams)
Op die een wat kry wat hy vra, ja (To the one who gets what he asks for)
Koor:
En gee, gee, gee. Gee, gee, gee
Jou sente jou drome, jou toekoms vol gate,
Gee jou hart vir Hillbrow
Ja, gee jou hart vir Hillbrow,
Komaan, gee jou hart vir Hillbrow