Parkhurst to Ponte (Part 1)
I am going to conveniently ignore the fact that I am months behind on my blogging, and jump right in. This past Sunday was one of those lazy days where you wake up at a scandalous time, checked facebook (still in bed) to see what other people were up to, and only then start planning the day.
Thanks to a friend's facebook check-in, we decided to head to Parkhurst, to the Jacobs Board Game Café. Some marketing person, or creative team, realised that it would be a much better use of Jacobs Coffee's marketing budget, to open a cafe, and serve free coffee and board games, than to flight another silly fake German ad during prime time. Yes, you correctly spotted the word FREE in that very long sentence. You rock up, pick a board game (anything from pick-up sticks to Afrikaans Trivial Pursuit), and someone brings you a cup of Jacobs and a croissant/cupcake! What better way to gain market share than to get the market to experience your product.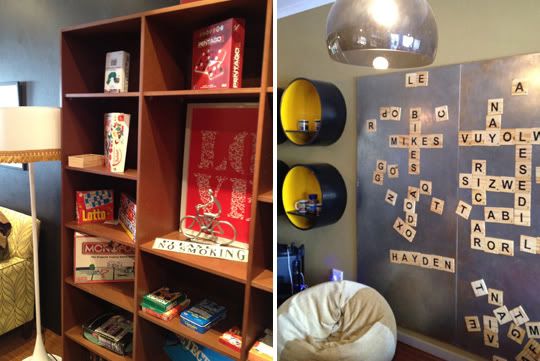 Scrabble cupcake!
The biggest challenge was to decide which classic board game to choose! Eventually we settled for Jenga, which I have never played before *gasp*. The drama, the tension, the might fall. It was great.
Jenga - not just a bunch of wooden blocks.
The Jacobs Board Game Café Pop-up is open Tues - Sun 10am - 9:30pm. You can just have coffee or bring your own food and drink. What ever floats your boat. They are open until 31 August, and we will be back, for sure.
But the fun did not end there. Right outside the Café we met Mike, from
Mike's Bikes
. He was showcasing some pretty cool retro Electra bicycles, fresh from the over seas. They were really pretty (with real pretty price tags). I had to take it for a quick spin. Did I mention these are old school back peddle break bikes? But I proved that you can be all en vogue, European style, and cycle with a long coat and handbag. Piece of cake...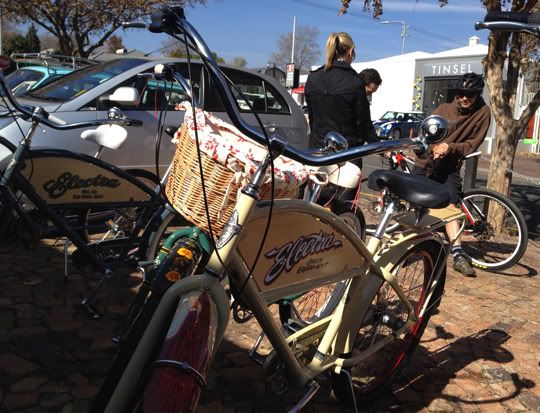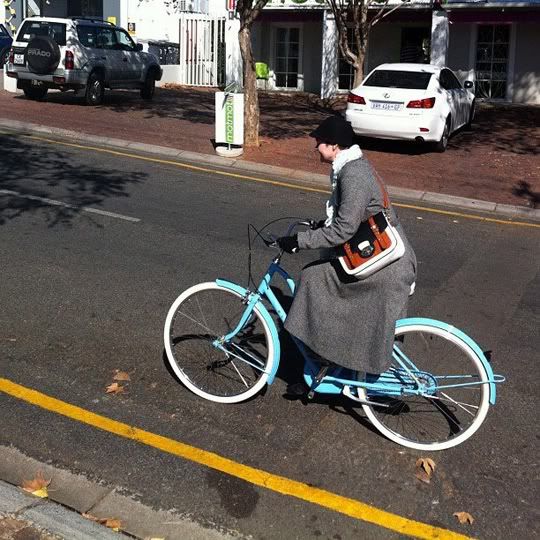 Time for lunch. We strolled down the bustling, often pretentious, 4th Ave to Nice restaurant and bookshop. I do like sitting at a small, wooden table amongst shelves of books and perusing limited editions such as The Tale of Peter Rabbit and the flopsy bunnies. Here's the awesome salad I had: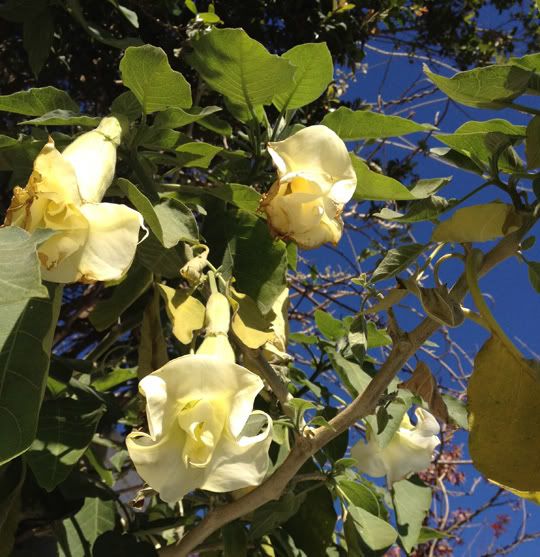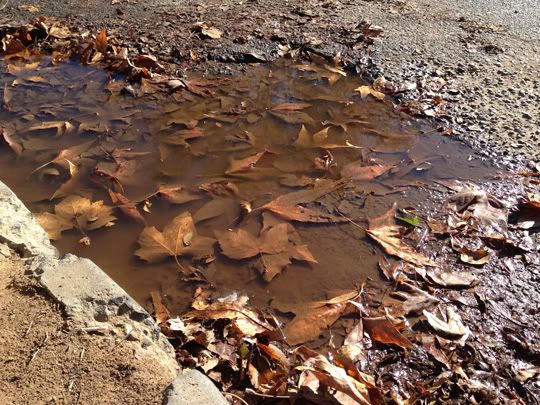 After our lunch we had to brave the cold again. Yes it was a freezing 8 degrees outside. And yes that is cold. Check out
2summers' post on Jozi winter
if you don't believe me. Afternoon coffee would be served at Ponte City, in Hillbrow. I decided it deserves a post of it's own, hence the Part 1 and Part 2.
Yay.