Zoo Lake on a Sunday, aka Love Jozi part 2
We recently went to see the delightful South African film,
Material
. In the movie the main character Cassim, played by comedian Riaad Moosa, tells several jokes about Indian people. In one particular instance he says there are two Indian landmarks: the Taj Mahal, and Zoo Lake on a Sunday.
It is a fact that Zoo Lake is abuzz on a Sunday, and very notably frequented by Indian families. I am almost ashamed to admit, that in the four years we have lived in Joburg, we have never gone to check it out. So on this particularly lovely Sunday, we took our box of sweet meats and ventured into the park.
Oh wait, I still need to write about the Sweet Meats! Rewind. On this particular Sunday, after taking our
NYC friends around Jozi
, I still felt a bit perish (don't judge!). For a while now I have been wanting to go to Fordsburg to sample some of the traditional Indian and Pakistani sweets known as Sweet Meats. I have read about it in
blogs
, I have seen it on Instagram. It was time.
Fordsburg
has a rich cultural and political history. It was originally created as a miners' village, and in time Indians settled there too. During apartheid lots of nasty things happened, and Indians was forcibly removed from the area. Today Fordsburg is once again filled with Indian run buisnesses, such as can be seen at the Oriental Plaza. I have only ever been to the Oriental Plaza - to find dress fabric for matric farewells and weddings. But there is a whole other world beyond the borders of the Plaza! We end up in Main Road, and immediately spot The Sign: Shalimar Delights - The house of quality sweet meats.
We find a spot to park our car. Apparently this is also the local hangout for every pigeon in Jozi!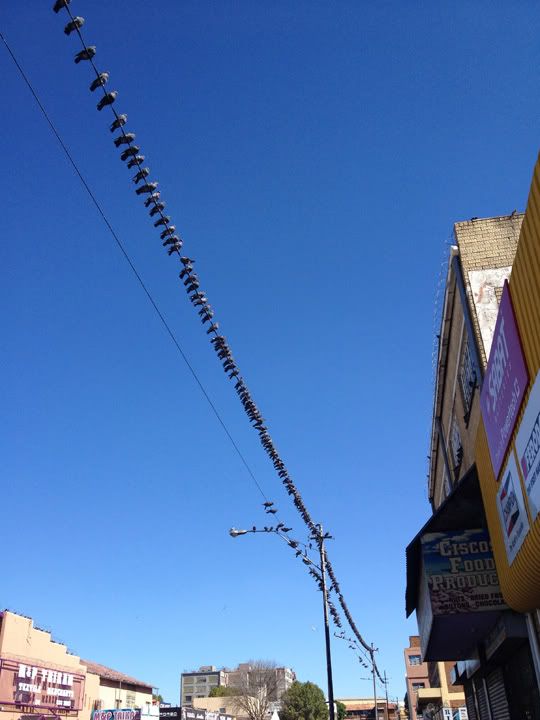 First we walk down Mint street, to find Divine Confectionary. Housed in a beautiful old church, it is quite famous for biscuits and cream cakes. Stop by for a cup of coffee and a warm Koesister (not the Afrikaans Koeksister).
On our way to Divine Delights, I could not help notice these contrasts: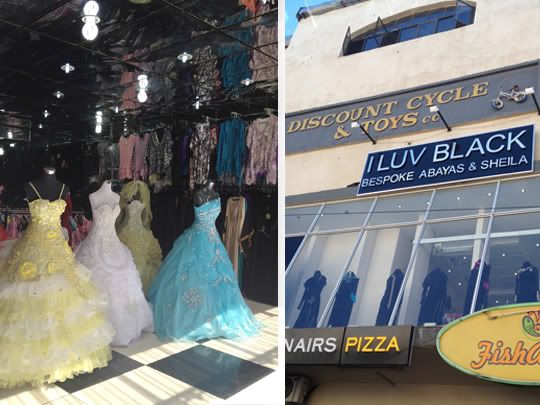 Finally we head to Shalimar, in Main Road. The display fridge is filled with all sorts of delicious looking sweet squares. I ask the Pakistani shopkeeper what some of the delights are, but unfortunately, it all sounds the same to me. Later that evening I wikied "sweet meats" to see what we actually bought, and to expand my culinary knowledge. So I randomly picked a bit of this and that and hoped for the best. Note to self - one square is enough for two people for two weeks, at least! Everything is made of condensed milk, nuts, coconut, cream and other decadent ingredients. Yum yum.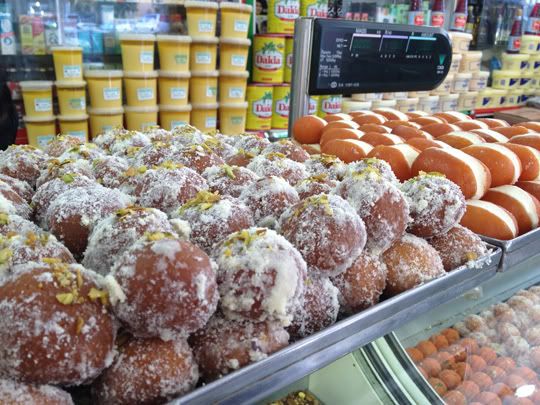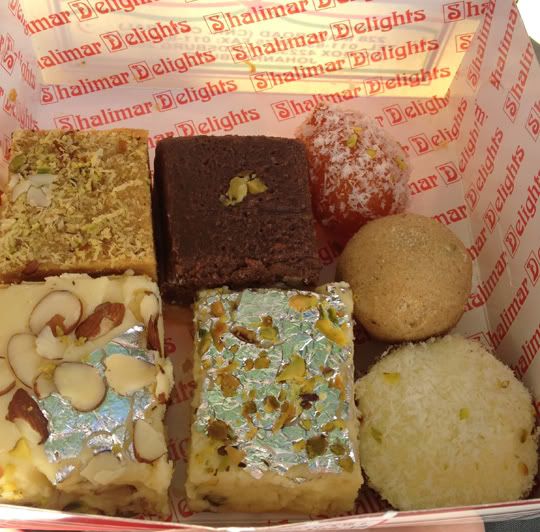 Our selection of Burfi, Halwa and Laddu (I think)
Okay now time for Zoo Lake. After even one of those sweets, I think it is best to take a walk around the lake! And that's exactly what we did, all be it a leisurely stroll, not a brisk walk. What a great cross section of Jozi's people. Apart from the many Indian families (Hindu and Muslim), there were Afrikaans families, Black families, English friends, diverse groups of shirtless guys playing soccer - all South Africans enjoying the autumn sun and feeding the many geese.
Guys being guys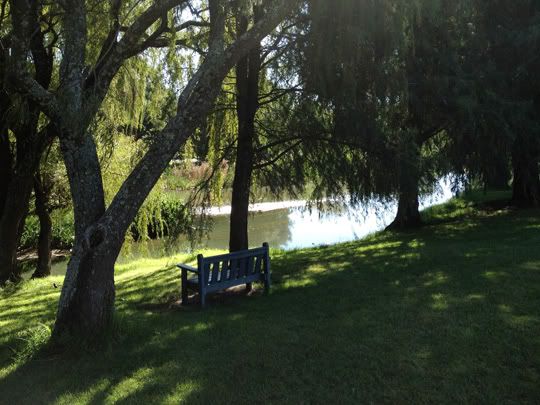 What this stroll made me realise, is that this might just be the Jozi version of Prospect Park in NYC, and dare I say, Central Park (gasp). How could I say such a thing? Well, it's a pubic park (a smallish one in comparison yes), visited by people of all ages and races, playing sports, picnicking, walking dogs and kids, feeding fowls, listening to buskers, rowing in little colourful boats on a semi-toxic body of water. Not much different from what I
observed in NYC
, now is it?
Yes, other cities in the world might have amazing parks like Central Park, but Jozi has Zoo Lake. And Jozi has Joburgers. And Jozi has the Zoo Lake bowls club! What would be the perfect way to end a perfect day? A nice cold beer and a plate of oily chips at the Bowls Club. Yes, you can play bowls there. Or you can just order a cold beer and a cheap pub lunch from a forgetful waiter, and watch the afternoon go by. Bliss.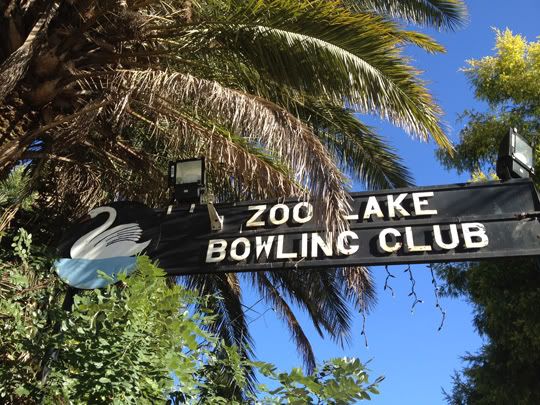 Kids learning to play bowls