A piece of Pretoria
Joburg people don't visit Pretoria often. Joburg people hardly visit the rest of Joburg. I guess because we lived and grew up in Pretoria and Centurion our bond is a bit stronger. We'll that, and that our parents and most of our friends live there. And our postbox. And my hairstylist.
Yes, I love my hairstylist of the past 8 years at Diva's & James so much, I still drive to Pretoria every six weeks to entrust my tresses to him. Last weekend was chop time again. So off we went. On a Saturday, if the highway is sans burning cars or stationary trucks, it only takes 35 minutes to get to Hazelwood. With time to spare we stopped at our favorite little Italian trattoria, Alfie's. This place is real. No tacky faux Italian finishes. It is clean, white, small and owned by real Italians Alfredo and Christiana Fiachetti (they only stepped off the boat about a year ago!). For starters, the probably serve the best cappuccino in P-town. With only time for a quick bite we chose the Crostini Misti - mixed crostini. Devine! What could be better than a chewy, fresh italian bread, lightly toasted, topped with combos such as gorgonzola, walnuts and honey; mozzarella and anchovies; parma ham; and mozzarella, fresh tomato and a basil leaf? This is the life I tell you.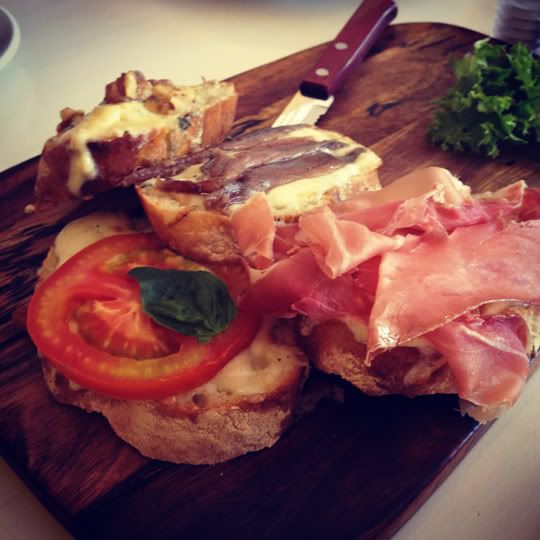 With a fresh new do we bid farewell to Hazelwood and head even more north, to the an area referred to as Die Moot, in particular the quant suburbs of Pierneef and Riviera. Time for antiquing! First stop is Bellbottoms. As the name already suggests, this is a quirky establishment, filled to the brim with retro and vintage finds. Our goal is to find a bookshelf and side-board, preferably made between 1930-1960. Every piece we spot is already sold! Darnit. I resort to taking pics of the old-school shop counter filled with sweets, spindles and other random, wonderful
thingies
.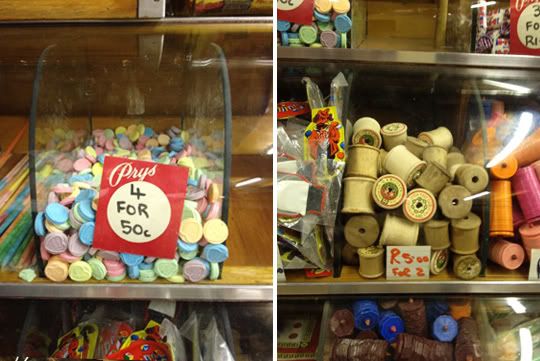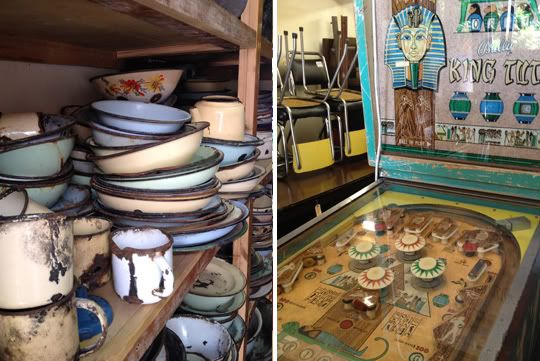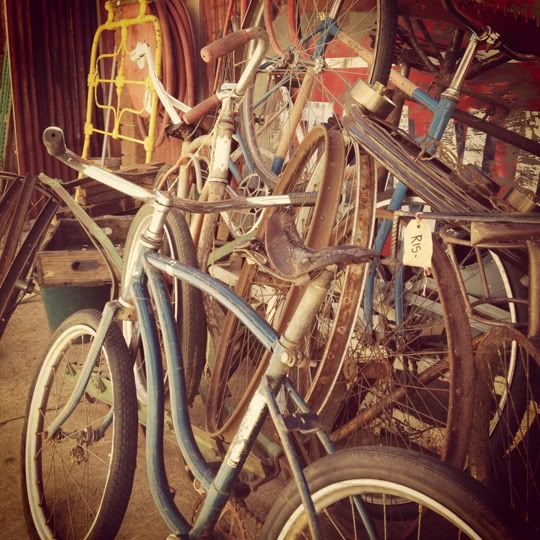 Before we continue our search on this scorching day, we could not resist popping into the Pierneef Cafe for a glass bottle of Coca Cola. Back when we were kids, corner cafes, mostly owned by Greek or Portugese families, were commonplace. Every neighborhood had one, and bought their milk, bread, popsicles, liquorice ropes and Wilson toffies here. Today most have been "replaced" by mini malls and supermarket chains.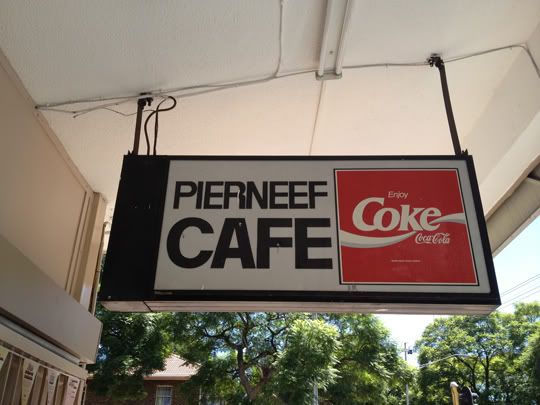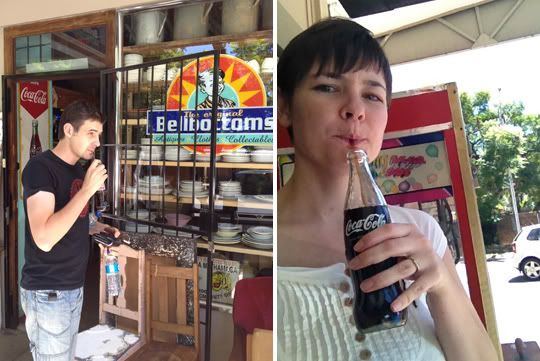 The heat must have gotten the better of me by the time we reached
Die Sinkhuisie
, because I have no photos of this part of hunt. Run by a friendly Natie Ferriera and his staff,
Die Sinkhuisie
occupies two properties in Parker street, Riviera. Just when we thought we'd leave Pretoria empty handed, we spotted the perfect 50s looking cabinet, complete with beautiful square handles, and two unscathed glass sliding doors. After a few trips back and forth to borrow a
bakkie
to transport our treasure, we headed home with a cabinet, laundry tin, school desk and 5 commemorative spoons. Yes, spoons.
Hooray for magical places not in shopping malls. They are everywhere, in Pretoria and Jozi, you just need to look past the neon signs.
Note: If you are into antiquing, or just rummaging through random reminders of the past, this website seems to be pretty comprehensive
http://www.antiqueroute6pretoria.co.za/