Love Jozi part 1
This past Sunday two of our friends, all the way from New York City, came to check out Joburg. Part of the fun was planning where we were going to take them in one short morning. So this is, naturally, a post about a few of our favorite places in Jozi:
Love Jozi, a clothing label, situated right next door to Service Station.
Breakfast. This was a toss up between Service Station in Melville, and Salvation Café in Milpark. I often confuse the two names. Who knows why? We could not do a Jozi tour without going to 44 Stanley, so we had breakfast by ourselves at Service Station on Saturday.
Why I love Service Station: I don't think there is anything about this place I don't like. Located in the Bamboo center on the corner of Rustenburg and Ninth street, Melville, this place is perfect for watching the world go by. You can sit by the window and watch the hawkers selling pink feather dusters, old men eating breakfast on the curb (no tables available inside), yuppies in their convertibles, chops in pimped Citi Golfs and hipster browsers across the street at the antique shops and designer boutiques. Turning my gaze inside I gawk at the parquet floor on one side of the shop, and the compressed stone tiles on the other; the industrial style lights, the black board menu, the massive king proteas and the goodies in the deli. Oh, and don't forget the people - anyone from families, hippies, old newspaper reading couples, young backgammon playing couples, or people from all over the world, like fellow blogger
2summers
!
Did I mention you can access the lovely book shop, Love Books, through the one side of the restaurant, and Black Coffee (clothing designer) thorough the other side? Yes, most of the shops are linked in this way - seamless browsing!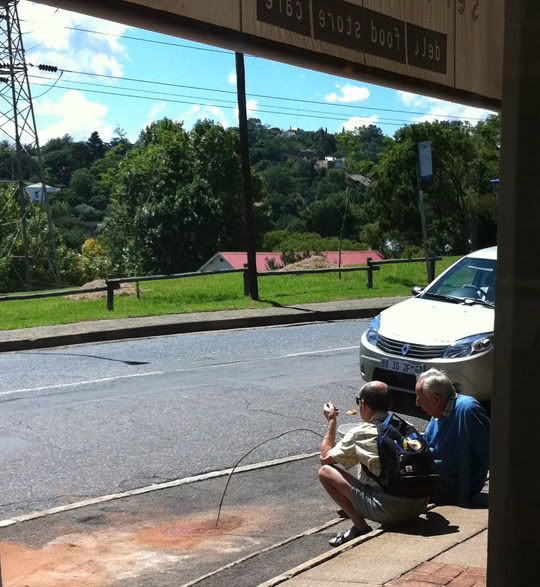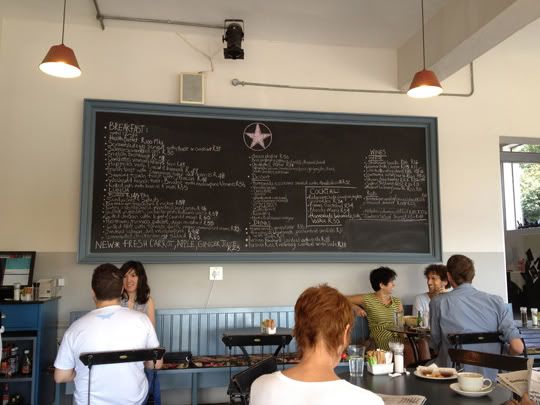 Gosh, I haven't even gotten to the food. Lets sum it up: delicious! Whether you order from the black board menu, or pile your plate high with goodies from the lunch buffet menu, I have never had something that disappointed.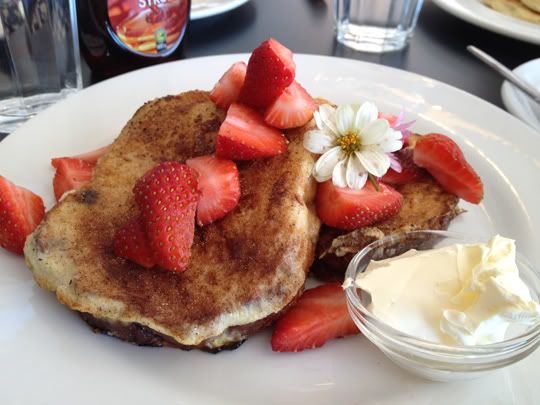 Brioche french toast with cinnamon-sugar fresh strawberries and mascarpone.
Sunday breakfast. We head straight to town. Destination 44 Stanley ave, Milpark. On their
website
they describe 44 Stanley as "Joburg's best kept secret". It used to be a bunch of run down industrial buildings. Now it hosts various trendy boutiques, vintage furniture shops, interior design shops, restaurants, etc. Some of the places come and go, others, like Salvation Café has been there since I "discovered" 44 Stanley for the first time in 2004. This was my first encounter with the other Jozi. Not the Sandton Joburg. The Joburg that has hidden gems everywhere.
Our New Yorker guests described Stanley ave as a combo between Soho and Brooklyn and I think that is pretty accurate. I love the idea of meandering through the "streets", staring up at the red steel staircases, contrasted with the blue Jozi sky. I love popping in an out of shops selling all sorts of covetables, following my nose to Bean there, who roasts and serves some of the best coffee in town, or to Vovo Telo, for a freshly baked artisan bread or pain au chocolat.
Unfortunately it was early in the morning, and I was not yet trigger happy - so no photos. You'll just have to go visit it yourself...
Sundays aren't the best day to visit Stanley, as most places are closed, including Bean there, so off we went to Wolves in Corlett drive, Illovo - they serve Bean there brews. On our way there, we drove through Forest Town and Saxonwold, because it is just so darn pretty. Here you get an idea why Johannesburg is the largest man made forest in the world.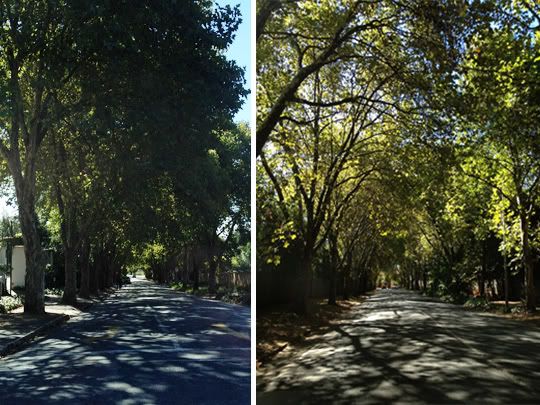 At
Wolves
we grab an street-side table. Again, a great place to watch the world go by. Wolves is a real quirky establishment, decorated with colourful bunting, mismatched chairs and retro porcelain figurines. Help yourself to a game of Scrabble, admire the current exhibition (often by talented local illustrators or designers), or order a cappuccino, red velvet cupcake and just sit back and listen to the latest mix of Indie tunes brought to you by the owners Shane and Angie. They have made such a success of the place that they recently opened The Goodluck Club noodle bar, right next door. How they manage to run two super cool restaurants, be part of the Kwela-pop-indie-rock group Desomond and the Tutus, blog, curate exhibitions, blog and run a magazine, I just don't know. But keep going, we love Wolves!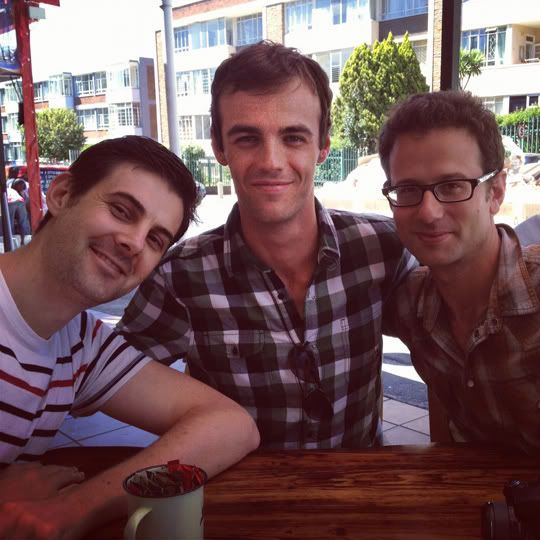 From the streets of NYC to those of JHB
Oh, remember I mentioned watching the world go by? We'll this lady rocked our world:
Because a green shower cap and a pink robe is the perfect outfit for buying bread.
Our guests' visit was drawing to a close, but the weekend was not just yet. Where to now? How about Fordsburg, for some sweet meats? But I think that deserves a post of its own.
To be continued...