A mile in my shoes (swim cap). Midmar Mile 2012.
Somewhere during 2010 I got the random idea to swim the Midmar Mile. I don't quite know how I decided it. Maybe it had something to do with accomplishing something big before hitting 30. Who knows. I just started training when I heard we would be based in the US for 7 months, thus missing the 2011 Midmar, which is held on the first week in February. But when we came back in August, I entered for 2012, before I could change my mind.
Okay, I guess some of you might wonder what the heck the
Midmar Mile
is? Well, it is, I have subsequently found out, is the biggest open water swimming event in the world! About 17000 people arrives at the Midmar dam near the Midlands town of Howick, Kwazulu Natal. You enter an age group or as a relay team. Within each age group there are 5 colour groups that start the race about 2 minutes between each other. This system keeps everyone safe and sorted. I entered event 7, woman 14-30 years and received a green cap - the second last group. Then you swim 1.6km (1mile) across a part of the dam. Oh, and you need to make it half way within 32 minutes.
After months of training in the gym pool it was time to trek down to the Midlands. I was terrified. I have never participated in any competitive sporting events, apart from a practice race two weeks before. Let's just say I am not the most sporty person. Oh, and let's not forget the horror stories I've heard: swimmers hitting you in the face, kicking you in the stomach, swimming right over you...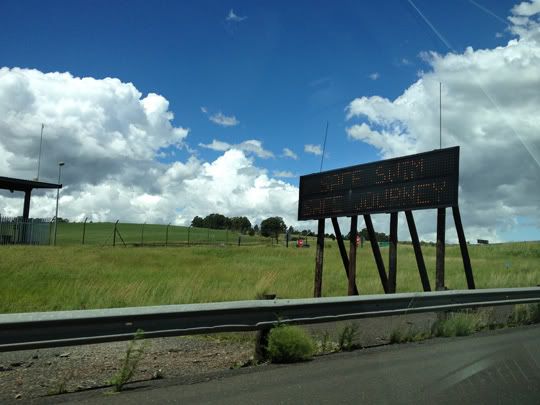 Sign near Villiers: "Welcome Midmar Swimmers. Safe Swim"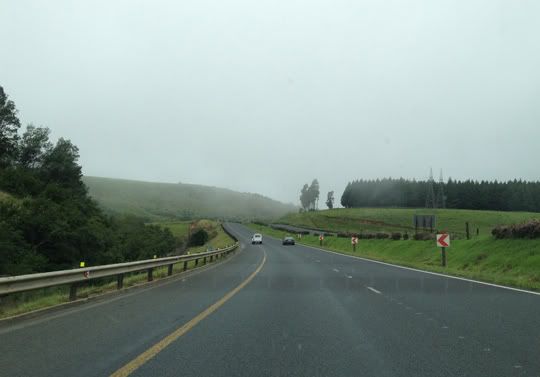 From sunny Saterday to misty Midlands
On Saturday we arrived in a very wet, cold and misty, but gorgeous Midlands. No wonder the English like it so much here. We collected our caps and timing chips and took in the surrounds. Next stop, our accommodation for the weekend.
Midmar Tip #1 - Book accommodation well in advance, not 3 months before hand like me.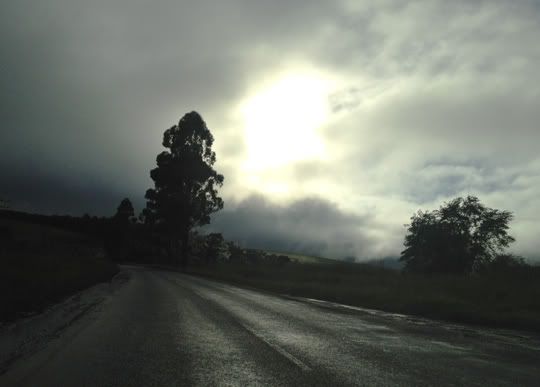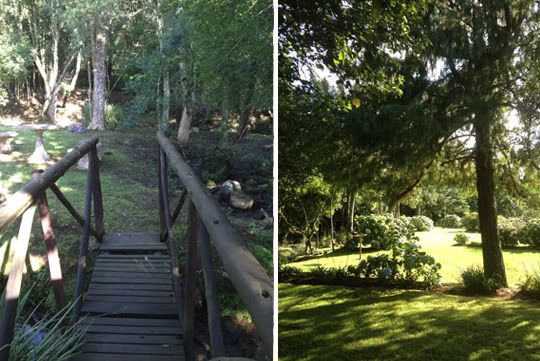 Mount Park Farm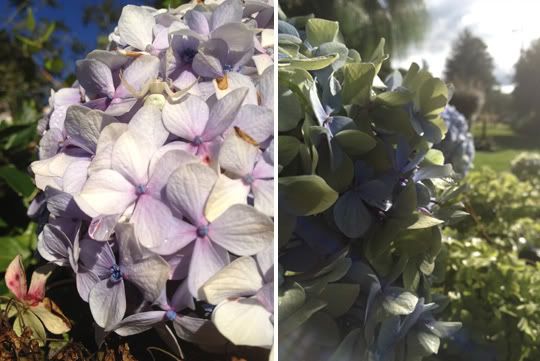 Krismis Roses aka hydrangeas. Can you spot the spider? I didn't until I looked at the photo.
After enquiring with at least 20 places I finally found a place to sleep in Dargle, about 25km from the dam. What I did not realise was that Mount Park farm was on top of the mountain, and that 10km of the journey would be via dirt road. Dirt roads are not normally a problem, but in the rain, and up a mountain, they do prove a challenge for city sedans. Mount Park's surrounds was beautiful though, and the accommodation very affordable.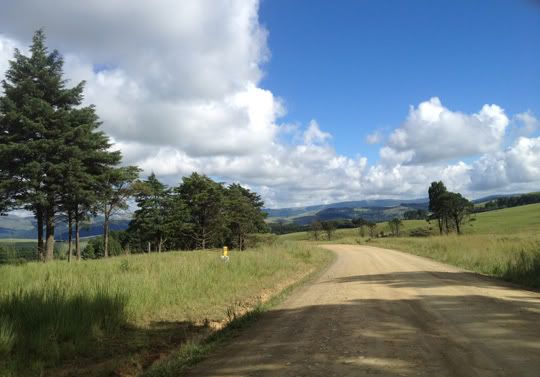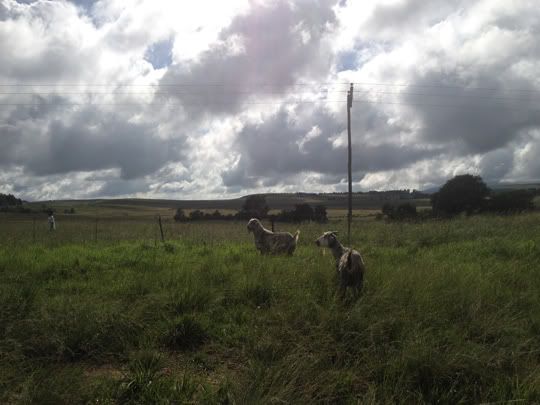 Midmar Tip #2 - Pack gumboots (Wellingtons). Just in case.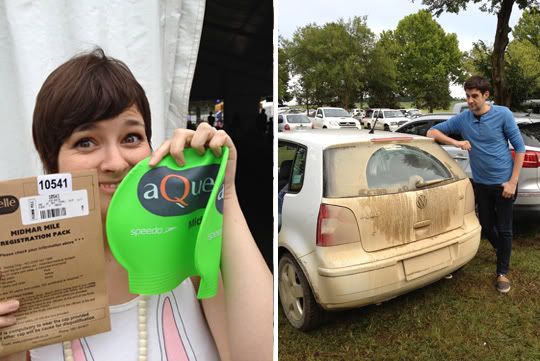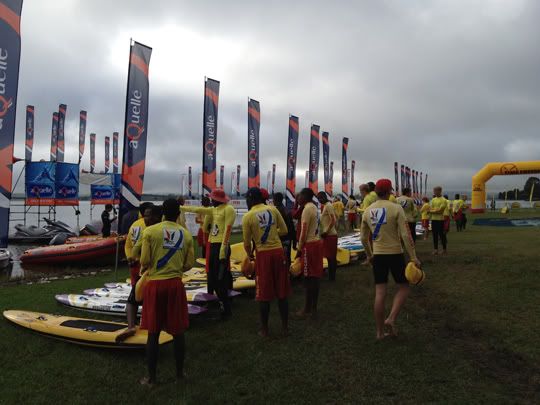 The life guards. Just in case.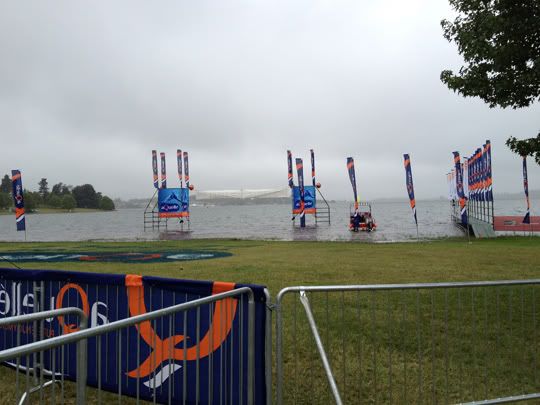 The big day. We arrived at 7am, to make sure we are on time for my friend's 8:30 start. It looked like a
kermis
(fare). There were stalls selling doughnuts, chip sticks, boerewors rolls and more. That early in the morning! Swimmers were everywhere, shamelessly parading around in Speedos, regardless of their shapes/size. Some were sporting rubbish bags as disposable ponchos to keep out the morning cold.
Midmar Tip #3 - Always wear sunscreen, even if it is raining. You never know.
Finally the 11th our came. And so did the sun. But with the sun came the wind, which made for a very choppy dam. Even Ryk Neethling, one of South Africa's star swimmers, said "it was like swimming in a washing machine". Thanks Ryk, you didn't really ease my nerves.
Midmar Tip #4 - If you are a nervous newbie like me, stick to the side and back of the bunch. No need to get stuck in the middle of the chaos.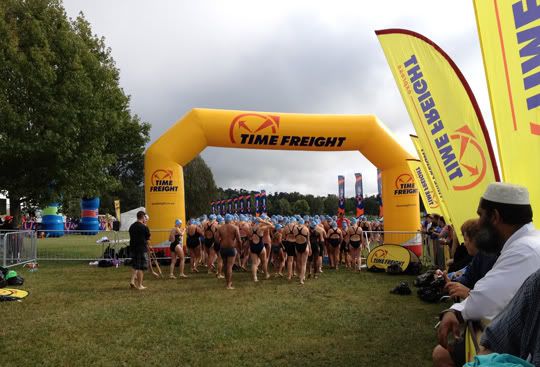 I made it! And it was fun! I only got clawed once, and I was the one to accidentally kick someone in the stomach. It was a bit like driving in peak hour traffic - people cutting infront of you, passing you from all sides, going slower than you etc etc. Oh, and the waves made freestyle stroke very difficult, so I ended up swimming breast stroke for most of the way. It is no irony that it read "Just keep swimming" at the back of every medal. I just kept looking at the big orange buoys at 400m, 800m, 1200m and finally the finishing line!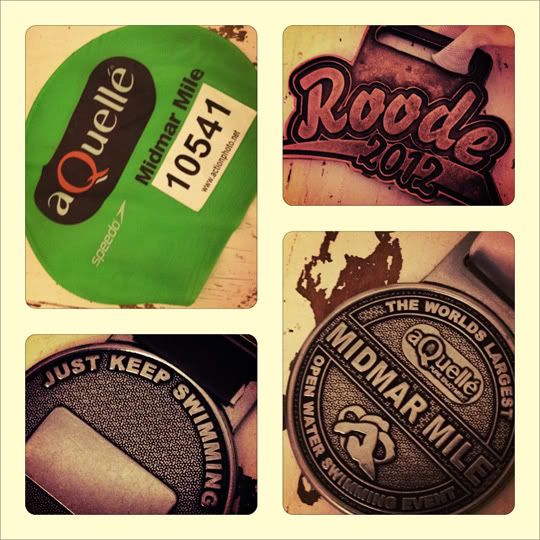 See you next year Midmar. The bug has bitten.