A walk in the park, New York style
In the song
Empire State of Mind (Part 2)
Alecia Keys sings:
"In New York
Concrete jungle where dreams are made of
There's nothing you can't do
Now you're in New York
These streets will make you feel brand new
Big lights will inspire you
Now you're in New York!"
I understand this now. Heck, I even like the song. New York is a magical place. It is hard to describe, but just a few hours in the streets of Manhattan and you can feel it, it takes over, you want to buy the I heart NY T-shirt.
As mentioned previously I have tons of pics I'd love to share with you. 757 to be precise. But where to start?! Well, perhaps with my favorite. The parks. Spending time in Central Park is one thing about the US I will surely miss. There are very good reasons why almost every movie features this massive park at some point. But there are also a few others, such as The High Line, Bryant Park, Washington Square Park, and Prospect Park. Have I mentioned how much you walk in a city like NYC? As calculated during our trip to Washington, D.C we averaged about 10km a day, and I think I can safely assume the same for NY. Because there are something interesting on every corner, you just keep walking and only realise later that you just covered about 50 blocks. So lets take a walk, shall we?
Starting at the bottom and moving north, first stop is Prospect Park in Brooklyn: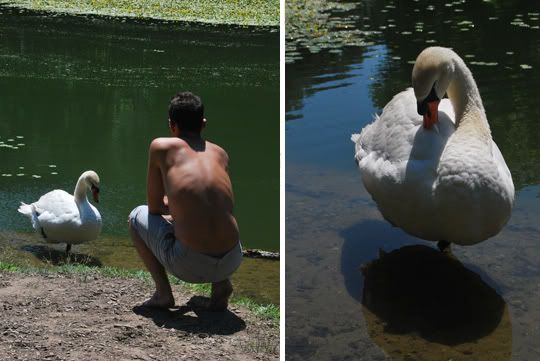 Swan dive!
L:Barefoot off the beaten track. R:Tourist making their way through the sludge.
Then off to Washington Square Park, near the NYU. Loads of students, nannies and travelers sought relief from the crazy heat here under trees and in the fountain: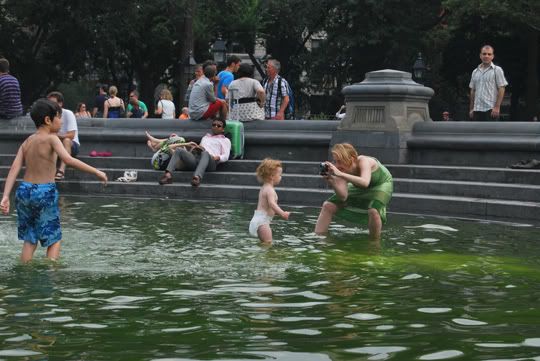 Note the guy with his suitcase in the background.
Cold water meets weary feet. Bliss.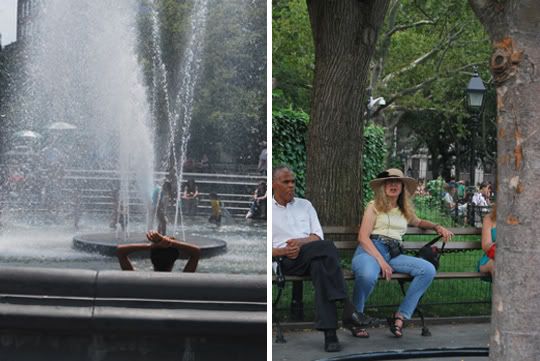 Two ladies. One cool, one strange.
This might be my absolute favorite, the
High Line
. The High Line was a railroad track built in 1930 to transport meat, milk etc through the Meatpacking District. The last train ran on it in 1980, carrying carts and carts of frozen turkeys. You can read the rest of the history on the park's website, but the long and the short of it is that some clever architects and designers turned it into a park. The first phase opened in June 2009. It is so beautifully designed. I could spend days there: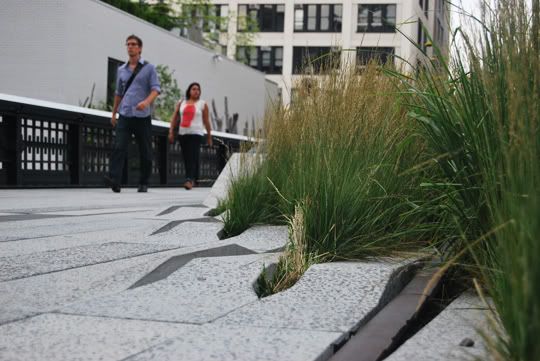 Concrete meets indigenous grass. Love.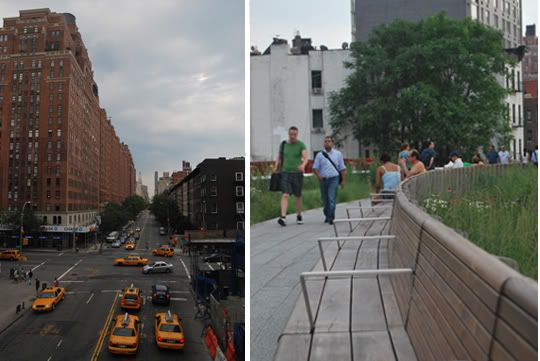 This fountain speaks to you about nutrition and hydration while you take a sip.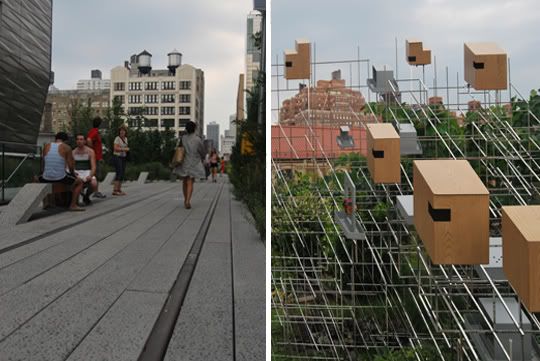 How cool is this bird house/feeder sculpture!
Last but not least, the über famous Central Park. This massive park in the middle of Manhattan runs from 59th street to 110th street. We walked from north to south one day, just to say we did it. We strolled along the meandering paths, looked at the people, listened to the buskers and laughed at the roller disco people: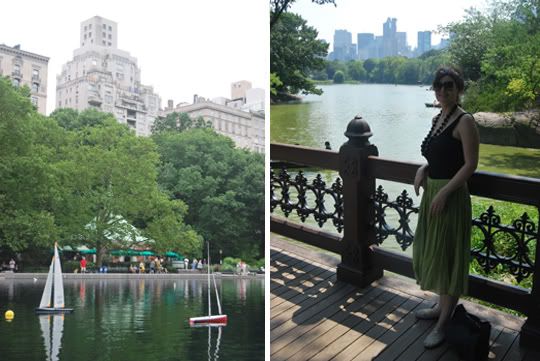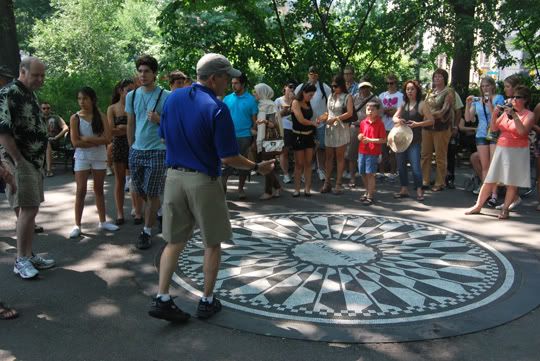 Strawberry Fields - John Lennon Memorial with the word Imagine in the center. Tourist found it appropriate to lie on it posing all sexy.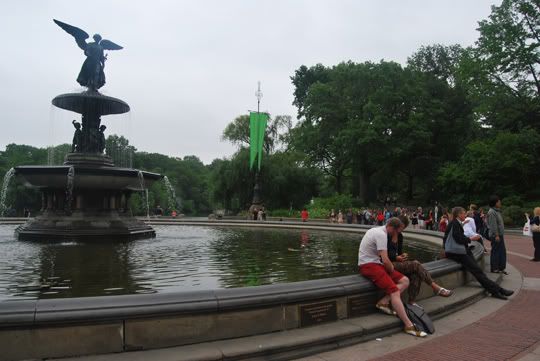 Famous movie fountain.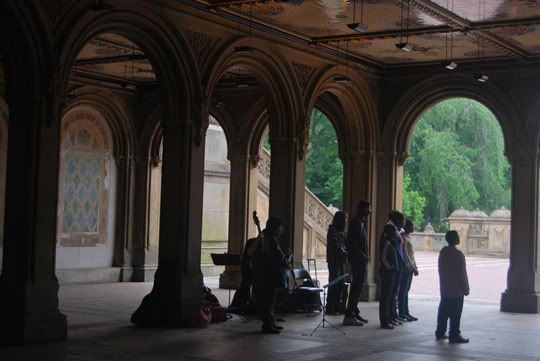 Busking family. Hauntingly beautiful.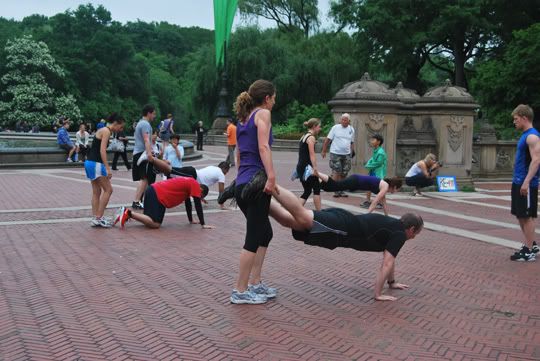 Bootcamp! Hiehie.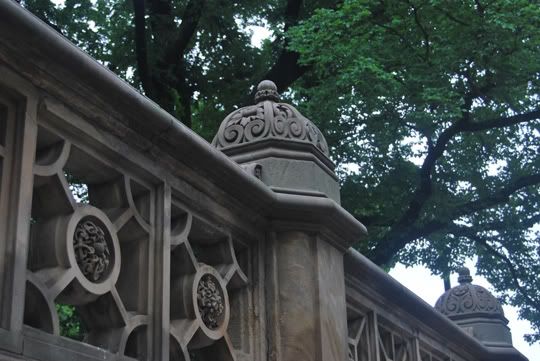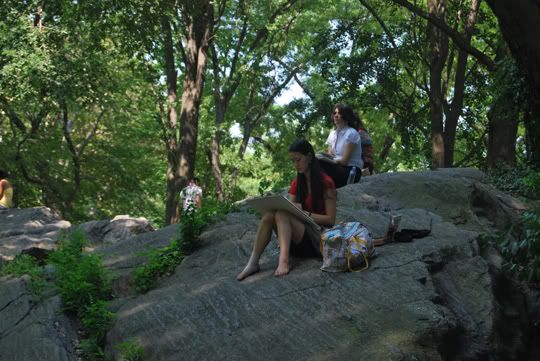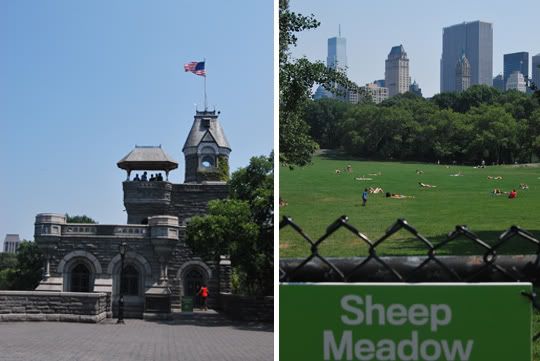 L: Belvedere Castle, the Central Park Weather Station. R:Sheeps Meadow = sun bathing pink people.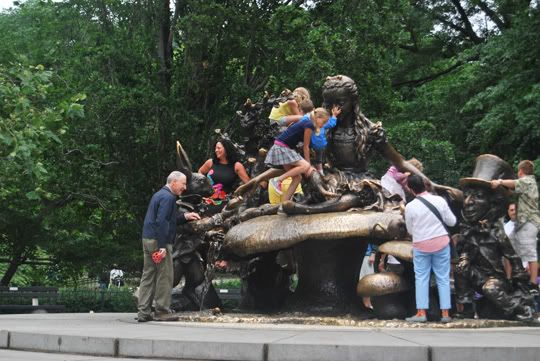 Wonderful Alice in Wonderland statue. "In memory of my wife Margarita Delacorte who loved all childen. GTD"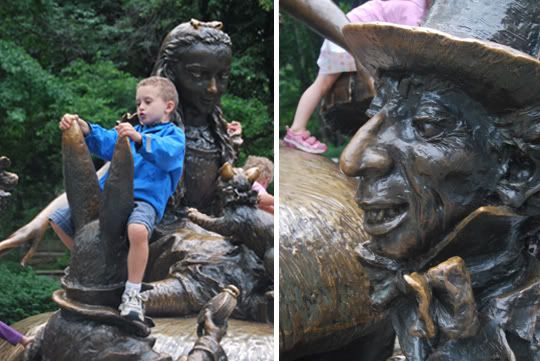 Add caption
You can go to any of these parks and see something new every day. It is a privilege being able to enjoy these beautiful, green spaces all over this crowded city. Bliss.