Welcome to the 4th of July parade!
What would Fourth of July be without fireworks and a parade? So off we went on Monday morning to the Centerville parade. The parade would start at the Centerville Highschool and move through Franklin street past its quant little shops. Now, people have been "reserving" their seats along the road since the previous Wednesday! How? By placing their canvas camping chair bags on the sidewalk, and leaving it there! Can you imagine, just leaving chairs there. Now, I came to understand this is partly because of a relatively low crime rate in Centerville, and if it gets stolen, you just buy another one, no problem. We did not have chairs, but found a nice spot on the pavement infront of the Mexican restaurant.
We were told that everyone and their dog would be in it, and indeed they were, including the dogs! Apparently you can just submit your name and there you go, you are in the parade. It was like being in a 80s movie. Everyone from the politicians, the bank, the pharmacy, humain society, schools, fire department and what not participated. Even the Shriners (part of the free masons) where in the parade with their weird hats. Oh, and they were playing the pink panther song from their car - hilarious.
And one more thing. Kids in Ohio get dragged along in little wagons. Strange but cute: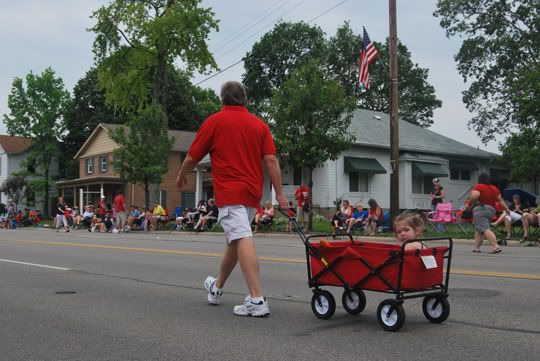 Ladies and gentleman, welcome to the parade! Whoop-whoop: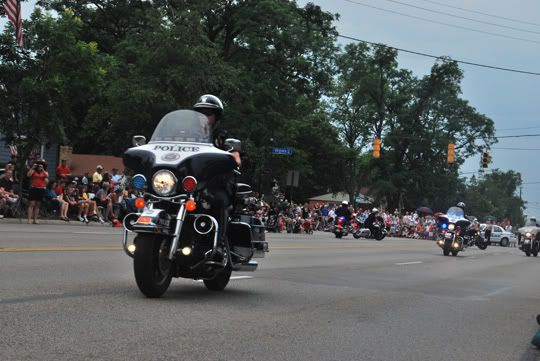 The police started it off with sirens blaring.
The war veterans. You need to get up for them. It looked like they were cricket umpires indicating a boundary...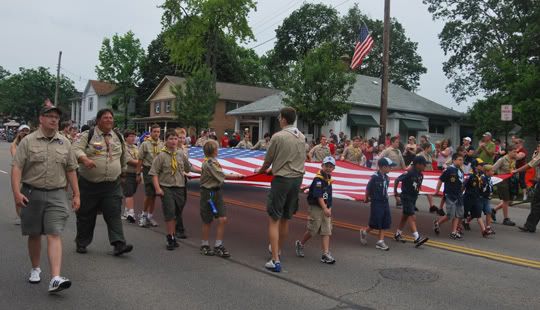 The boy scouts with the flag.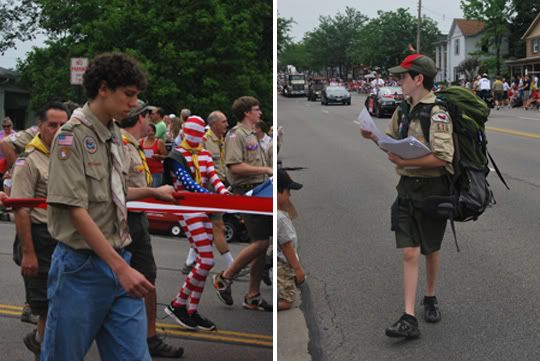 Spot America Man in the middle. Oh, and for some reason this kid was the only one in a jean.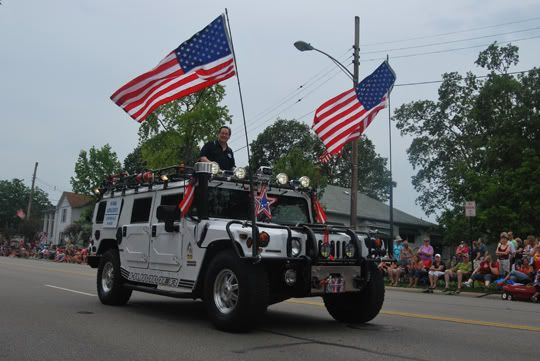 The mayor of Centerville, Hummer style.
Guy from the City Council and his entire family and a ghetto blaster. "We're gonna party like it's 1984"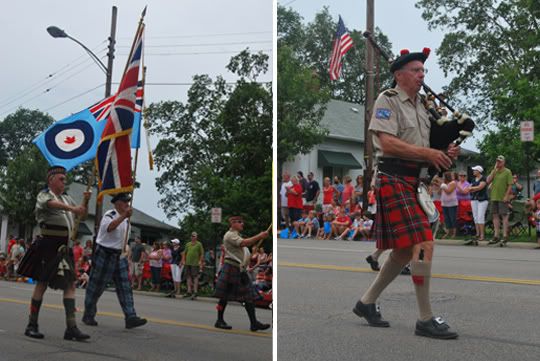 Check the dagger in this man's sock.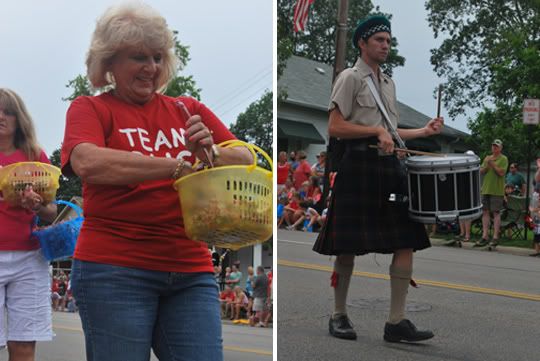 L: One of the highlights - kids watching the parade get candy. R: Unhappy drummer boy.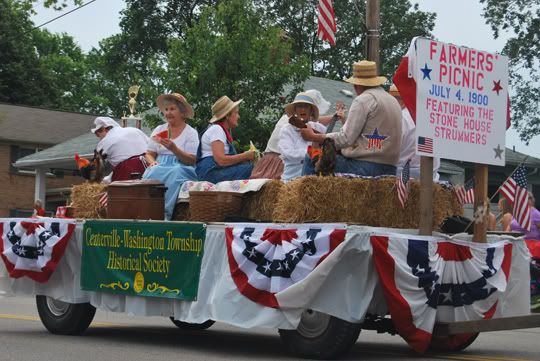 That one lady was holding her watermelon slice in a plastic bag. She was not impressed.
L: Abe Lincoln R: Girl Scouts - they need better uniforms.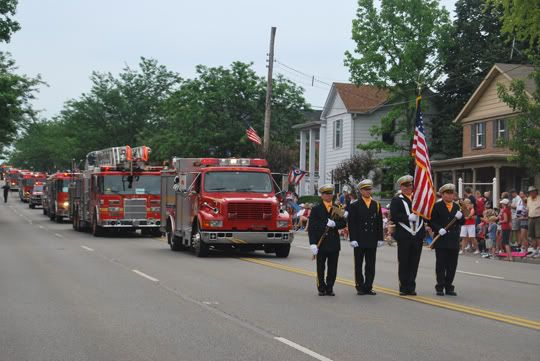 The fire department. Ladder 41, the second one from front, was called out to our gym the other day when a kid tripped the fire alarm.
Boy Scout looking utterly miserable.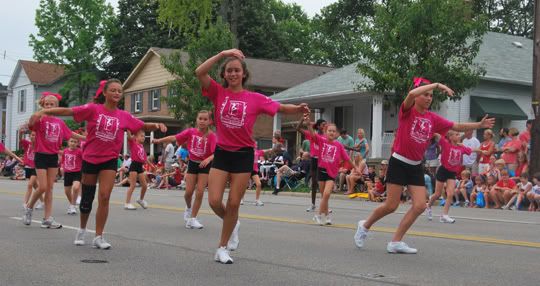 Dance school. Watch the girl on the right.
Lady vets.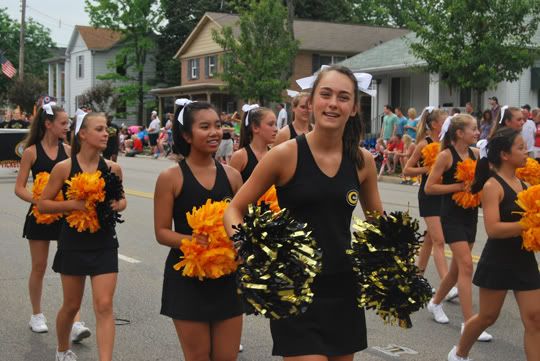 Cheerleaders!
"Ready? Okay!"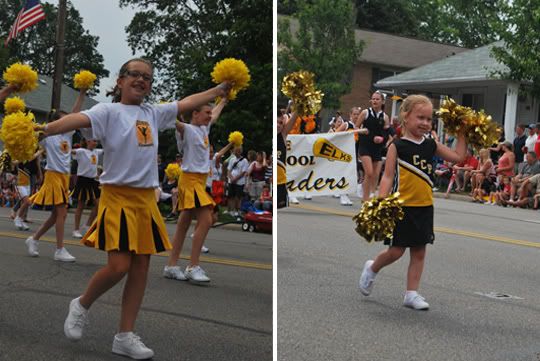 The famous Centerville marching band. These guys were hard core. Check the shades and stern faces.
I'm not sure who these people were, but I loved the team that followed them...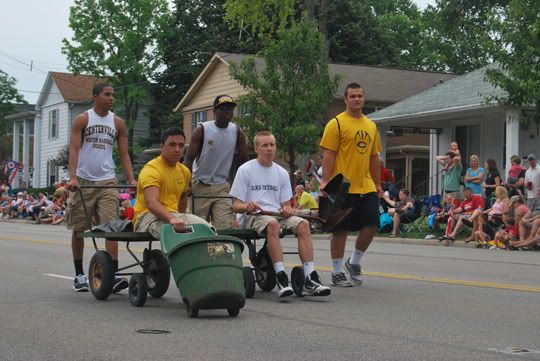 ...yes, behind every horse is a high school boy with a poop scoop.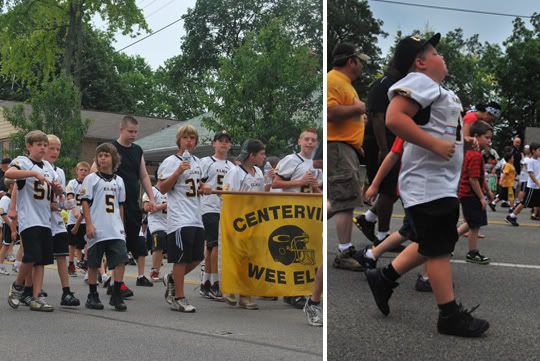 The Middle school football teams. They just look like trouble makers.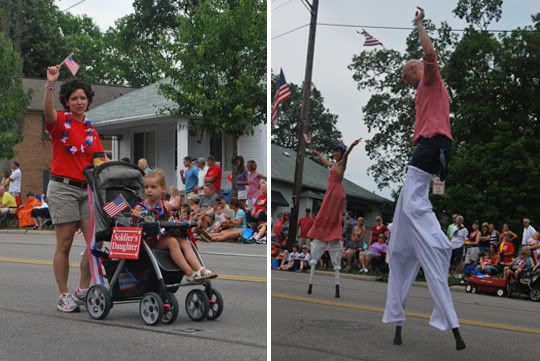 L: The pram club. This kid is a soldier's daughter. R: People on stilts! You need those in a parade.
Another dance school. Spandex unitards are rarely flattering on 14 year old girls.
I loved the fact that the "oversize load" was a band of old people.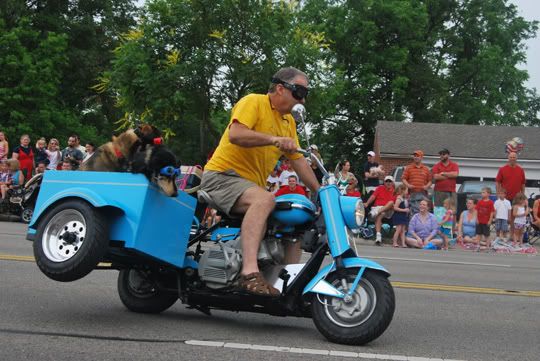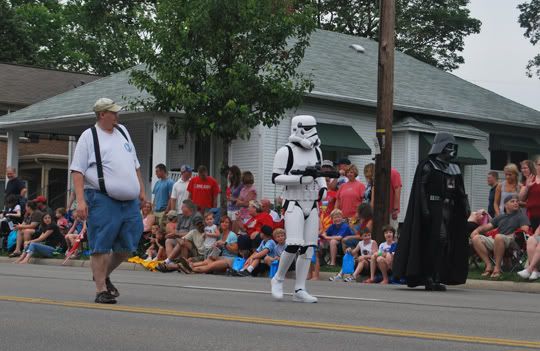 I have no way to make sense of this situation...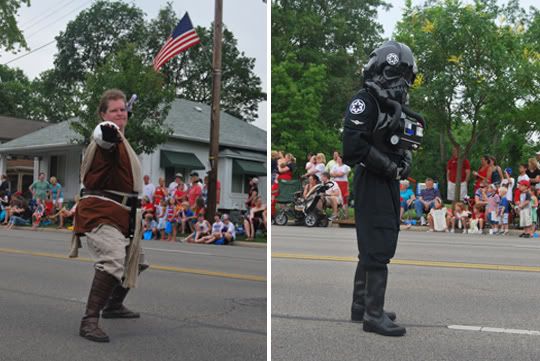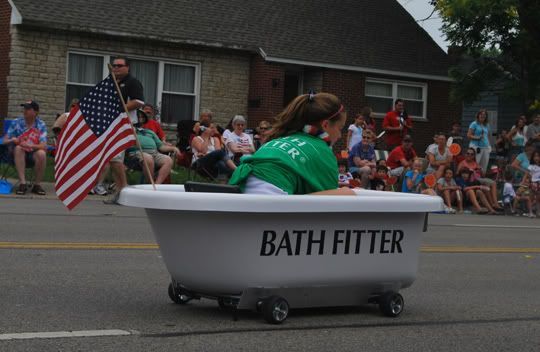 Everyone needs a speedy bath fitter.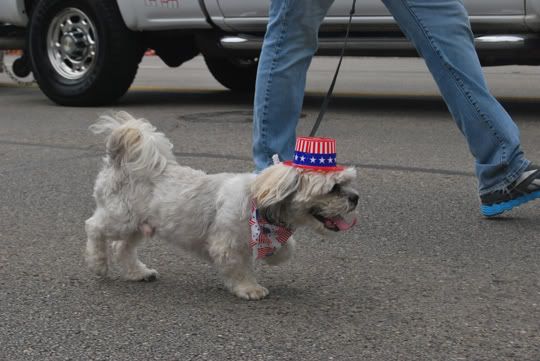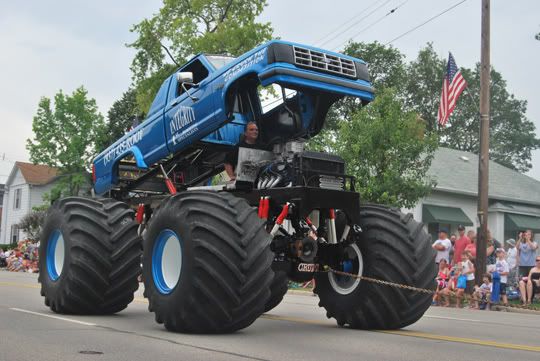 Monster truck!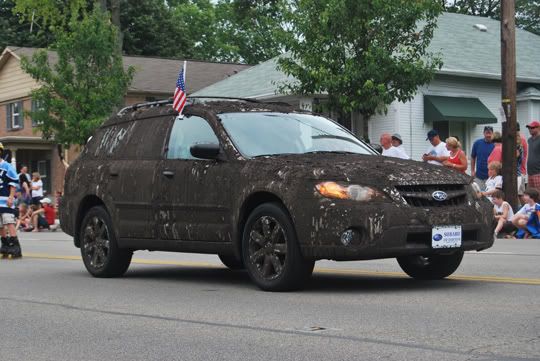 Best ad of the day goes to Subaru with this mud covered car.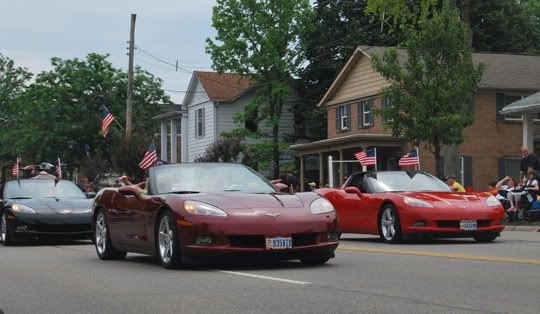 A fleet of midlife crises a.k.a Corvettes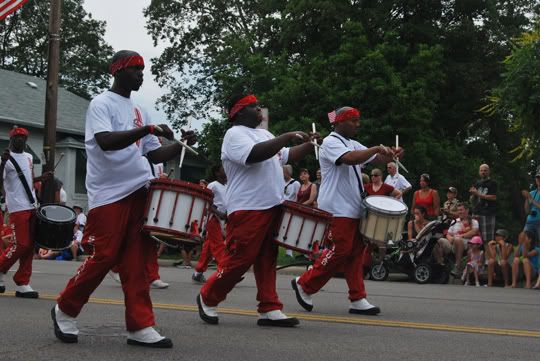 Drumming Crops. These guys were awesome.
What fun! We loved it. It felt almost like
University Jool optog
. Except with less music and cheering and partying. That's all I missed.