Powerwalk through DC Day 4 & 5
Last day and a half in DC and I still have so much to see. I have to admit, on day five I was so tired that I sat down next to a parking meter and just sat, contemplating where to walk/crawl next in the sweltering heat.
So powerwalk with me throught the National Gallery, American History Museum, Du Pont, Adams Morgan and the National Archive:
The National Gallery, what bliss. It was cool and quiet. The only kids around were the art class kids, and they were only a handful, sad but true. Never the less, it was still wonderful being able to wander around each room staring at individual works with hardly anyone waiting to claim my spot. Now, I am not going to bore you with all the works I saw, because there were plenty. I had a real though time picking only a few to share, and even as I am typing I am wondering if I shouldn't include this one and that one..
I slipped into the first room in the 19th Century zone (so it seemed on the map). It happened to be Western Sculpture. "Arg, not boring bronzes again", I thought. But no, I was pleasantly surprised. I saw Rodin's famous Thinker, or at least one of the 50 of this size. And also beautiful sculptures by Degas (remember his paintings of ballerinas). The even have a collection of small wax figure studies he made. Incredible! There as also this collection of caricatures by Honoré Daumier,
which offered commentary on social and political life in France in the 19th century. Fascinating.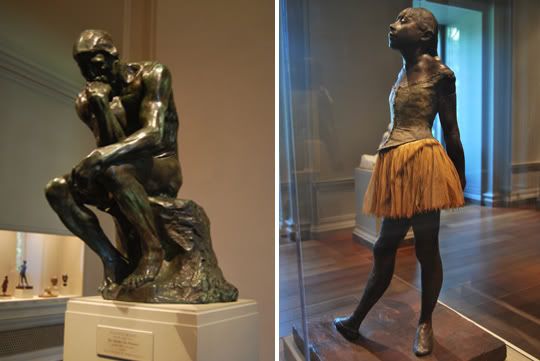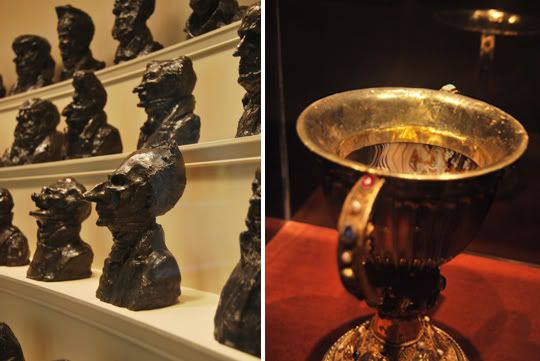 L:Daumier caricatures. R: 12th Century Abbot Suger's chalice. Carved from sardonyx in Alexandria during 2nd-1st centuries B.C. Heavily gilded silver mounting with jewels, pearls - a treasure of the middle ages.
Next I managed to stumble upon the Chester Dale Collection. This was really interesting. Mr. Dale was a very wealthy man who made his fortune on Wall str. Him and his wife were avid art collectors, and acquired pieces of modern artists like Modigliani even before they were proper famous. The collection includes works by Mary Cassatt, Manet, Picasso,
Cézanne,

Degas, Van Gogh, Matisse, Modigliani, Gauguin, Renoir and Monet. It is hailed as one of
America's most important collections of French painting from the late 19th and early 20th centuries.
When I entered the exhibition, the first works I saw were two paintings from Monet's Rouen Cathedral collection. I love Monet. Looking at his works are like coming home. It feels like I can breath deeper when looking at it. I could spend all day looking at the paintings in this collection, I mean, there were 11 works by Picasso, incuding from his blue period and rose period. Ag, I can go on and on. Rather take a peak at
From Impressionism to Modernism
if you are interested.
I spent some time in the Garden Court, an indoor garden with a fountain (which was under construction) and some chairs and a skylight. So peaceful. I finally made my way to the underground walkway connecting the West building with the East building, which houses the Contemporary collections. The Concourse (between the two buildings) has a great cafeteria with a cool waterfall. And then it has the walkway, with a escalator belt and this spectacular light display that moves and changes as you pass through. It is magical: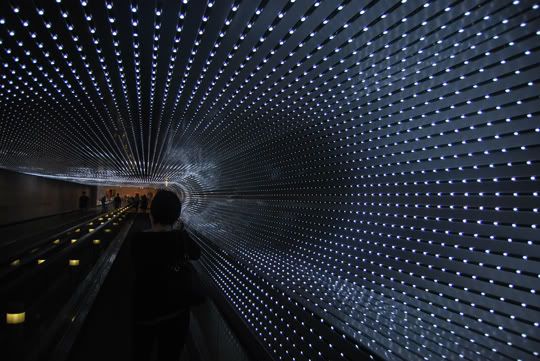 As if that was not magical enough, then you still have an entire museum filled with Picasso, Frank Stella, Lichtenstein, Brancussi, Dali, Chuck Close and Calder. Modern art really makes me want to rock out.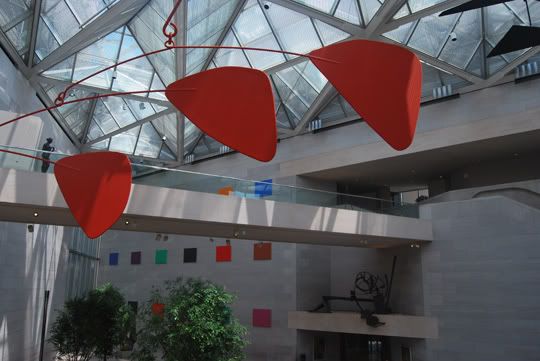 Massive Calder mobile in the foyer.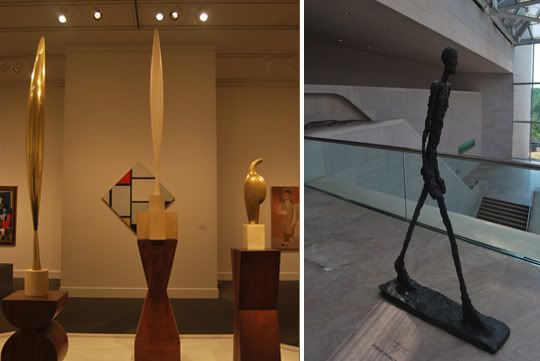 Two of my favorites: Brancusi and Giacometti!
This man in the salmon shirt was sucking on a cigar (not lit).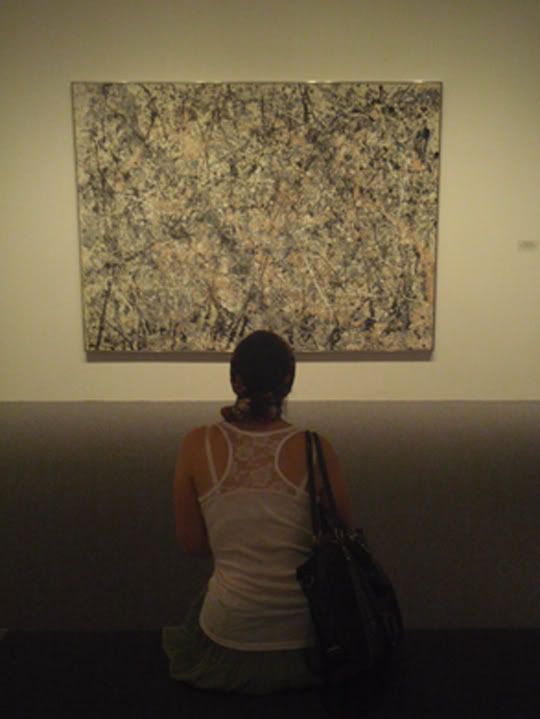 Jackson Pollock: Number 1 (Lavender mist). Can you believe I studied this work for my matric exams, but this was the first time I saw it in colour!
Phew, I warned you, I could spend days there. I felt a bit guilty, so I went to the American History Museum to see Kermit and the First Ladies' dresses. Yes, I actually over heard a teacher give this answer when one of her students asked about the contents of the museum. I guess that's all you need to know with regards to US history? To be honest, that is the only reason I went there too. Argh, the place was chocablock filled with 8th graders. This was the busiest museum of all. I felt like a cow in a
drukgang
wedged between farting kids and old ladies.
L: Michele Obama's Jason Wang dress and Jimmy Choo shoes. R: Mammy Eisenhower's pretty pink dress.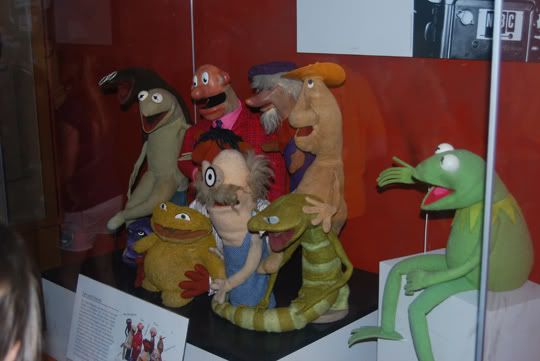 We concluded the evening with another trip to Du Pont, a yummy chocolate cupcake from Hello Cupcake, super Eritrean food from a odd place that only Eritrean taxi drivers seem to know about, and finally various beers from the Black Squirrel bar in Adams Morgan. How's that for a précised version.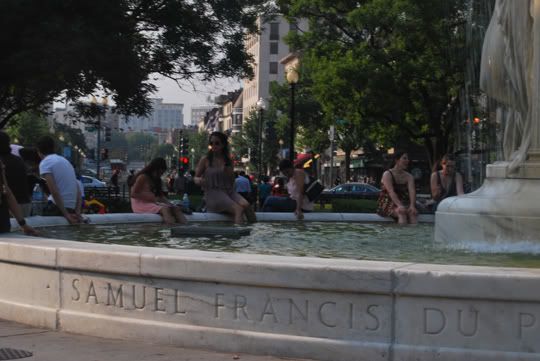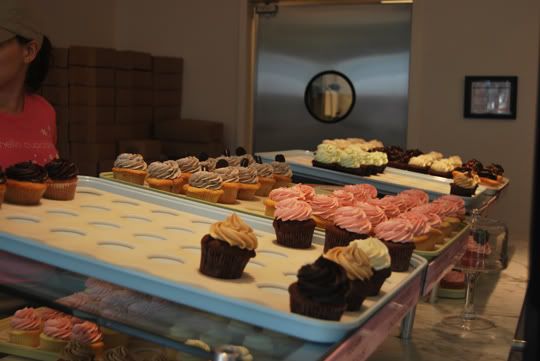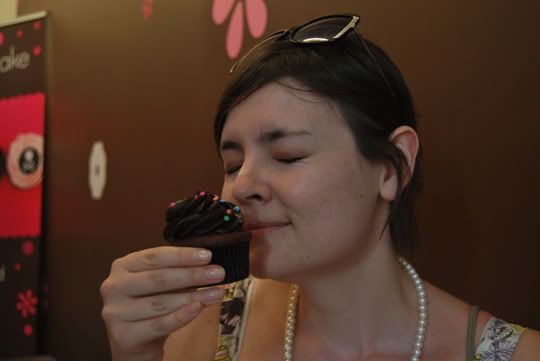 Stop and smell the cupcakes. Mmmm.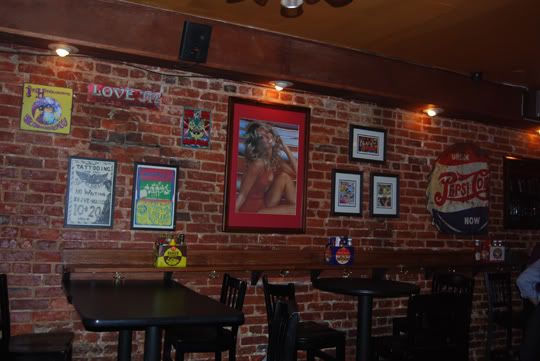 Note to self (and who ever else is reading this), the metro closes at some point during the evening. You will have to take a taxi after 2am, or find the elusive midnight bus.
O.k, quickly about Day 5: I went to the Art Gallery again, to show Jaco all the coolest things I saw the day before, all in an hour. Then I went to the National Archive to see an exhibition on Food and the Government. Very interesting. Basically it went like this: The US government encouraged everyone to support the farmers, then they told everyone how cool processed food is, then people started dying from bad processed food, then people started getting fat from processed food. Now the government had to persuade people to eat healthy and thing like the Food Groups were introduced. Somewhere in between it was war, and people were told to use sugar, wheat and meat sparingly, because this had to go to the troops. Oh, and kids should be part of the school food programs, because then they will get a good balanced meal. Oh, and this was hilarious: they introduced carp to the local rivers. Problem was, carp is gross and takes over the natural fish population. The had to run ads that said "Eat the Carp. With sufficient boiling you almost get rid of the muddy taste and it is a great source of protein." All in all, very entertaining.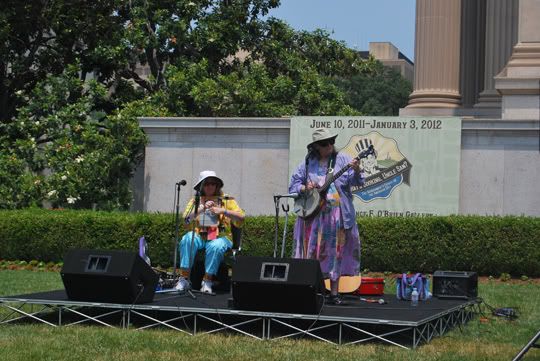 Strange Honky Tonk band outside the Archive.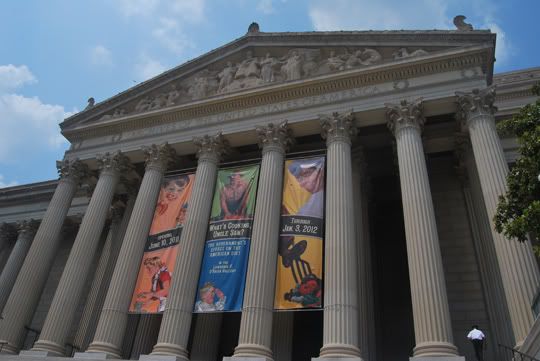 No photos allowed inside the Archive. I considered going to see the Declaration of Independence, but the queue was way to long, and I was way to tired, and not American.
At the end of the afternoon we had old school burgers, which made me slightly nauseous, from this little diner in Union Station before we hopped on the bus to NYC!
This cute mini jukebox did not work.
Yeah for DC. We had fun. It was hot but cool. See you again end of July!