How I witnessed evolution taking a step backwards at the Columbus Zoo
I love zoos (and aquariums). Not sad, creepy old ones with only three monkeys and a toothless lion. Proper zoos, who focus on conservation and education. Until recently I have only been to the Pretoria Zoo (National Zoological Gardens of South Africa) and Johannesburg Zoo, Two Oceans and Ushaka aquariums. I also had the displeasure of visiting the Snake and Animal park at Hartbeespoort (sad, really sad).
While watching daytime television Jack Hanna (remember him from children's wildlife programs?) brought some adorable animals on to The Talk. He mentioned his involvement with the Columbus Zoo and I later read that he is the
Director Emeritus
. Columbus is just 130km from Dayton so we had to go visit the Columbus Zoo and Aquarium to compare it with Pretoria's. Oh, and to see the manatees!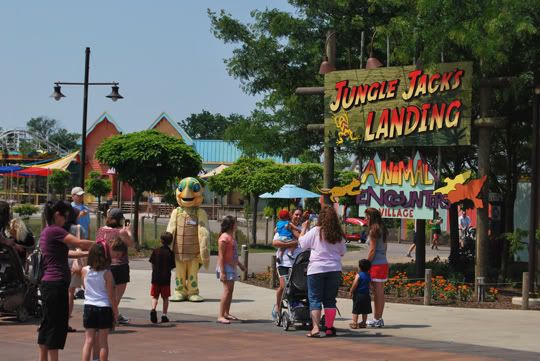 Is that Timothy Traddle? Boing!
It was a scorcher of a day and we arrived with a bag full of water bottles and sunscreen. So did many other people, mostly sans the sunscreen. This day was as much about people watching, as animal watching. Except that it forced me to compare the gorilla holding her baby with the mothers and their strollers, and the manatees with the massive man in a checkered shirt blocking my view. If Darwin could have only seen this spectacle. It made Centurion Mall look like Milan Fashion week. People were slothing about, dragging their flip-flopped feet, hauling their heavy bodies along. Children dropped gigantic soft drinks everywhere. The cafeteria floor was covered in trampled french fries. And no one seemed to have the ability or attention span to look for the animals in their habitats. If the poor creature wasn't standing right in the clear, waving flags and doing cartwheels, people simply wobbled past. One humongous lady shouted loudly that she could not see the otter as promised by a sign. The she told her kid not to run. I wanted to tell the poor girl to run, Forest, run, and never look back! It was also clear that reproduction does not seem to be a problem in Ohio. The pathways were like seas of strollers. So many strollers. And so many kids who really should not be in strollers (or diapers) any more.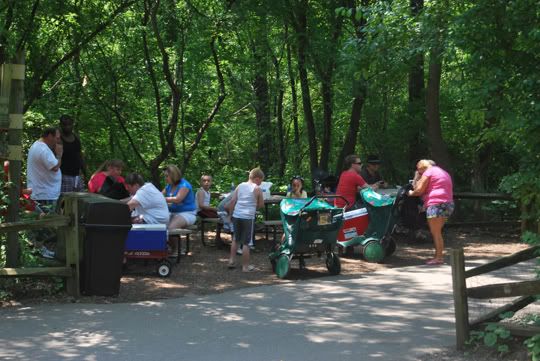 People trying to get the tiger's attention.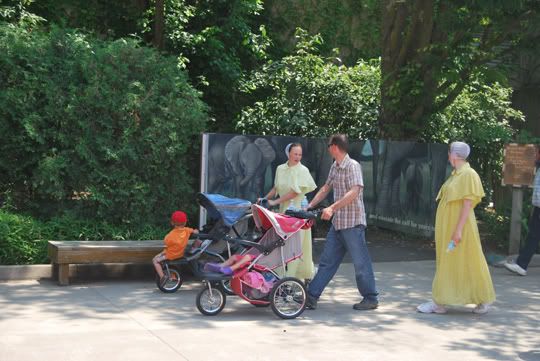 Could not figure out if both these Mennonite ladies were this one man's wives.
But let's get back to the awesome animals. I will only share a few. The zoo was very much a theme park (it even had a water park adjacent to it). I felt there was lots of wasted space, display areas and random sculptures of animals, that could have rather been used for more habitats. Regardless, we saw a polar bear poop in the water, and a manatee up close, so here we go:
Outside the Habitat Hollow. This house is filled with crawling and climbing spaces to teach kids about the marsh, forest, and prairie habitats. So cute. To dark to photograph inside though.
The polar bears. You could view them from ground level, or go below ground to see them swim. They were jumping and diving and sat on the "roof" for us to get a good look. One also caused quite a commotion when it pooped in the water. The crowd cheered.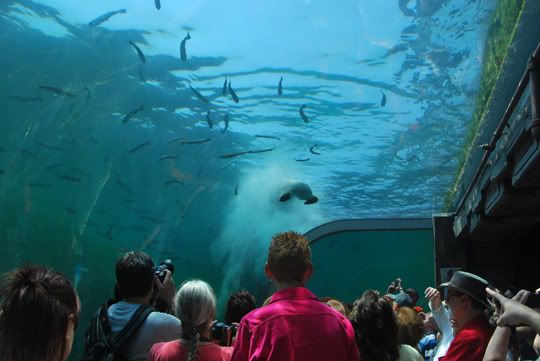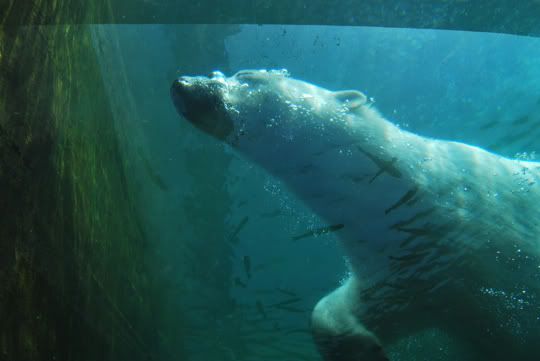 The endangered West Indian Manatee. I have loved manatees since primary school. I even did a speech in English about them. The coast of Georgia is usually their northernmost range because their low metabolic rate does not protect them in cold water. They migrate to the warm rivers and springs of Florida during November to March, to keep warm and enjoy the fresh water (apparently they like drinking fresh water). Manatees are mostly herbivores, and eat the vegitation in the shallow waters they inhabit. This is then where they get hit by motor boats - their major cause of death. They are way to slow to get away from boats. Because of climate change, they are also dying because of sudden cold snaps which they can't handle.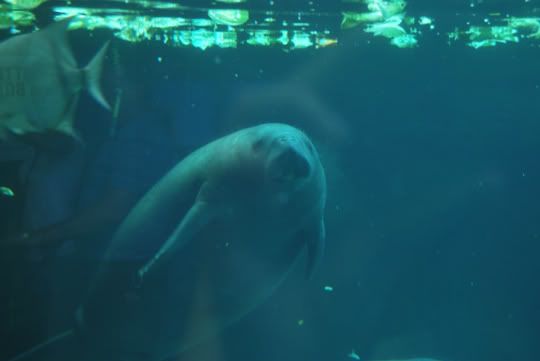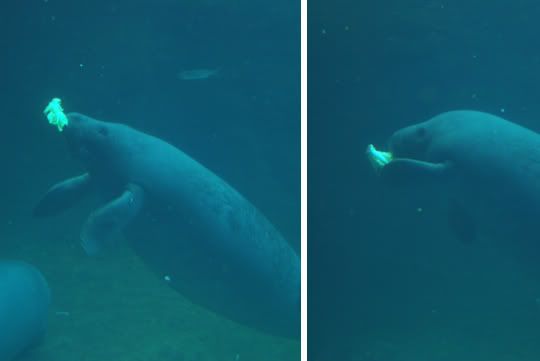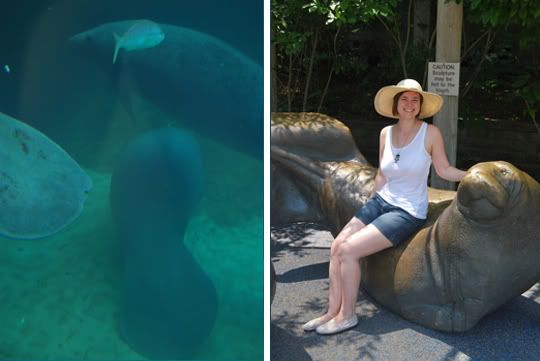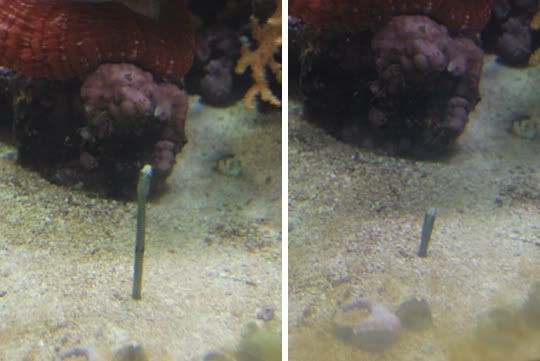 Grass eel. I looks like grass, but retreats back into its hole when a fish comes to close.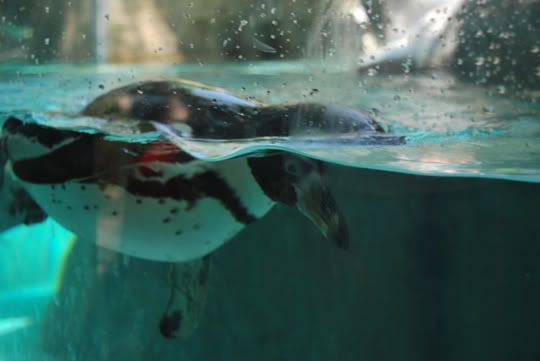 Penguin - they swim so fast.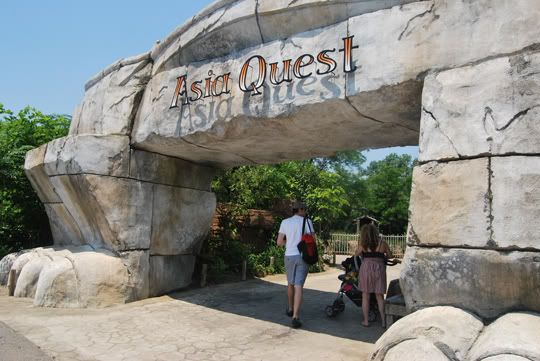 Manchurian (Red-naped) Cranes and the Tufted Deer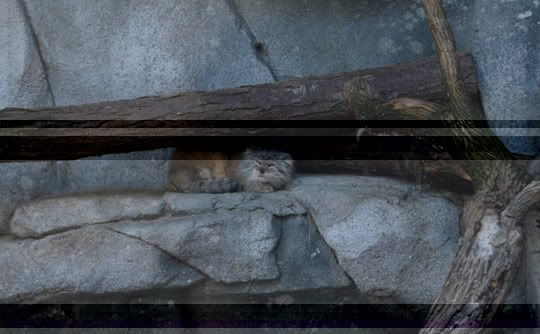 It looks a lot like a house cat, but it prefers rocky steppes and stony outcroppings to a comfy couch.
Inside the Asia Experience building, we found these awesome fruitbats, or rather Large Flying Foxes. Inside their habitat two zookeepers were showing them a ping pong paddle and feeding them fruit. We learned that these clever creatures know their left from their right! So if the keeper shows them the red paddle, they need to grab hold of it with the right hook, then they get a treat, same with the left side and blue paddle. Incredible. And so weird, those long hooks at the end of their wings.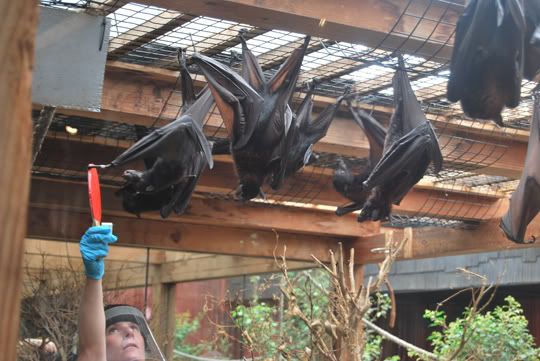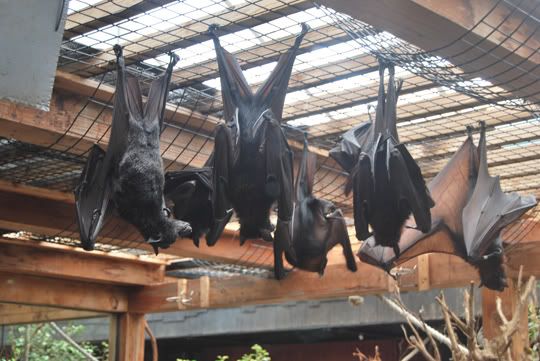 Massive wings - they have a wingspan of up to 1.8m!
Om nom nom. They really like fruit. Look at those cute fox faces.
We had to go visit the lions in the Africa section, just to say hello. This was hilarious, check this map of South Africa. No wonder American's think lions roam Jozi's streets: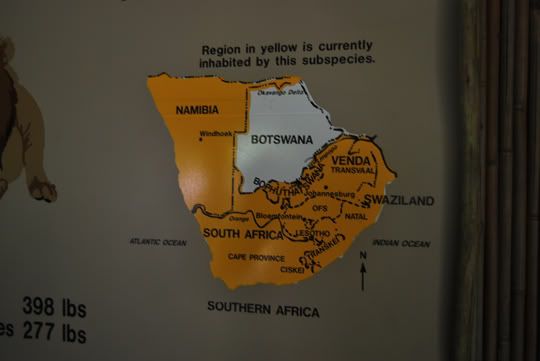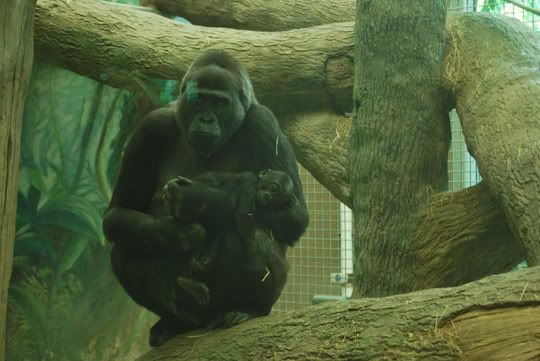 One of the West Lowland gorillas and her baby. Unlike most animals and people who just look at you, gorillas look you straight in the eye, as if to tell you something. Fascinating. Gorillas are on the IUCN red list (extremely endangered) .
As part of the zoo's exhibitions they also have the Ohio State Solar Decathlon House, an energy-efficient solar house that will allow Zoo visitors to see up-close the design and workings of a solar powered home. This was a pretty cool house, very Ikea looking on the inside.
When we stepped out, I noticed a robin watching is closely, and then I saw why:
I guess even the bird knew this was an eco-friendly house.
All in all a super fun five hours of walking about. Thank goodness for sunscreen.
We ended the day with a yummy ice cream from Jeni's Splendid Ice cream in Dublin, the area close where the zoo is situated. It was the perfect place to cool down. They had weird and wonderful flavours like Bangkok Peanut (peanut butter, coconut and cayenne pepper), Salty caramel and Ricotta Strawberry.