DC day 3. Hitting the Mall.
The rest of the team was off to work, so it was just me and DC. I hopped on the metro: Union station > Metro Central > Smithsonian. Time to visit some museums along with all the other tourists.
L: A bird in a muddy hole trying to hide from the sun. R: A man who gave up hiding from the sun.
My first stop was the Washington Memorial to get tickets for that evening, to go up to the top and see DC from up high. Then I stopped by the Smithsonian Castle. This castle is the visitors info center. Really pretty. I just popped in to wash my face, it was once again so hot that I was already sweaty after just a mile.
On my way to the National Air and Space Museum I discovered the sculpture garden at the Hirshhorn museum. I thoroughly enjoyed the works there. While we are on the subject, I also visited the sculpture garden next to the National Art Gallery. I have to admit I got a new appreciation for sculpture:
L: The Smithsonian Castle. R: The Thinker by Barry Flanagan.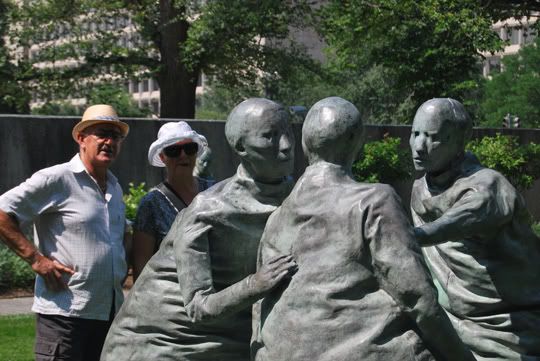 Last Conversation Piece by Juan Muñoz. The people were real.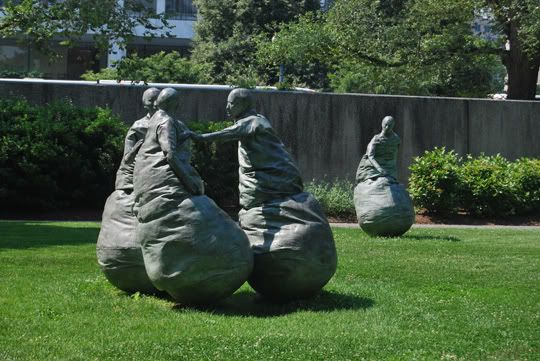 "Don't push me!" "Well, you pushed me first!"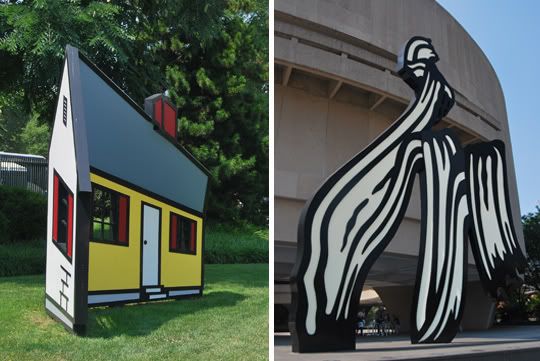 Roy Lichtenstein
Next stop was the Space museum. It was filled to the brim with kids. I have to say I was slightly disappointed. After visiting the Airforce Museum in Dayton, this one lacked a bit. I think it would have been super awesome to visit it as a child though. The DC museums are very well curated, and go to much trouble to engage kids. I did find the bit about the stuff astronauts take into space quite interesting. It made me giggle.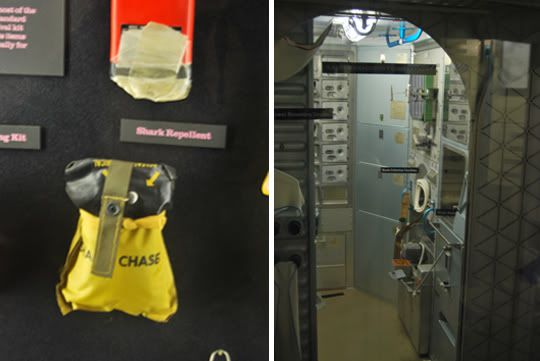 L:Shark repellant for those pesky space sharks. R: Space loo. I tried to figure it out, then stopped, because it was too weird.
I dragged my dehydrated body from water fountain to water fountain and finally reached the Natural History Museum. They should have called it the National Treadmill not the National Mall. And in this heat, it was like walking through a desert. You see the buildings in the distance, but they never seem to get any closer. At the Natural History Museum I bought a high fructose corn syrup drink from one of the overpriced stalls and plopped down between some teenagers in a spot of shade. A little sparrow hopped closer, beak open. The kids threw it some crumbs but it really wanted a drink, but all I could think was, if I give him some Minute Maid it would be his last drink.
Anyway, back to the museum. It really is massive, and of course it has a massive rotunda to match. I wandered through all the rooms. The mammal section included many stuffed creatures from tiny harvest mice to lynx with massive paws and even some galagos aka bush babies from South Africa. Once again, a children's paradise. The place was so big and I was so tired that I did not take in much, I must admit. But they have a super skeleton section, and a cool forensics exhibit. You can actually tell what job someone did back in the days by just looking at their bones and teeth (tailors had little grooves in their teeth from gripping pins and needles)! Oh, and bush babies have an extra joint in their legs, which gives them a super long ankle, which helps them jump as far as they do.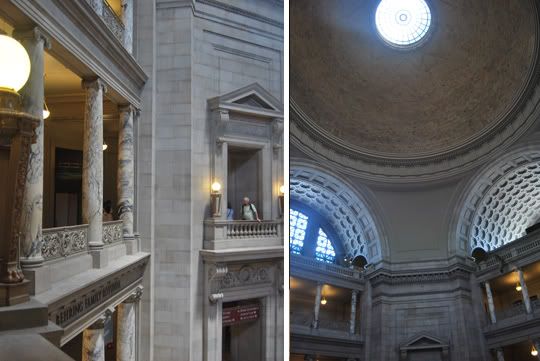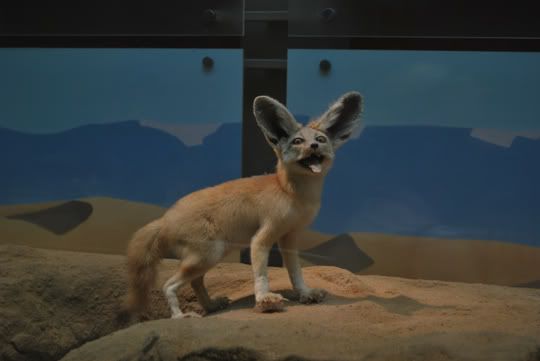 This Fennec fox (the smallest fox in the world) had a very strange grin. The taxidermist must have had fun.
Then I came to the rocks and gems and crystals exhibit. Again, very interesting. They had every colourful crystal and rock formation you could imagine. And then, the jewels. So shiny. Can't believe the rich and famous actually wore them.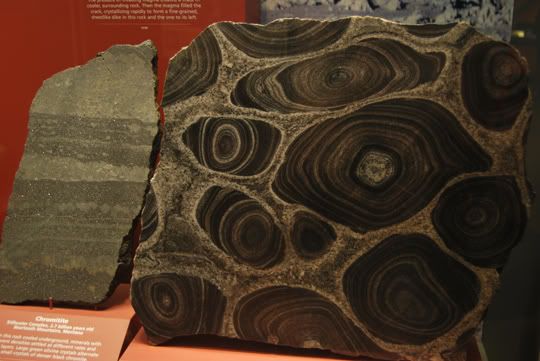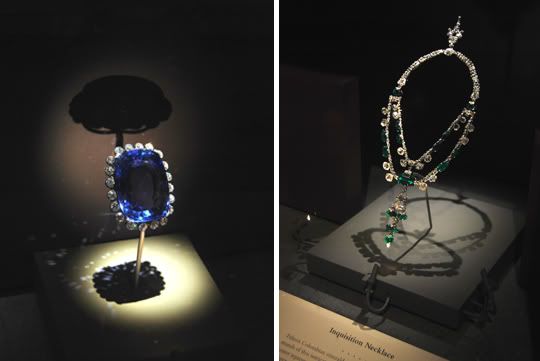 Spanish Inquisition jewels.
Napoleon diamond necklace - it contains 172 diamonds totaling 260 carats. Marie Louise diadem - more than 1000 diamonds totaling about 700 carats surround the Persian turquoise.
By this time I was starving as it was way past lunchtime. I started walking, looking for a lunch spot selling salad, a spesific one called Chop't. After a mile (1.6 km) I found it, near Chinatown. Chop't is a great concept: you select your salad leafs, vegetables etc and salad dressing. Then a guy chops it up with a mezza luna and pops it in a bowl for you. It was massive but yummy and fresh. For desert I stopped by my first cupcakery in Washington, Red Velvet and bought a chocolate coffee cupcake with super fluffy buttercream frosting.
Before heading back to the hotel, I had a look at Chinatown and decided that is where we will have dinner, which we did.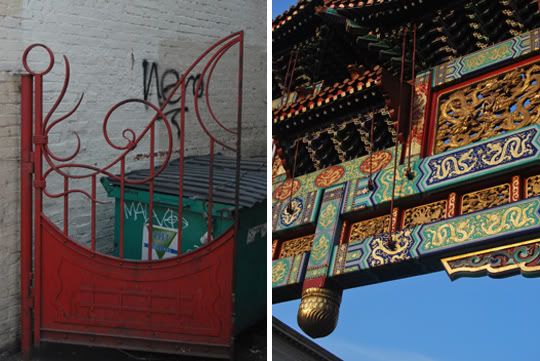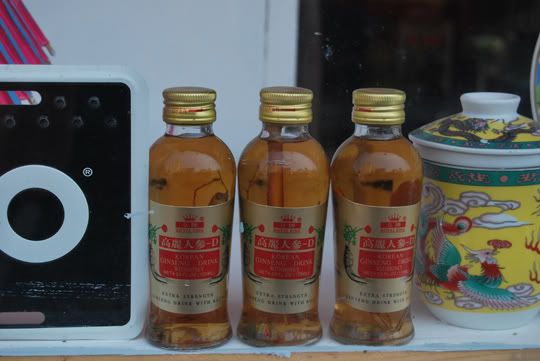 Chinatown Express. This is where we had dinner. Good dumplings, really hot General Chows Chicken and good handmade noodles.
Please note, by the end of that evening I would have walked from to and from the Washington Memorial, to the NHM, and to Chinatown twice. That is 8 miles, not including the distance walked in and around the buildings. By the way, from the start of the musuems on the Mall, to the Washington Monument is about 1 mile. No wonder (crazy) joggers run up and down there all day.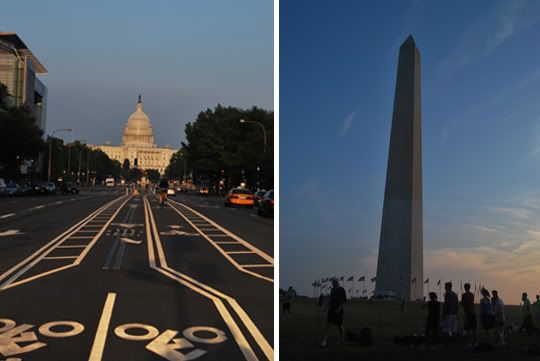 O.K, so have a look at DC from way up high at sunset (8pm):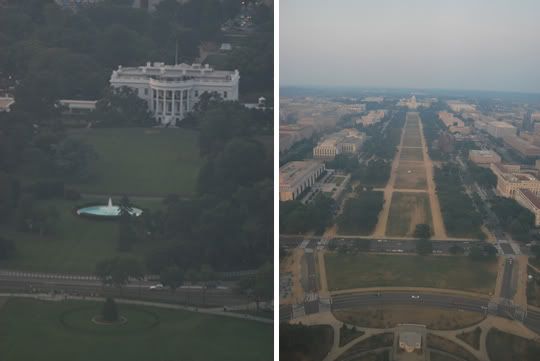 Don't tell the secret service, but my super lens would have been able to snap a pic of Obama, if he happened to be on the balcony.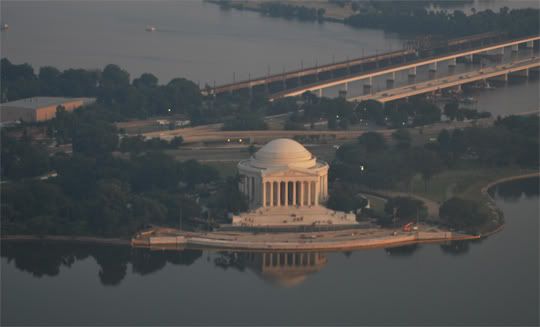 The Jefferson Memorial
The Air force memorial (I think). It symbolises fighter jets whooshing up into the sky.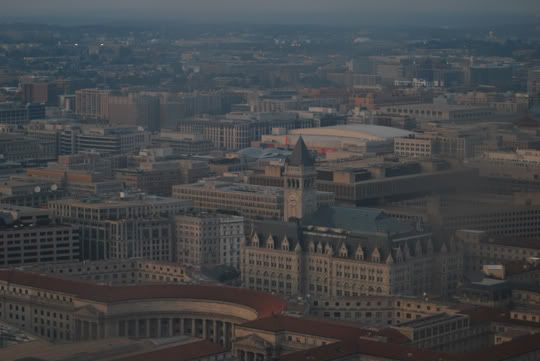 Our very animated guide, telling us all about the renovation, the crayon the crew left behind the glass to symbolise all the graffiti they removed, and how the original builders stood on a ledge to place the little pyramid on top. Crazy! can you say vertigo.
The Washington Monument was really worth it. Awesome views. Tip: go get your tickets at 10:00am for 8:00pm - no queues!
You made it, again! Thanks for museuming with me. Get ready for some more tomorrow.