Where in the world is Carmen San Diego?
I have finally recovered from our lovely, sunny holiday in San Diego, and now I am ready to catch up on the blogging. Wow, where to begin? I decided to do 3 or 4 separate posts to cover our entire 4 day trip. Yup, there is just that much to share. I
sommer
got excited all over again after going through my happy snaps.
So here goes. On Wednesday 27 April I flew to San Diego, CA via Dallas, TX. Amazingly my flights were all on time. I have to tell you about some of the characters I saw: At Dayton airport I sat across from this super camp boy, he had the peroxide hair, the diamond stud, and a hello kitty necklace and wallet. And he bought the Elle. Next to him this strange lady plonked down. I first thought he knew her, because there were lots of open seats but she chose the one next to him. And there she sat in her denim shorts, legs spread, chomping on a massive KitKat. I shared a confused look with the hello kitty boy.
On the plane from Dallas I was joined by 4 "service men" as they call soldiers/sailors etc here. They were so cute in their Navy Uniforms. They even wore the little white hats. I almost thought they were off to a 50s costume party. Oh, and the get to board the plane with the first class passengers.
O.k, then I arrived in San Diego and was driven to our hotel by a guy from Ethiopia. By the way, Jaco arrived a day before me to attend a 2 day workshop. It was wonderful stepping out into the sunshine. It felt like I was in Balito or Cape Town on a good day. Jaco still being "at work", I hit the streets of the Historical Gaslamp District where we stayed:
Hairdresser student and the Ghirardelli guy
Cowboy rocker street musician guy.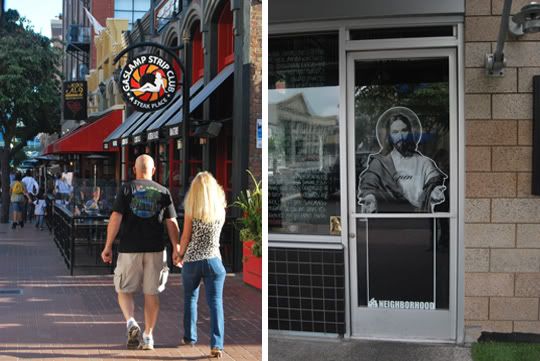 Strip Club which is a steakhouse, without strippers. And Neighborhood, a restaurant, without Jesus.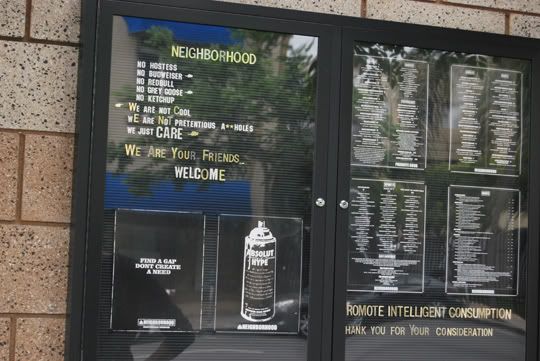 Neighborhood: We are not cool. We are not pretentious a**holes.
Being starving I could not walk or think any more and went looking for a cheap meal. I met parking lot attendants Ira and Jacq. Ira introduced me to Mario the barman at Broken Border, along with the friendly waitress Britney. They played Michael Bublé. And had some Sombreros as decor. Here I scoffed some $5 tacos and scored a free Margarita compliments of Ira. He and Jacq kept me company for the rest of the afternoon, until Jaco joined us. Then we all had another drink together. These friendly okes set the mood for the rest of the trip.
Jacq (French-Mexican-American) and Ira. These guys run the parking lot, and have the best people watching spot, right across from the hottest club in town.
Britney and a customer. People in San Diego all have dogs. Lots of dogs.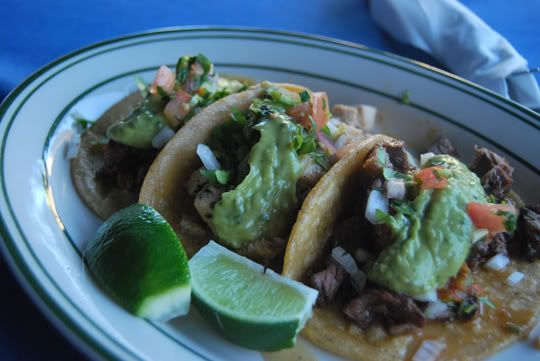 Broken Border, Island street, San Diego.
Thanks Ira for my super Margarita!
Frankie from New Orleans. He asked if I like Johnny Cash. *psst* He's not very good, and apparently only knows that one Johnny Cash song. I gave him a $1. One song $1 right?