A walk in the park
One of the big attractions in San Diego is Balboa park. We decided to take the trolley there. The trolley is like a train that runs in the city. It only runs specific routes though, so we thought we'd get as close as we can to the park and then walk. After going a couple of blocks, we realised the closest stop to the park is basically where we started. So we had to take the bus.
The trolley was an interesting experience though (as was the bus for that matter). You always see ads of smiley, good looking business people on the train. Don't be fooled. Trains are mostly used by blue collar workers and tourist. It is grimy and there is always one weird person with shifty eyes who is talking to himself. Anyway, it is fast and got us to our destination.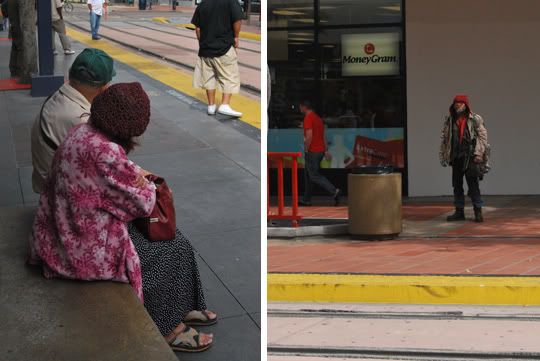 Old Chinese couple waiting for the trolley. Crazy homeless man, just waiting.
Balboa park is massive, filled with arts and culture, gardens and Spanish-Renaissance Architecture. It felt strangely empty though. We entered through the arches of one Spanish building, and there was just nothing. It felt like being in the courtyard of a monastery. But it was beautiful.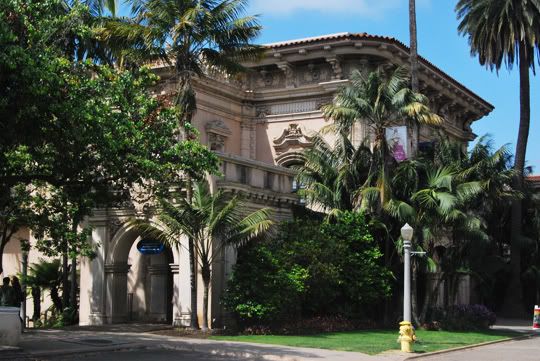 Spanish-Renaissance building, 1915. Such detail.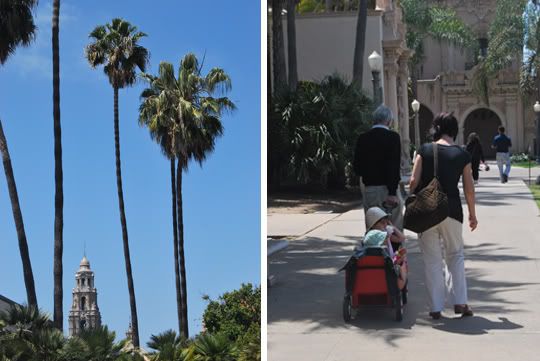 People drag their kids along in little wagons. Gives new meaning to "what a drag".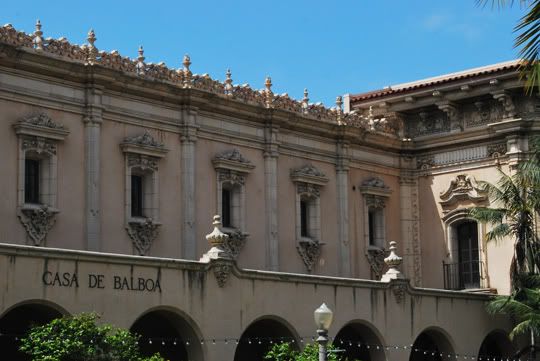 This building houses the Museum of Photographuc arts and was also built for the 1915 Exposition as temporary wood-and-plaster structures and have all since been reconstructed.
In another building we found the Museum of Photographic arts. The current exhibiton was Streetwise:Masters of 60's photography. Beautiful black and white prints of 1960's America. The scary thing is, it still looks pretty much the same. We also saw examples of pin-hole photography, works by Man Ray, and two portraits of Marilyn Monroe, when she was happy and just before she died. Amazing.
We continued walking in a random direction and discovered the Botanical Building. It was built for the 1915-16 Exposition. This historic building is one of the largest lath structures in the world. And admission was free! We walked past the lily pond where many people were photographing lilies, watching the koi, spotting water turtles or walking their dogs. Great spot for people watching.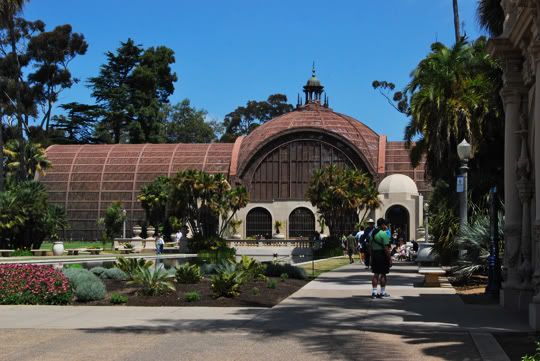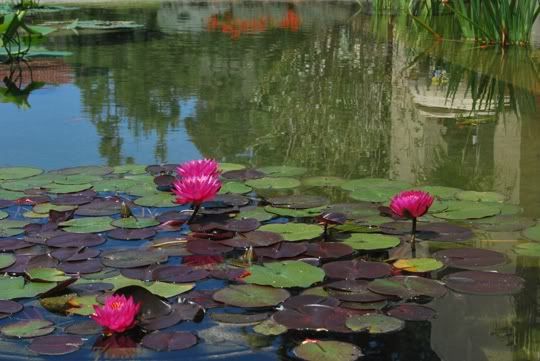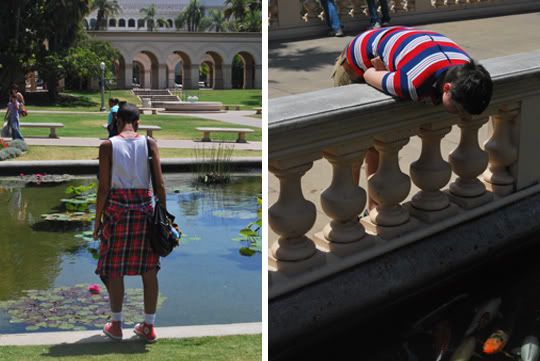 And then we entered the domed lath building, not knowing what to expect. Magical! It was like stepping into an exotic forest. Orchids of every colour, rows and rows of St.Joseph lilies, ferns and carnivorous plants. It reminded us alot of South Africa. I grew up with a garden filled with tree ferns, palms, sterlitzias, clivias and so forth, so I felt a bit home sick. I could spend hours there. And I took about 50 photos of all the alluring and fantastical plants. I'll share just a few: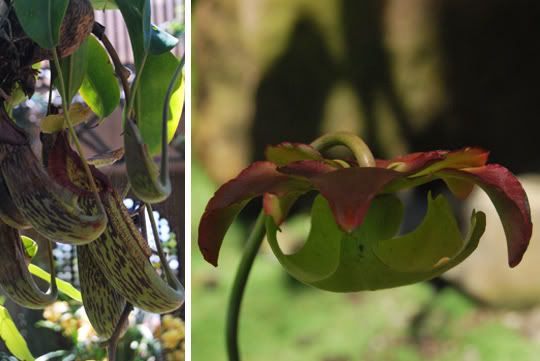 Carnivorous plants.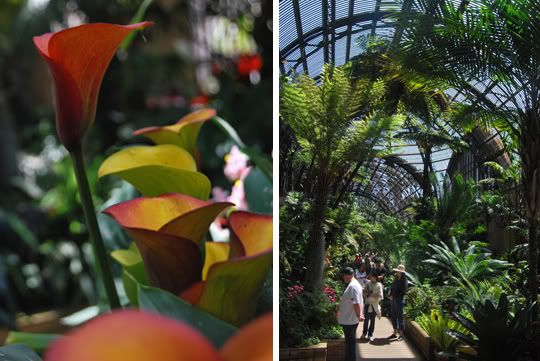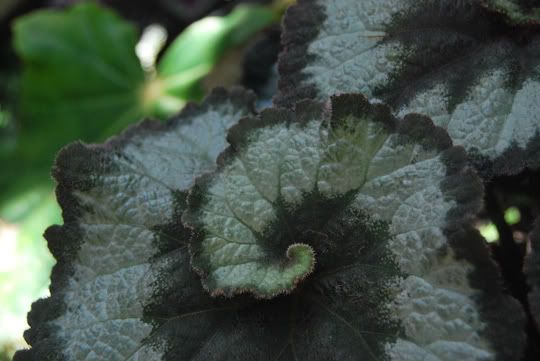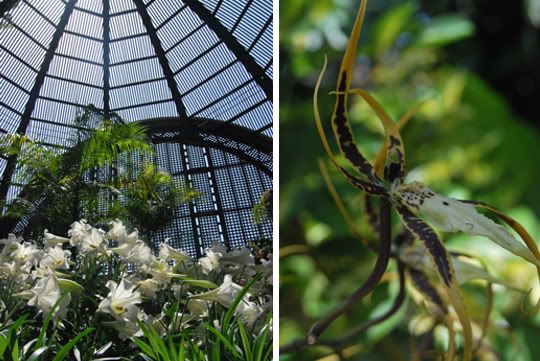 We kept walking. There were more beautiful historic buildings, and even the Globe Theatre - obviously not the real one. By then we were starving and luckily found a hot dog cart. Jaco was elated.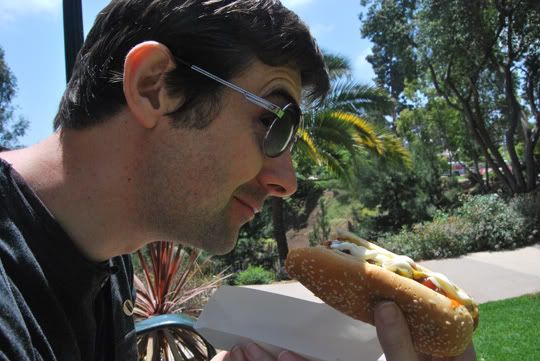 Hot dog with all the trimmings.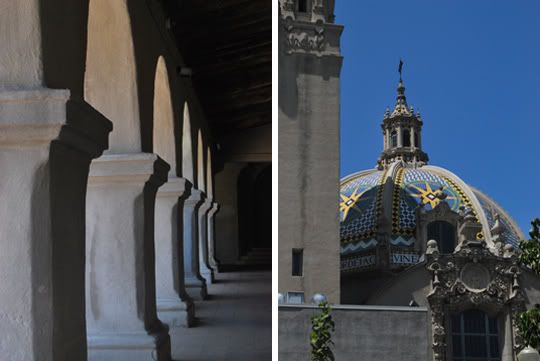 San Diego Museum of Man
Amazing place. You can buy a park passport and then get access to all the museums, including the San Diego Zoo. But even if you are on a shoestring budget, there is more than enough to see and enjoy. Yeah!
Next post: Old town.