Lucky D's Hostel
Day 2 of our time in San Diego. We had to move out of the hotel and into our backpackers. Lucky D's is a bit of a hole in the wall, between a bar and a foot massage spa. We climbed the flight of stairs to the reception, checked in and climbed 2 more flights to our floor.
Reception and commons room floor.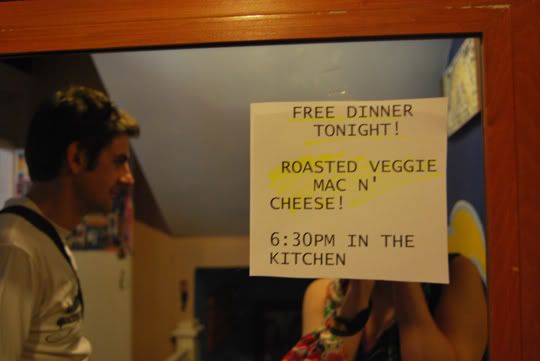 Lucky D has free something almost every day of the week. Great for budget travelers.
Door to the fourth floor.
Lucky D's is vibrant, multi-coloured, and slightly smelly. *People of America, carpets are not a good idea in a backpackers or gym locker rooms.* The walls are painted in bright colours and covered in strange collages and music posters - even an old Black Sabbath poster with Ozzy still looking dashing. The staircase leading to the fourth floor smelled the worst. Like vomit and beer. Apparently that is what weed smells like. Our private room was tiny, and reminded me of the dingy apartments you see in movies. Our window looked out onto roofs and into the laundry room. It was also above the kitchen, so I woke up with the smell of toasty waffles and coffee. Yes, this place gives you free waffles for breakfast!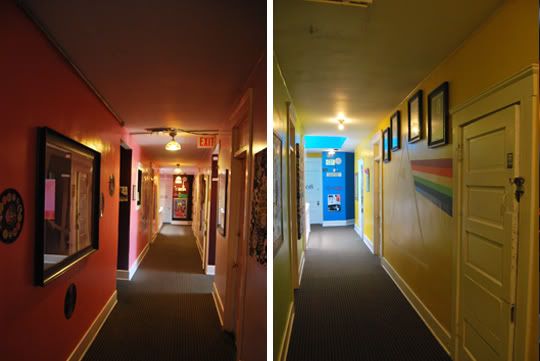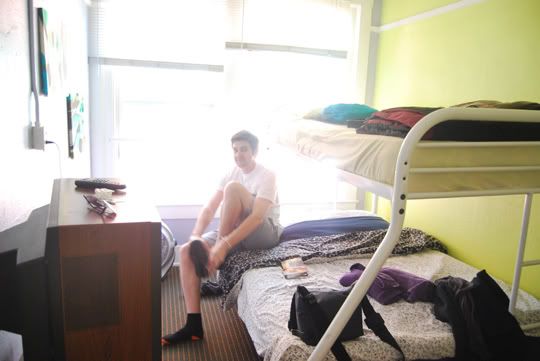 Room 417.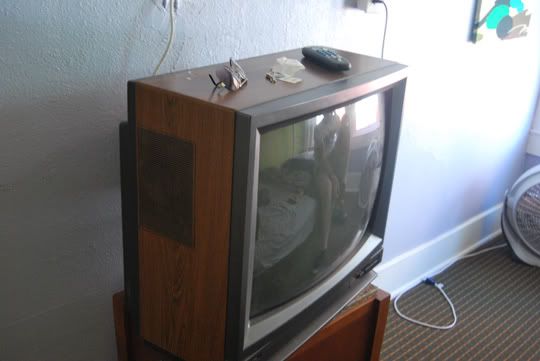 The TV I watched the Royal Wedding on.
O.k, so both Jaco and I are slightly neurotic about cleanliness. (What are we doing in a backpackers then, you might ask?) We checked the mattress for bed bugs, examined the sheets, and wiped the taps and doorknobs with Clorox wetwipes. All in all it was actually pretty clean. We even got fresh towels every day. I still showered with flip flops though, just in case.
The only thing we could do nothing about, was the fire station down the block. Sirens blaring up the street at all hours of the morning does not make for a good night's sleep. But I did feel like an international city dweller, surrounded by rooftops, emergency staircases and sirens.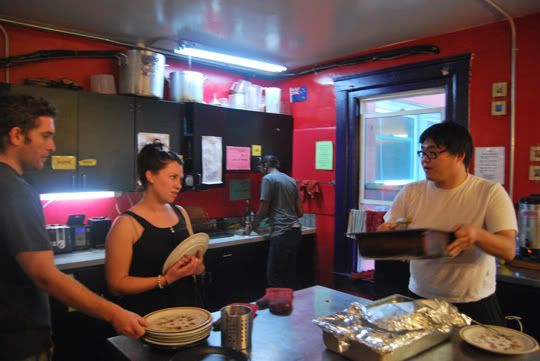 Kitchen.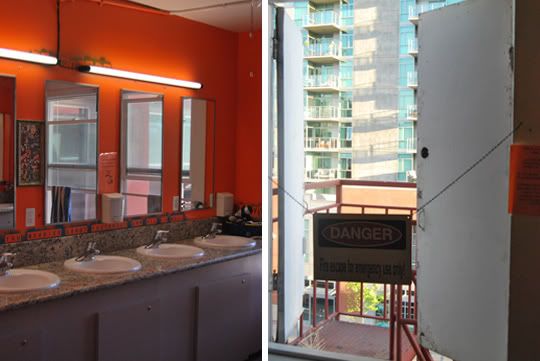 Communal bathroom. Emergency staircase. If you use this when it is not an emergency, you get kicked out of the hostel.
We came to the conclusion that we might be a bit old for this kind of backpackers. And compared to the scantly clad barefoot girls hanging around the commons room and kitchen, we looked ancient. It is a serious party house. Maybe we'll be back, if the wash their carpets.
PS. As I was sitting in the kitchen, watching Royal Wedding repeats (it was the only thing on tv for three days straight) and munching on a waffle, someone actually asked who was getting married and what the deal was. I just stuffed more waffle into my mouth...