I wish they all could be California
The West coast has the sunshine
And the girls all get so tanned
I wish they all could be California girls.
Finally I understand what the Beach Boys were singing about. Even on a "bad day" they weather is still gorgeous. And with such great weather, exploring the city on foot is well, a walk in the park (but that is my next blog post's topic).
Our first destination, about five blocks from Lucky D's, was Horton Plaza. It came highly recommended and was described as a different kind of shopping mall. We walked past it at first, because we only saw the parking garage and it had a different name on the side. We also failed to realise that the Nordstrom was in fact part of the mall. When we finally found a side door we ended up in the parking garage, on the Avocado level. Yes, the levels were named after veggies. What a peculiar mall. It had so many weird levels and ramps and mezzanines that I am sure it must be a fire hazard. It was also bright and colourful and had all the standard tenants (Forever 21, Banana Republic etc.)Oh, and it is open air. That is its main attraction - a building spanning 6 city blocks, that is all open on the inside. Maybe some of the pics will make more sense:
Jaco felt that Smokey upstaged South Africa's little scared bokkie, when it comes to preventing wild fires.
I have to say, with open air malls in SA such as Melrose Arch and Centurion, this was nothing new, but still very entertaining. Especially these characters:
This was fascinating. One guy in his business suit, the other carrying his life's possessions in a bundle, engaged in the 1000 year old game of chess - a great equaliser. By the way, there are a great many homeless people in San Diego. Smart. If I had to be homeless I'd choose it too - great weather.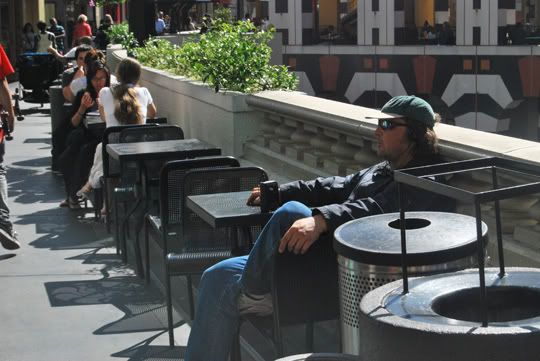 This was rocking to his mix tape in his Walkman.
After having gyros (3.5 spoons out of 5) for lunch, which we bought from a traditionally dressed Indian girl at a Greek shop, we had some delicious Ben&Jerry's. Such a treat (5 spoons). Now we were ready to continue our walk. Destination: Harbor. Once we reached the bay, we strolled along the boardwalk, California style, and this is what we saw, Take a walk with me c'mon:
Shorts and dogs and messy hair. Welcome to Cali.
Mexican/Native American looking muso. He gave me a funny look when I tried to take his pic. So I had to wait for him to look away.
Since we were just 40km from the Mexican border, Mexican curios were being sold by two little ladies on the boardwalk. I liked these decorative skulls. These images are connected to the Latin American holiday, the Day of the Dead (Día de los Muertos).
Pedi cab. We spotted many of these. This the perfect tourist transportation device. You get to see the sights, feel the sea breeze and get to where you need to be. The drivers had really great looking legs. Especially the one guy. Actually he was just good looking all over.
The USS Midway Aircraft Carrier Museum. This thing is massive! You could pay and take a tour (which we didn't), and if you are military personnel, you go for free! Bonus.
Seriously, it was really big. It had at least 10 aircraft sitting on the one deck.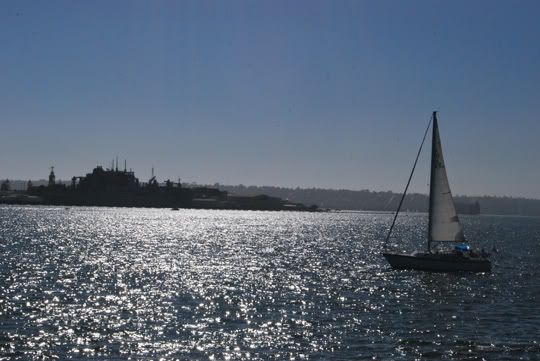 The San Diego Bay. The ocean is just beyond the horizon line.
This sculpture, based on that famous photograph, is part of a collection that commemorates "the Greatest Generation", according to a a little sign nearby. Jaco looked up her skirt, heehee.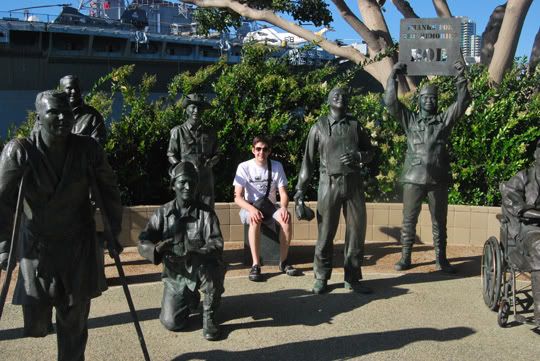 These service men are being entertained by legendary Bob Hope. The were even playing some recordings of this event over a speaker in a tree. The guy with the cowboy hat was really short.
Ah welcome to Beverly Hills 90210, or an 80's Piz Buin ad. Yes, she was wearing floral leggings and a bikini top. And yes, he was wearing aviators.
At this point we've reached Seaport Village, another recommendation. It was quite touristy, with many souvenir shops. The best part was this merry-go-round, with only one couple on it, and no operator. Weird.
Just past Seaport Village is the Embarcadero Marina Park, and here we really felt like we were part of a 90's TV series.
The bridge in the background takes you to Coronado Island. More on that in another post.
Going limp, aaarrr. Oh, and a poodle.
And Cinderella's carriage. Just another day in San Diego.
Joggers. Without tops. Baywatch?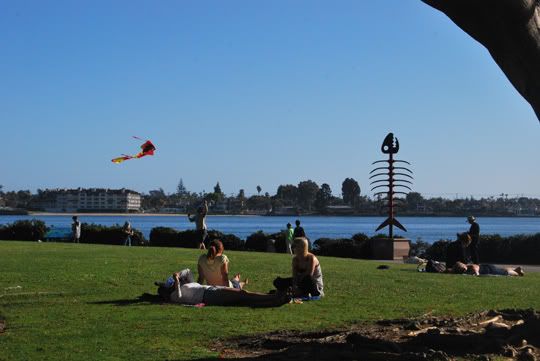 Another hard day in California: lying in the park, flying a kite, walking your little pooch.
Tip: Don't wear flip flops for the first time in 4 months and then walk 10km. Can you say blisters. Regardless, I could get used to that kind of life. I even got the urge to go jogging, Cali style.