Hippie town. Take two.
About four months ago we went to
Yellow Springs
and I showed you some urban knitting, hand made broaches and various interesting folks.
This weekend we went back with some of Jaco's colleagues for some brunch. It was a lovely day outside and everything looked so nice and green, as opposed to frozen, like the last time we were there. We sat on the patio at Sunrise Cafe, and I had decadent chocolate french toast. Yummy!
I mentioned last time that this place is very similar to Clarence in the Freestate. It really is. Now with the weather being nice the main street was crawling with people. Many in tie-dye shirts. Seriously, so much of tie-dye and beards. Oh, and it was obvious that this is also a popular spot for Harley breakfast runs.
There was this music group happening. They even had a tambourine. The kids on the left did not look like they were planning on joining in. And I think he got his pants from the county jail.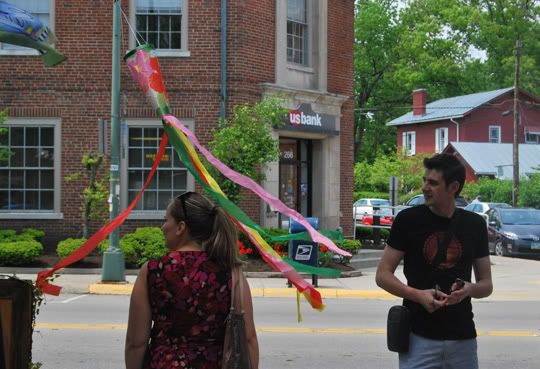 Jaco's colleague took us on a mini tour around the neighbourhood. It really is a lovely place to stay. And so many strange things to see: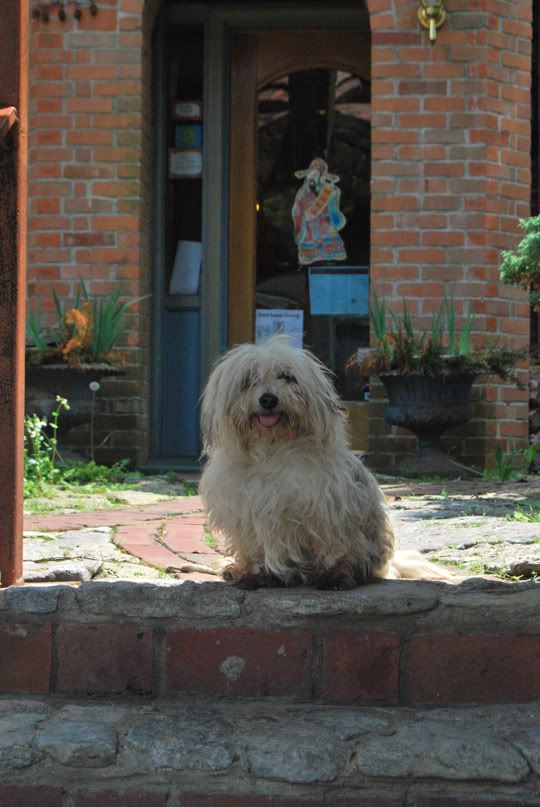 Hippie dog.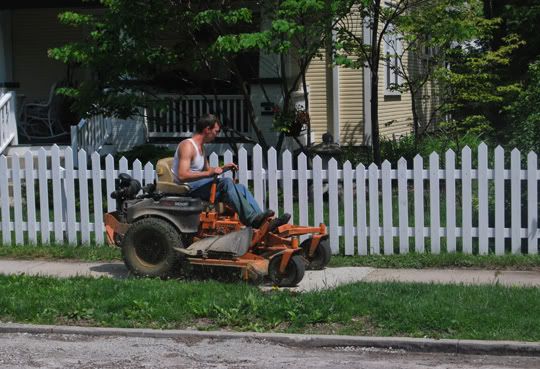 Vest, old jeans and a cigarette. Classic.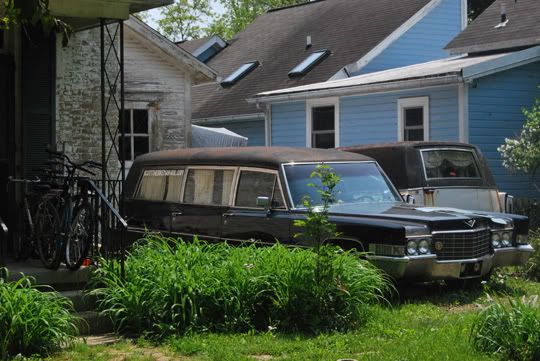 Imagine your neighbour collected hearses. The one had a license plate reading "U NEXT".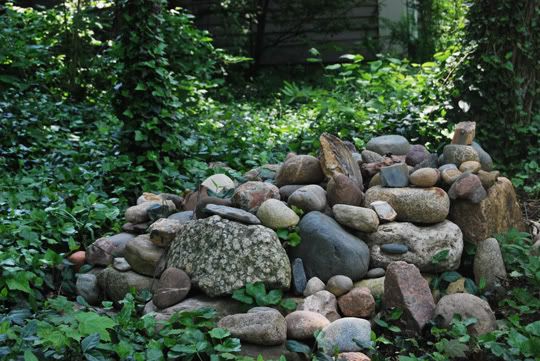 Rock garden.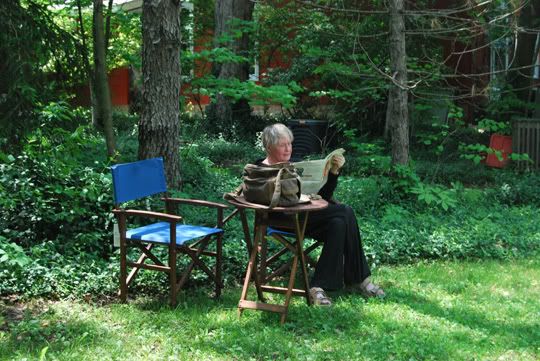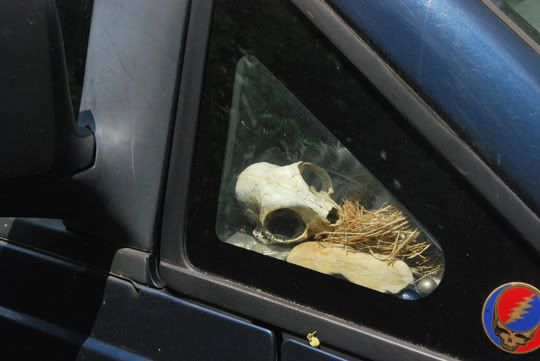 This van's whole dashboard was filled with little skulls, rocks, grasses and things. So weird.
We walked to the now deserted Antioch College campus. This liberal arts campus closed its doors in 2008. Aparently all the rich kids came to party and get stoned, instead of getting grades. I saw some "save antioch" posters around. It seems to have worked because alumni raised enough funds ($17million) to reopen in October 2011. It was really strange being on this small campus with covered in lush lawns and little paths through the trees. This must be an awesome place to study. Party central! Oops, I guess that was the problem.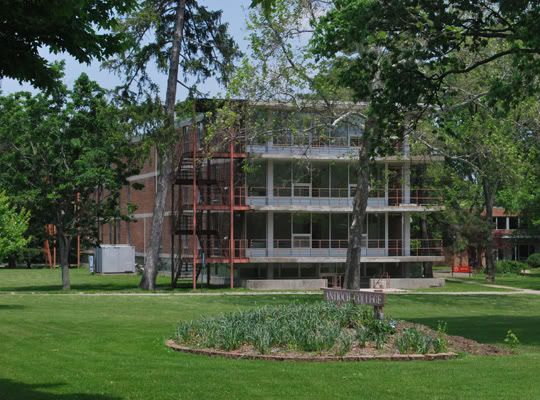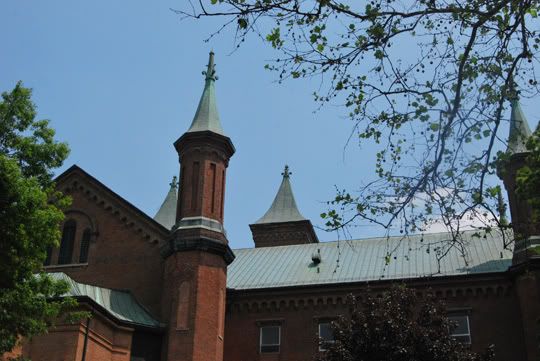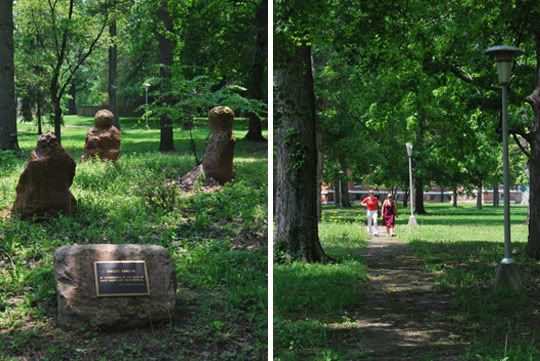 Emily's garden. Clearly someone didn't care for two of the figures' heads.
Back in town I had to skip down an alley to the juice bar. Here you can get freshly squeezed juice, or all the supplies you would need to brew your own beer. Perfect combo right.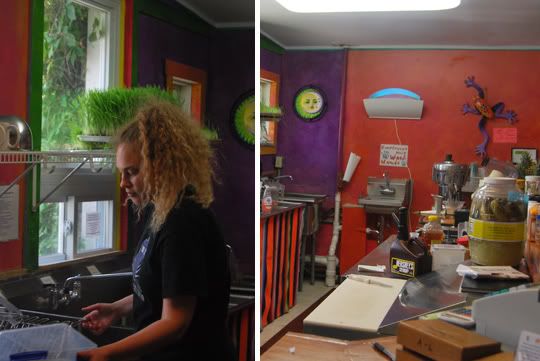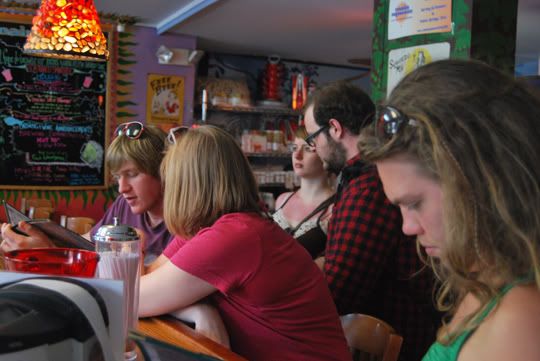 I have to mention that, as we walked down the alley, two hippies on a balcony above were combing their long, organic locks. They were very generous, as Jaco discovered when he found a clump of hippie hair had landed in his!
All in all a fun day out in the sun. When we go to the car Jaco found this on the ground. Wonder what happened to the original owner: