All-American Memorial Day weekend.
It was a bright, hot, sunny day when we decided to head to the Carillon park for a picnic. As we arrived we noticed police barricaded areas, the fire department and some kids dressed as pioneer women. Silly us, it is Memorial Day weekend and we stumbled upon the Dayton Historical Festival.
I previously blogged about
Carillon Park
so I am not going to give background on that again. This Sunday the park was anything but demure. It was like one big
kermis
/
kerk bazaar
. Firstly, you received 2 little American flags on entering - it was Memorial Weekend after all. Then there were food stalls selling traditional American food, such as hot dogs, cajun chicken, noodles and pitas (don't know why that is traditional American) and funnel cakes (more on that later). I am still upset that they did not have cotton candy though.
It felt like we were in a 50s movie. The had a band called the Classic Jazz Stompers, tuba and all, playing classic jazzy stuff and the sound filled the entire park. I felt like skipping. We walked around looking at people and popping in and out of the historical buildings. As we came out of the "car repair shop" we were greeted by a barber shop quartet, the Day Tones! Such fun.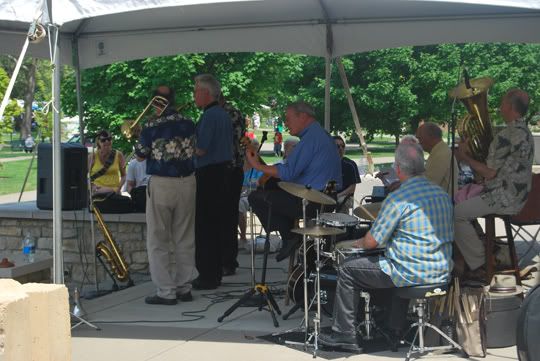 Classic Jazz Stompers
This lady was explaining how people used to live in these little stone farmhouses that only had two tiny rooms and the kitchen area.
Oh this was precious. The National Cash Registry was Dayton's pride and joy. They had a big design and advertising department and produced loads of advertising through the years. I love these rules from bygone years. If only they were practiced today.
Some ads from the 1960s
Trains! So pretty with all the wood and decorative glass windows.
Luxury train with velvet seats!
This was a cool invention that made it possible for women to ride bicycles. It is a net that goes over the wheel and keeps your dress from getting in the spokes.
The Day Tones. So cute. And on pitch!
I don't think we've had this much fun in Dayton before. We stuffed ourselves with Sundaes, hot dogs and funnel cakes. Let me tell you about the funnel cakes which I never got a picture of. They take some batter, put it in a jug with a funnel spout, and drizzle it into a can of super hot oil. Just like with doughnuts and
vetkoek
, it is ready when it rises to the top. They then take this "cake" and dust it with icing sugar. It looks a bit like a big rice cake, except that people who eat rice cakes, would not touch a funnel cake. It was rather yummy, although I regretted it the next day.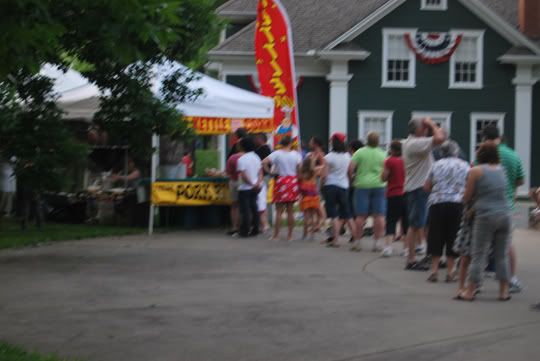 The Kettle Corn Queue
Sundaes, and a weird teenager. Oh, and check out the moonbag on that lady by the counter.
The pre-grand finale of the day was the Dayton Philharmonic Orchestra. By that time the lawn was filled with people in camping chairs, ready for the patriotic program. The Orchestra was really good by the way, enhancing the movie set feel of the entire day. Near the end of the program they performed the 1812 overture, cannons the works. Very cool, even though the conductor had to explain to the audience why this Russian/French piece was suitable music for the occasion.
This massive flag on the left was hoisted by the fire engine. It was apparently a 9/11 flag. The Carillon on the right. The launched some fireworks off the top.
And then, the real grand finale, the fireworks. I realised that we don't often see fireworks in SA because of all the legalities and the obvious danger to animals. None of that here though, You can even buy fireworks at the Walmart (big surprise). This display though, was bigger than anything I've ever seen though. It just kept exploding, bigger, more. So bright. So close, it felt like it was going to fall on us. I could not stop smiling. It was mesmerizing. I wish my camera's battery did not decide to fade just then. Oh well, I'll be ready for 4th if July.