Veggie Ice Cream
Ha, gotcha. Sort of. On Sunday we decided it is now or never, we need to go plant our vegetable garden at the Foundation. They have this little high voltage fenced camp (to keep the evil deer and bunnies out), with plots of land that you can plant with whatever. And it is organic - no pesticides or fertilizers.
So we dug in. It was quite funny, us
stadsjapies
pretending to be farmers. But we turned the soil, broke apart the clumps, said hello to some earthworms and planted rows of beans, spinach, zucchini, lettuce, basil, onions, radishes and parsley. Now we hold thumbs, that our thumbs were at least a bit green.
Naturally, after all our toiling in the sun, we had to go for ice cream. Hooray. Graeter's is a home-made style establishment with only about 20 branches in the country. The still make their ice cream with the old
French pot process
, a very time consuming way. Their mixers are slow, as opposed to the modern methods that beat really fast, aerating the mixture, making it fluffy, and cheaper. This place uses real flavouring, real fruit, coffee and massive chunks of creamy chocolate. You can choose from about 10 flavours, all just with choc chips (chunks), and then there are still fruit flavours, and crazy sundaes in waffle cups, the list goes on.
We sampled the super yummy Mocha Chip, Double Choc Chip, Buckey Special (peanut butter, chocolate, choc chips and peanut butter cookie dough), but in the end Jaco and I settled for the Choc Coconut Almond Chip with fudge sauce. Of course it had chunks of choc, coconut flakes, whole almonds and chocolate ice cream. Divine, and a well deserving 5 spoons out of 5.
Please note, this is considered one scoop!
Chubby bunny.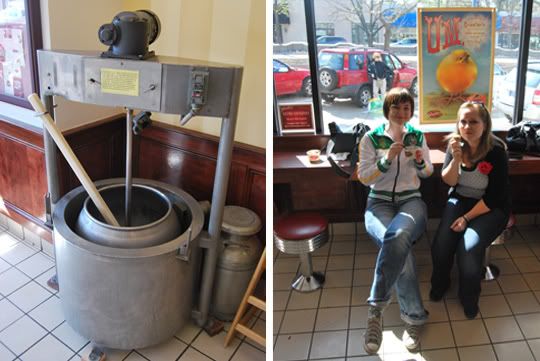 The chic in the poster is asking "Um, does liking Graeter's easter eggs make me a cannibal?"