Daddy, daddy cool
On a dreary, dreary day, in a dreary, dreary place, we discovered this gem, Daddy Katz. We have to give credit to one of Jaco's coworkers who took us to lunch at an awesome little Greek place, and then pointed out the small building alone in the middle of nowhere.
As mentioned in my previous post,
Trailers and tombstones
, Daddy Katz sits between a trailer park and the closed GM plant. It shares the space with a tattoo studio. And it makes sense. This place sells a kooky mix of tiki collectables, vintage 70s furniture, lamps and decorations, and hot rod rockabilly stuff. Yes, the owners love all of these things and jumbled them into one shop that just, well, works. Another area of interest is
pinstiping
. I have to admit I did not know about this art form before, but it is quite something. Basically you need a very steady hand, some special curvy brushes and enamel paint. You can pinstripe almost anything that will take the enamel paint and that you recon will look good with some fancy curly lines. They had some old shoes and handbags that got the treatment on sale. Apparently the dude from the tattoo parlor is very skilled in this art as well.
Note the little red lines: basic pinstriping.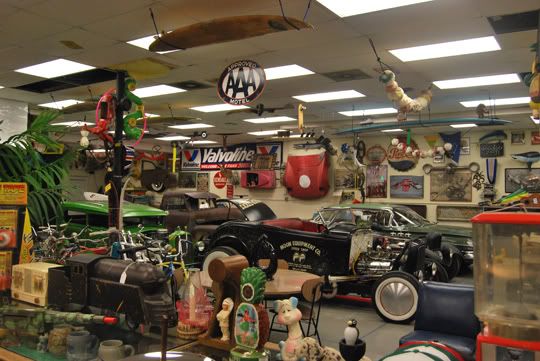 Everything from gumball machines to Billy the Bass.
Magical. We wanted to take so much of it home.
Tiki mugs
Ooo, do you remember that space ship ride that used to sit outside supermarkets?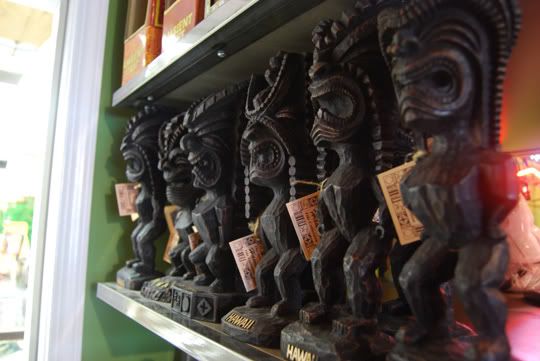 More tiki stuff. We even bought a dashboard hula girl.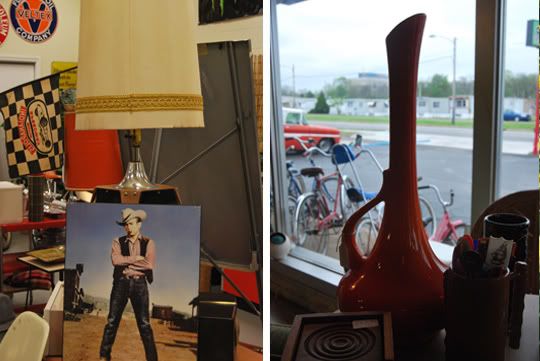 A strange little man, who repeated some of his stories thrice, told us all about pinstriping, Daddy Katz and the "Kruz Ins" they host. Everyone is welcome: Friday nights, a parking lot, soda pop, hot rods, and Betsie grillin' some hot dogs. He also mentioned that he collected Playboy mags but because he is a "completist" and realised he would never be able to afford the first issue, he switched over to underground comics.