Amish Paradise
"As I walk through the valley where I harvest my grain
I take a look at my wife and realize she's very plain
But that's just perfect for an Amish like me
You know, I shun fancy things like electricity" - Weird Al
Yes, you've guessed it, this weekend we went of in search of the Amish. Central Ohio has the biggest population of Amish and Mennonites in the world. So we left Dayton at dawn (7am) and headed east (more east-northeast), to Millersburg and Berlin in Holmes County.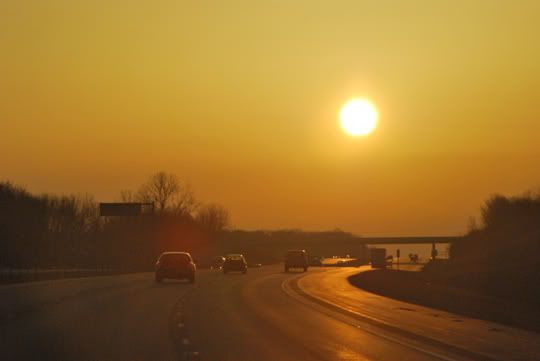 It was amazing, and refreshing, to see the landscape change as we journeyed the 3hours past the the city of Columbus, into the countryside. We heard there would be rolling hills and there were. And old farmhouses, broken down trucks, dilapidated barns and the longest covered bridge in Ohio, called
The Bridge of Dreams
.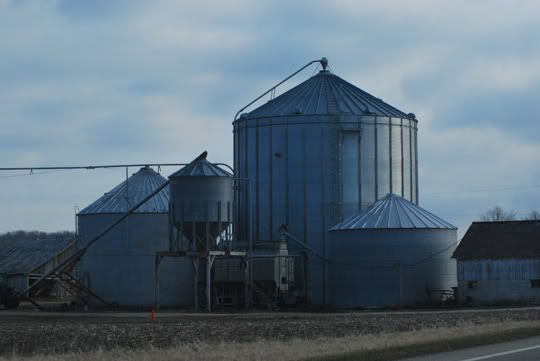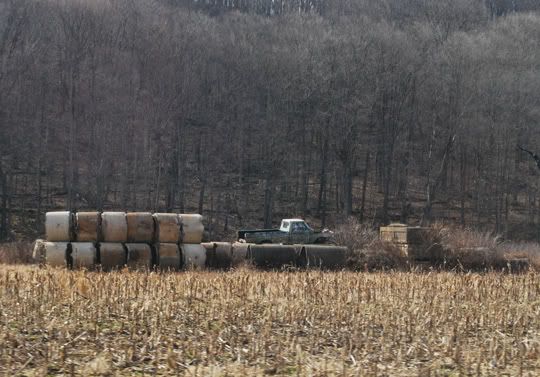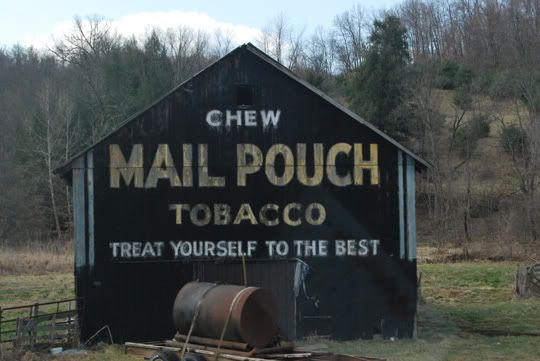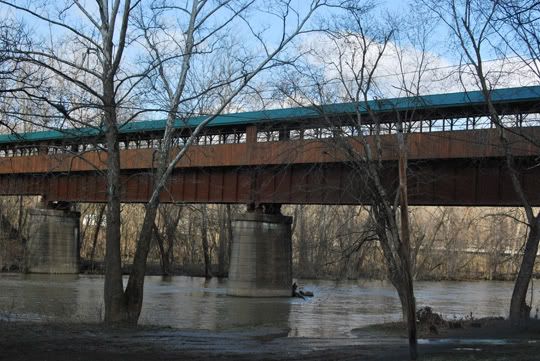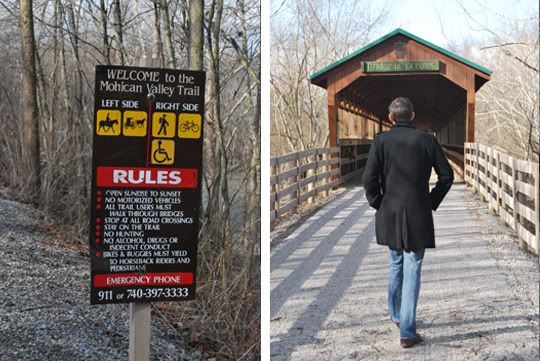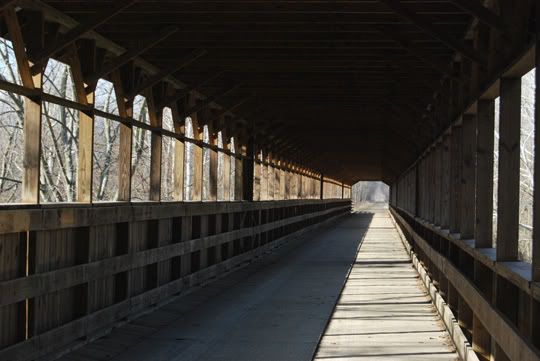 This bridge is an example of the craftsmanship of the Amish
In Danville we passed our first two buggies. The Amish are real! (I read that they do not like being photographed, so I tried to be sneaky and inoffensive.)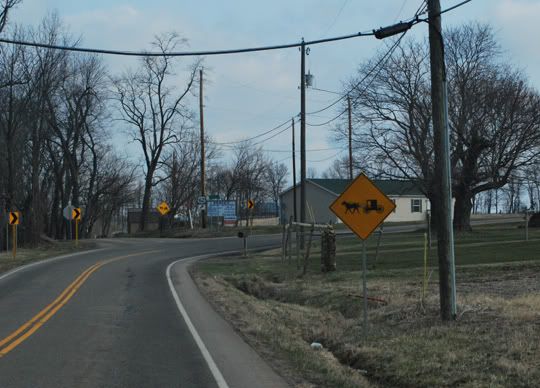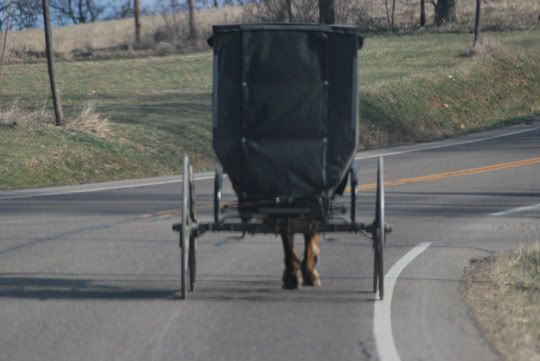 At about 10:30am we arrived in Millersburg. Strange town. It was small and Victorian and played crazy music over an ancient loudspeaker in the middle of town. The lady at the tourist info center asked if we, being from South Africa and Romenia, were not scared of the war in Africa. We thought we'd sit sit down at a coffee shop and think were to next, as Millersburg was not quite as overrun with Amish as we anticipated. Luckily the map lead us to Java Joe. It was take-away only, but the friendly lonesome girl fixing our Cappuccinos pointed us towards Berlin. We took her advise, she has been to Bosnia, after all.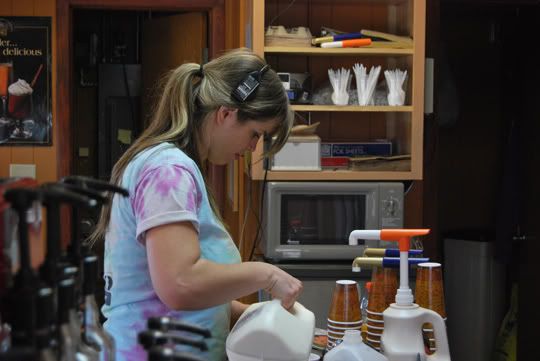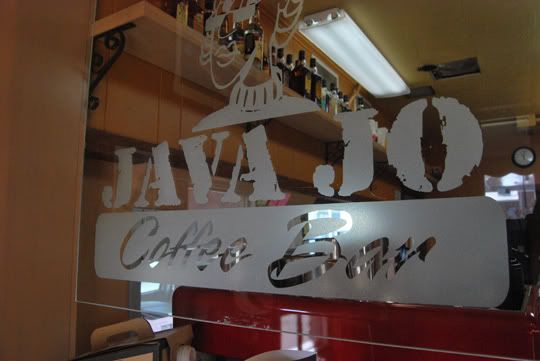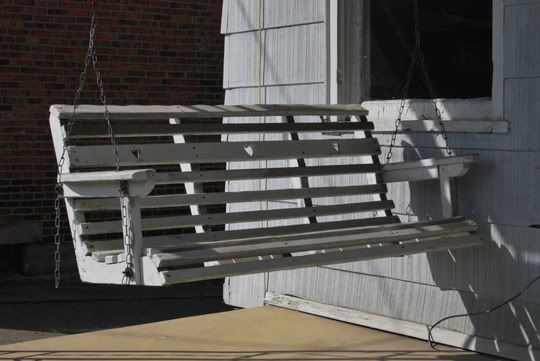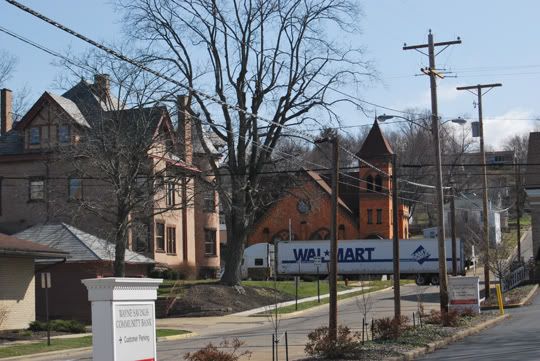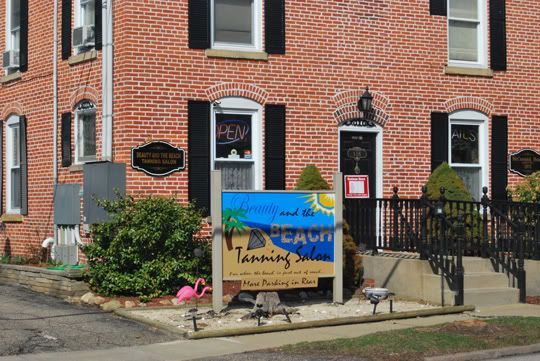 Beauty and the Beach Tanning Salon, complete with pink flamingos, shells and glass fish
Berlin was just 10 minutes away, and clearly the tourist trap of the region. It was buzzing with people in bad jeans shopping at little crafty shops in the main street. Tummies grumbling, we headed straight for the Farmstead. The brochure said it served traditional Amish food. It was filled with big bottomed families and the smell of home cooked food. After queuing for a few minutes we were ushered in by a Amish girl in traditional wear and a polo shirt over it. Still nervous we peered at the buffet and became even more nervous.
Koshuiskos
came to mind. Thank goodness the food only looked as appealing as the Amish dresses. It was really yummy (4 1/2 spoons). Think Sunday lunch at Grandma's house. Home-made sweetcorn, roast beef, buttery mash, German sausages, sauerkraut, green beans, fried chicken, bean and bacon stew, coleslaw, pasta salad, mushy puddings and sweet cherry pie. We ended up going for seconds, and thirds. And the locals were loving it too, piling their plates high with mash and gravy and fried chicken. Finger licking good.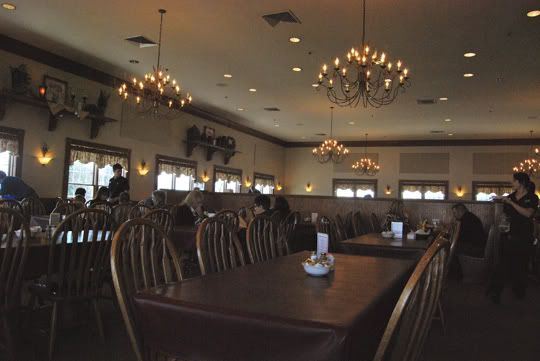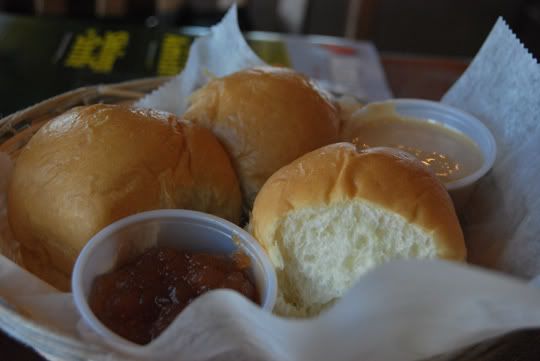 These rolls looked delicious, so I snuck one into my handbag for later. Lekker kommen né)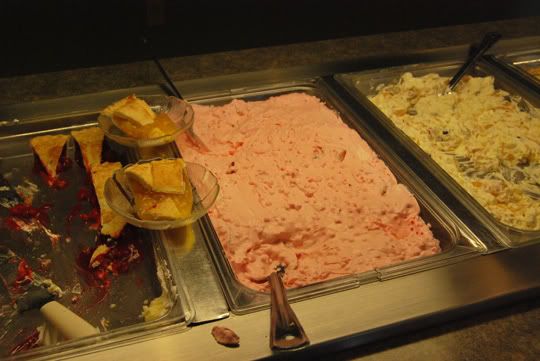 Jaco vouched that the pink mush was in fact yummy: fresh pink cream and strawberries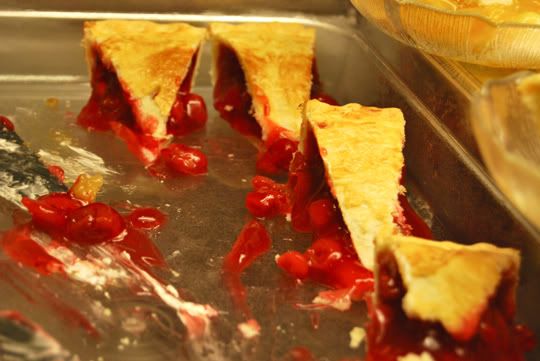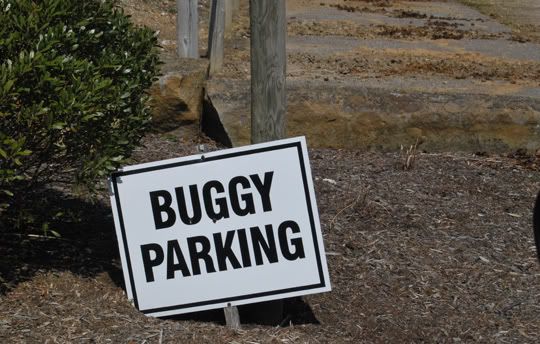 We saw these at various places. They even have leads to clip your horse onto - Amish gearlock.
Stuffed and happy, we headed off to explore the shops, including a silly Victorian shop selling all sorts of girly, lacy things. We had fun.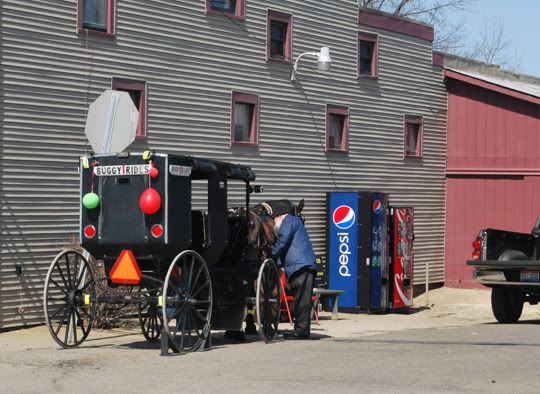 Consumerism and the Amish?
But back to the Amish. We needed to know more. We were on a mission. At the Amish & Mennonite Heritage Center we hoped to find some answers. This center gives background on the Anabaptist movement of the 1500s in which they have their origins. It also houses a 10ft tall x 265 ft long
Cyclorama [a circular picture of a 360° scene, viewed from inside], one of only four in North America, called
Behalt
, meaning to keep and remember. It was painted by a German guy Heinz Gaugel, who lived side by side with the Amish. Due to copyright we could not take pictures, but it was quite spectacular. The Cyclorama tells the story of how the Amish and Mennonites came to America and here's what we learned, in short, after peppering our guide Steve (who has 6 kids):
Sometime during the Christian church's development people were debating adult baptism vs the Catholic church's practice of infant baptisms. After the first documented adult baptisms in 1525, Zurich, persecution, etc etc, the Anabaptist movement spread through the world. This gave birth to the Amish, Mennonites and Hutterite people.
They have three core values: Jesus, Community and Reconciliation (turn the other cheek).
The Amish split from the original group of Anabaptist who came to America after Jakob Amman felt they should live more plain, separate and holy.
The Mennonites vary in degrees of conservatism depending on congregation and family. The essence remains separateness and community.
Amish use no or very little electricity, modern farming and masonry equipment and transportation. For example they might sometimes ride in a car as passenger, if there is no other way, might use bicycles and even tractors. The rely on selling agricultural produce, woodwork skills and products, baked goods and such to nearby communities, and thus have to keep up with the economy by pushing their boundaries when needed. Originally they completely moved with the times, until things like telephones became tools of gossip etc, disrupting the sense of family/community as apposed to individualism.
Amish are said to be exceptional businessmen with a massive 95% success rate.
Community rather than Individualism is also why they dress plain, the men grow beards and the woman wear long dresses and white prayer bonnets. Black formal bonnets are worn to church.
The Amish have church meetings in houses or barns and rotate between families. The host family prepares lunch and sets up the backless church benches.
The Mennonites go to church in traditional church building. They use all forms of modern technology, but still dresses plain, in varying degrees. Most teenage girls we saw wore long denim skirts, chain store tops and sneakers, but had long hair in a pony covered with a small lacy doily. The woman wore long dresses and bonnets or doilies.
Amish kids only go to school up to grade 8. Sometimes they go to public schools, other times they are home schooled, or go to one room schoolhouses.
Mennonite kids are either home schooled or go to regular public schools, even University. They can therefore seek employment in most working sectors.
At around 18 you choose to get baptised and become a full member of the community. It is said that the Amish retains about 80% of their children, and the Mennonites about 55%.
It is very seldom that someone from outside converts into the Amish or Mennonite faith.
Amish Schoolhouse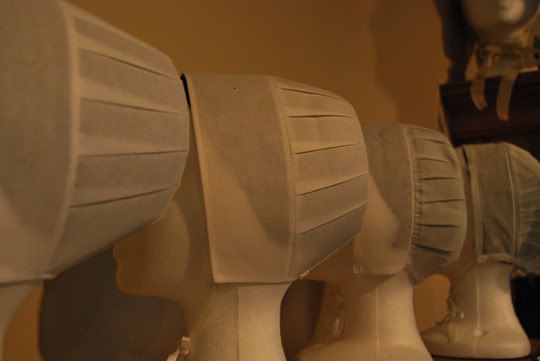 Different bonnets for different groups and purposes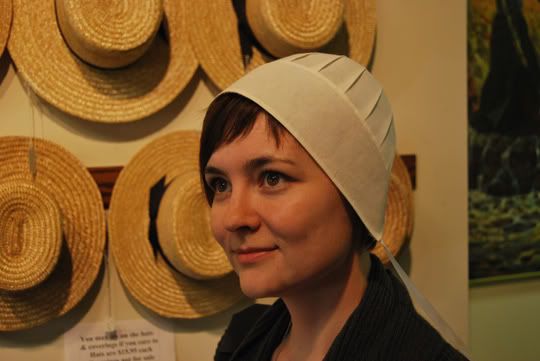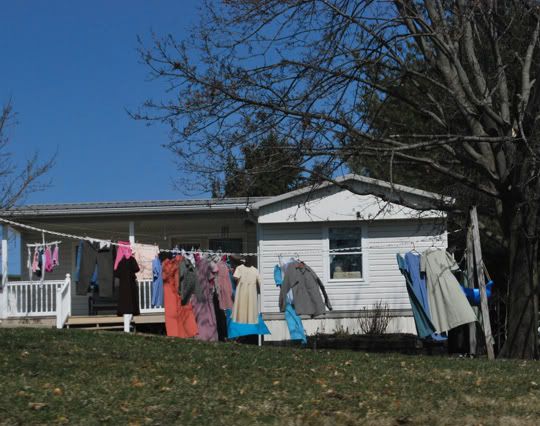 We saw many of these long, some very long, washing lines with plain clothing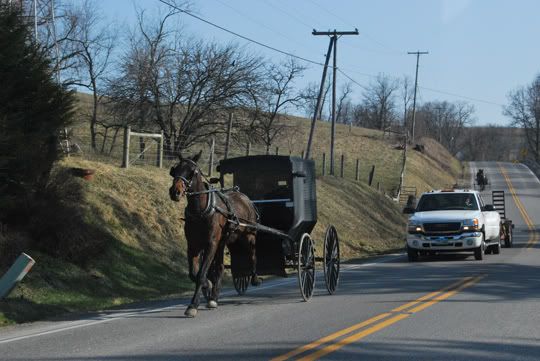 Modern and modest living side by side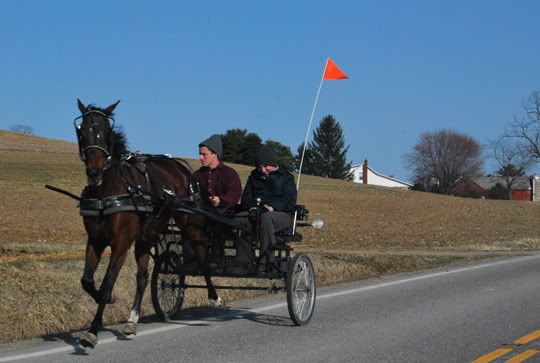 This old man's beard was blowing in the wind. Awesome.
Our biggest question is still why and what is the benefit? They stressed the fact that you choose the faith and lifestyle, it is not forced. But the consequences of choosing against it, is very debilitating, especially for the Amish. The say they choose the lifestyle because it brings peace. I must say it looked tempting, even if just for a brief moment: You have a nice big farmhouse, never worry about keeping up with the Joneses, eat hearty meals, work hard at day and relax quietly with your family at night. You have cows, drive a buggy (with windscreen) and hide bad hair days under a bonnet/hat. You always have community, you never lack. The flipside is, you will probably marry a cousin, never become president, never own an iPod and probably never write this blog (although they have a newspaper that is their version of Facebook).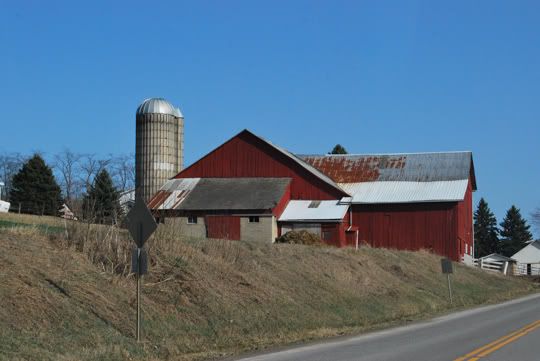 Amish girl walking off into the sunset