Sorority life
Remember that Enos I packed in my going-to-America-kit? Well, thank goodness for that. More on this later. Today we rescued Carmen, the other International fellow, from cabin fever and drove around town. First stop was the University of Dayton, which turned out to be a Catholic and Marianist University. Why does that sound so creepy? Because it kind of was, even though the historic buildings were beautiful. It just felt eerie, like Mary is watching your every move. Check out these creepy artworks to be found in the library:
All that campus creeping out and frat house snooping, made us work up a bit of an appetite so we headed over to the local student pizza joint, milano's. Jaco and I shared a medium vegetarian pizza with pepperoni. It reminded me of Pizza Hut from the 80's. Not too bad. Crispy base, lots of green peppers and olives and bubbly cheese. And it was way too much for the two of us. Thank goodness we didn't take the large. 3 ½ spoons.
For dessert we had Ben and Jerry's! Hooray. I feel at home there. Mooolicious. We have decided that the vanilla tastes funny though. So far I have sampled the Chocolate Fudge Brownie, Chocolate Peanut butter Swirl and Cookie Dough. Just 70 more flavours to go. 4 ½ spoons for today's Peanut butter Swirl.
On our way back home I spotted a bunch deer in someone's yard! We turned around to get a closer look. They then proceeded to run across the busy street. Luckily no road kill today. I am glad there are real deer in the woods. On my first day here I saw some fake ones in a garden and almost mistook them for the real deal.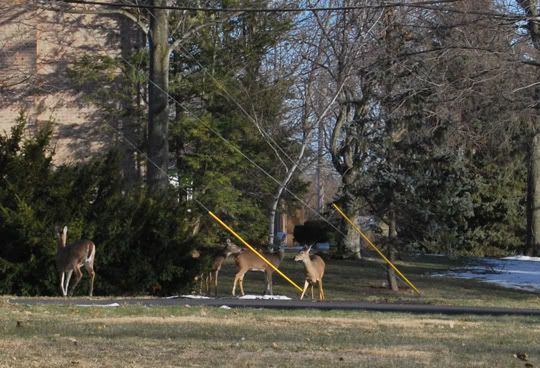 And last but not least I sampled my first, and last Dunkin' Donut. Jaco had a Boston Kreme and I had Cocoa Kreme Puff. Mine was soft and sugary and filled with gross fluffy cream stuff. And it made my stomach churn. Hence the need for Eno. So 1 spoon for the Donut, but 3 ½ for the coffee, the best we have tasted here so far.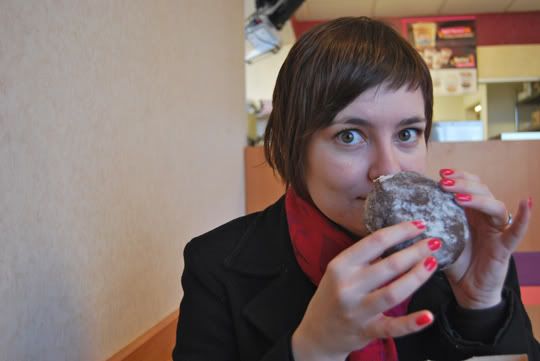 Now you understand why we joined the LA Fitness gym yesterday. With plenty more fast foods and sugary treats to taste and report on, I seriously need that elliptical running machine thing. More on the gym tomorrow.