Is this art, daddy?
Just yesterday I shared the quiet boredom of Dayton with you. My woorde was skaars koud. It was time for an adventure. Off to Cincinnati we went in search of some arts and culture.
First stop was the Cincinnati Museum Center at Union Terminal which we found by accident because Jaco is not big on maps. This building is a beautiful 1930's Art Deco building use to be the Cincinnati Union Terminal but no-one really takes the train anymore, so many of the rooms were converted to Museums and shops. We just looked around, the Museum was too pricey, and in anycase, our main goal for the day was the Art Museum.

Wow, was this Art Museum difficult to find, even with our newly bought map of Ohio. We could see it on the map but kept ending up in Kentucky. Yes, Cincinnati is just across the river from the State of Kentucky. Yeehaa. Eventually, after going up and down and around this really nice neighbourhood on a hill called Eden Park, we stopped to ask directions from a nice couple, who looked like they just came back from church. I mean, we saw the sign, but just kept missing the museum.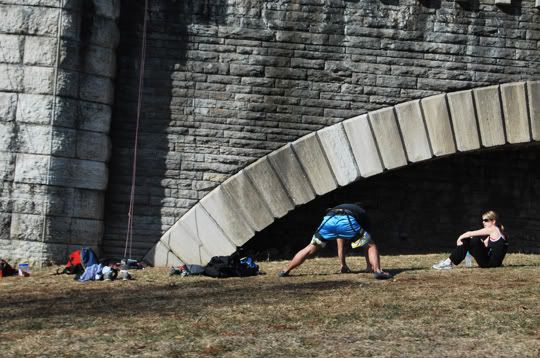 Wall climbers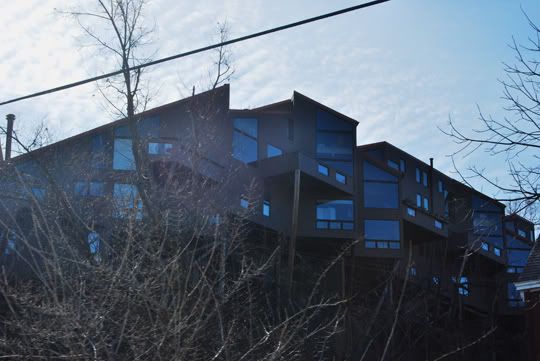 Modern homes. I want.
The Cincinnati Art Museum is great and houses over 60,000 works from the a Ancient Egyptians to our very own Pieter Hugo's photographs of the Nigerian hyena handlers. So cool! My favorite part was a temporary exhibition called Going Dutch which featured many design works by the contemporary Dutch design collective
Droog
(http://www.droog.com/). I was not allowed to take pictures of this particular exhibit, but I was sneaky sneaky. So incredibly cool. I have always loved the Chest of drawers by Tejo Remy and now I got to see it in real life, not just the interweb.
We also saw some great masterpieces by Warhol, Picasso, Monet, Renoir, Rothko and more. All in all a very condensed but comprehensive art experience. Oh, I almost forgot, this piece was also great, it is called Fat Bat (hee hee):

Our visit was finally concluded by the very wise words of a 7 year old boy: "Is this art, daddy?"
Time for lunch. We packed a bag full of ziplock bags containing home made veg and cheese wraps, apples, oatmeal cookies and water and sat watching the Ohio river go by.
We were just about to get back onto the Interstate to go home to Dayton, when disaster/excitement struck. A man who must have just stepped off the set of Dallas skipped a red traffic light and ploughed into our little rental car. Crash boom bang. No one was hurt, accept the two cars. Thank goodness for the innocent bystander who saw the whole thing and phoned the police before we could even say mother hucker. Officer Todd and his sidekick was very kind and helpful, and so was Chris, the tow truck driver who was there before the police - yes, even in America. While the 20 year old girl officer was trying to keep her cap on her head and take statements, big and friendly officer Todd asked if we were injured and chatted to us about Romania, South Africa and how to get cheap theater tickets in Cincinnati. I almost asked him if he likes doughnuts.


So let that be a lesson to y'all, don't complain about your boring life, karma will get you.
Thanks Cincinnati, we will be back.